10 Tips for Planning an Unforgettable First Birthday Party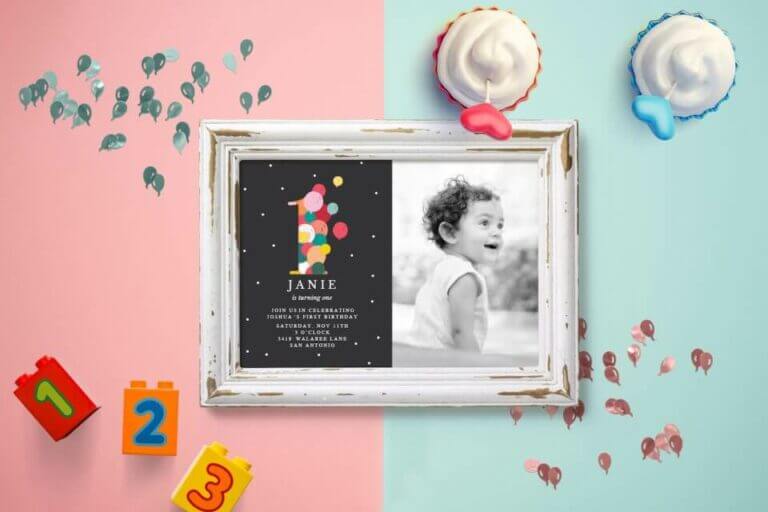 Did you know that there are over 31 million seconds in one year? If you're a parent, you may argue that this number should be much smaller. Although children seem to grow up too fast, each year gives you plenty of beautiful opportunities to watch them grow, learn, and love. Even though you could've sworn they were born just yesterday, planning a first birthday party is a great way to celebrate this important milestone in their life.
Want to know how to plan a special first birthday party? Keep reading for 10 helpful tips.
1. Create a Small Guest List
When it comes to birthday parties, most kids would be thrilled to have a giant guest list. However, since babies aren't as aware of what's going on, all of that commotion has the potential to startle them.
In order to keep your baby happy, it's best to make their first birthday party an intimate gathering. If you're worried about leaving people out, you can always kindly explain the situation. There will be plenty more fun birthday parties in the future when your child has the ability to enjoy bigger events.
2. Plan Around Your Baby's Schedule
Although babies don't have to wake up early and go to a job, they do maintain their own unique schedule. If you know your baby gets fussy in the afternoon because they're tired, be sure to plan the party in the morning when they're feeling their best.
Some babies have more difficult schedules than others. If your baby happens to be nocturnal, all you can do is set the time of the party and try to make sure your baby has a nap before the festivities begin.
Since babies can sleep as much as 18 hours a day, plan on having a party that lasts no longer than 2 hours. This may not seem like a long time, but you'll be able to serve cake, stage some photos, and enjoy chatting with other adults for a while.
3. Send Invitations
Once you have the guest list and party details solidified, it's time to make invitations. When designing first birthday invitations, it's great to include a photo of your child since they are the star of the event.
Don't forget to include all of the important details on the invitations so there's no confusion. If you set a start and an end time, you won't have to worry about guests overstaying their welcome while you're trying to soothe your fussy baby after a busy party.
4. Keep the Party Environment Baby-Friendly
When people have children, it's a common practice to babyproof the house to protect them from sharp corners and objects that shouldn't be put in their mouths. If your house is already babyproofed, then you won't have too much extra work to do.
If you plan on moving your party outdoors or to a new location, a quick solution could be to bring a playpen wherever you go. This is especially helpful if you know there will be other small children around.
No matter where you go, a good way to test your environment is to get on your hands and knees to see if there is anything that could harm a child.
Another detail that's important to note is that you should opt for plastic or paper cups and tableware. Since glasses and plates can easily get knocked or pushed off of tables, it's best to avoid anything heavy and breakable.
Always make sure at least one person is keeping an eye on the young guests so they can avoid any choking hazards. You could spend hours trying to babyproof the entire party space, but kids can always find unique ways to get into trouble. All you can do is try your best to prevent any accidents.
5. Choose a Birthday Party Theme
Choosing a party theme can make planning much easier and fun since you have a clear vision. There are plenty of first birthday party themes you can choose from.
The theme you pick can have a big influence on the mood of your party. A cartoon birthday is whimsical whereas a party that focuses on your child's future will be more emotional.
One example of an adorable theme is a Sesame Street party. The highlight of the event would be dressing your baby up as the Cookie Monster and letting them dig into a cake decorated like a big cookie.
Who says costumes are reserved only for the birthday boy or girl? While dressing up shouldn't be mandatory, asking your guests to wear something that matches the party theme can lead to some wonderful photo opportunities.
6. Shop for Fun, Bright Decorations
Babies are mystified by colorful, shiny, and moving objects. If you want to surprise your baby with a magical wonderland designed just for them, be sure to add lots of interesting decorations to your party environment.
Balloons, streamers, and stuffed animals are just a few examples of birthday party decorations your baby will love. Since you know their tastes best, you can surround them with objects that are fun and comforting. Remember that you'll be taking tons of pictures to remember this day, so you'll want every shot to look vibrant.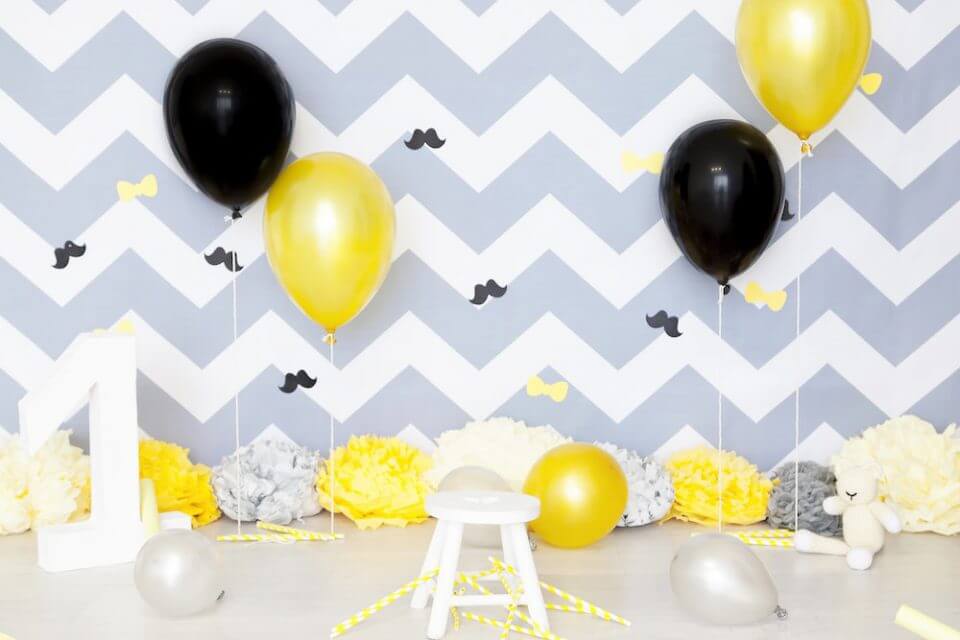 7. Prepare Kid and Adult Snacks
Although first birthday parties only last a couple of hours, your guests will appreciate having some snacks to munch on before cake is served. If any of your friends are bringing along their kids, you'll want to offer kid-friendly snacks that they can enjoy as well.
If you want to keep things simple, there's nothing wrong with buying snacks at the store and setting them out on a table in a few bowls. Some good kid snacks could include Teddy Grahams, Cheez-Its, plain potato chips, and fruit (just be sure to cut any fruit into bite-sized pieces to avoid choking).
Store-bought adult snacks could include a more exciting flavor of potato chips like barbecue or jalapeño, tortilla chips with salsa and hummus, fruit salad, and any delicious party platters from the deli or frozen foods section.
If you don't mind doing a little extra assembly work, these easy party snacks are sure to wow any kids. The treats are so adorable that the adults will love eating them, too!
8. Consider Having Two Birthday Cakes
If you haven't heard of a smash cake yet, it's a special cake designed for first birthday parties. Parents serve this small cake to their babies and let them dig in with their hands. It's messy, hilarious, and incredibly adorable. This is perhaps the biggest highlight of any baby's first birthday.
You'll want to take plenty of photos and videos of this moment, so it's nice to have a cake that looks beautiful. You could decorate the cake so it matches your party theme or you could keep it classic by serving a simple but elegant cake.
If you're up for the challenge, there are hundreds of smash cake ideas that will look great in your photos. Feel free to also reach out to local bakeries and see if they can create a custom smash cake for your baby.
Your baby shouldn't be the only one who gets to have fun, though! Having a separate, larger cake that you can serve to guests after will ensure everyone has a good time. Since this cake won't be in photos, you can keep the decorations simple.
Although smash cakes are considered small by our standards, you still shouldn't let your baby eat too much of it. After you're done taking photos and they've enjoyed a few handfuls, take the cake back into the kitchen and wrap it up. As long as your family doesn't mind smashed cake, you can eat the rest of it later.
9. Get Help Documenting the Event
Since this event should be a small gathering focused on your baby, you shouldn't feel the need to hire a professional photographer. However, if you want a professional photo shoot of your baby digging into a smash cake, you could arrange this on a separate date.
Before the party starts, make sure your phone is fully charged so you can take the best photos and videos throughout the entire event. Get a good mix of adults having fun together, kids playing, and guests interacting with your baby. You'll want to remember every sweet moment.
Be sure to encourage your guests to take lots of photos, too. If any of your friends have a professional camera, you could ask them to bring it along so you can have some higher-quality images. After the event is over, you can make a group chat or a collaborative album where guests can share the photos they snapped and see what you took as well.
10. Hire a Babysitter If Lots of Children Will Attend
While a babysitter isn't a necessity, it can make the party a lot more relaxing. If any of your guests have a responsible teenager in the family, you could consider asking them to come along. Not only will they be able to enjoy the festivities, but they can also earn some extra money by keeping a close eye on all of the kids.
You could also consider asking your loved ones if they know any good sitters who wouldn't mind supervising your party. This will allow your adult guests to unwind and socialize with others instead of hovering over their child the entire time.
Bonus: Be Present and Enjoy
It's normal to feel all kinds of emotions while you plan your baby's first birthday party. No matter what goes through your head, remember to focus on the positives. Your baby has been alive for one whole year and this is just the start of their lifelong adventure.
While it's easy to worry about being a good host, your priority for this event should be your baby. Don't sweat the little things that may not go as you planned. All of your guests know that your baby is the star, so they'll do everything they can to ensure their first birthday party is a success.
If you're feeling a little sad about the idea of your baby growing up, think about all of the incredible birthday parties you'll get to plan for them in the future. If you want some inspiration, be sure to check out these birthday party themes for girls and these birthday party themes for boys.
---
Ready to Make Your Baby's First Birthday Invitations?
With these 10 tips, you'll be able to plan an unforgettable first birthday party. When they grow up, you'll be able to give them a gold mine of photos and videos from that day that they will cherish for the rest of their life.
Ready to start planning this special event? Every party starts with an invitation!
Customize your first birthday invitation with Greetings Island. With so many beautiful designs to choose from, you're destined to fall in love.
After you're done creating your masterpiece, you can send your invitations a few different ways. If you want to stay traditional, you can print your invitations at home or in a professional print shop to send them through the mail. If you want to go paperless, you can also email them with convenient RSVP services or save the invitation as a high-quality image to share on social media.