Fun in the Sun: Exciting Kids Summer Birthdays Themes
Planning a warm-weather birthday party for kids can be an exciting and fun-filled endeavour. With sunny weather and a wide array of outdoor activities to choose from, you have the perfect opportunity to create a memorable celebration. Here are some tips to help you plan and execute the best summer birthdays.
First, consider the venue. Look for a location that offers ample outdoor space, such as a park, backyard, or even a beach if available. Outdoor venues allow kids to run around, play games, and enjoy the sunshine. Ensure there is sufficient shade to protect children from excessive heat and provide comfort. If you do live in a hot and humid climate, you may want to consider somewhere indoors so all your guests, particularly the energetic kids, are comfortable.
Next, select a theme that reflects the interests of the birthday child. Incorporate a nautical, under-sea princess, or sports motif into the decorations, party invitations, and activities to create a cohesive atmosphere. Consider setting up stations for various summer birthday games and crafts to keep the children engaged and entertained.
Water-based activities are a hit during outdoor parties in the heat. With all of our summer birthday party ideas below, be sure to provide plenty of sunscreen and towels if necessary for the kids and encourage them to participate in the activities.
Lastly, don't forget party favors! Fill goody bags with hot weather-themed items like sunglasses, bubbles, beach balls, or small toys to thank the guests for attending.
Remember, safety should be a priority, so ensure proper adult supervision, especially around water activities. Whether you're planning a first birthday or a Sweet 16, these ideas for summer birthdays are sure to be a splash!
Pool Party
Choose a suitable location with a pool. It can be a community pool, a home pool, or even a rented pool at a water park or hotel.
Next, select a theme that complements the pool party atmosphere. Consider warm-climate ideas and exciting tropical motifs.
A unicorn theme with lots of sparkles and inflatable unicorn pool floats.
A tropical theme with lots of palm trees and pineapple decor.
Warm-weather fiesta with bright, bold colors and a build-your-own taco stand.
Flamingo parties with lots of flamingo decor and bright pink accents.
Baby Shark is a well-known character among younger kids and it's easy to find decor for this idea.
Ensure the pool has lifeguards or sufficient adult supervision to prioritize the safety of the children. Provide life jackets or floatation devices for younger or less confident swimmers. Have sunscreen available for everyone and encourage frequent reapplication to protect against sunburn.
Lastly, provide towels, changing areas, and ample seating for both children and adults. Prepare goodie bags with pool-related items like goggles, beach balls, or mini water guns as favors.
Indoor or Outdoor Camping
For the venue, select a backyard, a local park, or even a campground if available. Ensure you have permission to use the space and consider the availability of amenities like bathrooms and electricity. If no outdoor venues are suitable, you can do many of the same activities inside instead.
Set up tents to create a camping ambiance. If you don't have enough tents, consider borrowing from friends or renting them. Decorate the area with camping elements like lanterns, campfire props, and rustic signage.
Plan camping-related activities to engage the children. Include activities like scavenger hunts, storytelling around a faux campfire, nature walks, and stargazing. You can also organize arts and crafts stations where kids can decorate their own camping gear or make camping-inspired crafts.
Serve camping-friendly food such as hot dogs, s'mores, and foil-wrapped grilled vegetables. Provide plenty of water and other refreshments to keep everyone hydrated.
To create the perfect camping birthday party mood, encourage the children to dress up in camping attire like plaid shirts, cargo pants, and hats. Consider providing camp-style favours like compasses, mini flashlights, or camping patches.
Inflatable Water Slide Party
Inflatable water slides are incredibly fun for kids in the summer because they provide an exhilarating and refreshing way to beat the heat. Begin by selecting a suitable outdoor location with ample space for the inflatable. Whether it's a backyard or park rental, ensure the venue has easy access to water for continuous spraying on the slide. If you don't already own an inflatable water slide, some companies provide water slide rentals. If you search for 'water slide rentals near me' you'll likely find several options in your area. You could also ask the company if they have tent rentals to offer your guests a place to sit in the shade.
Send vibrant and colourful water slide invitations to set the mood. Organize engaging water games, such as water balloon fights or a splash contest, to keep everyone entertained.
Provide refreshing snacks and drinks, and don't forget to provide plenty of towels and sunscreen. Lastly, be sure to capture these precious moments with lots of photos and water slide party favors to remember the day.
Beach Bash
Planning and hosting a beach bash birthday party for kids can be a delightful and sun-soaked celebration. Here are some tips to help you create a memorable beach experience.
Choose a suitable beach location for the party, ensuring it has appropriate amenities and safety measures. Consider factors such as lifeguards, restroom facilities, and a designated area for the party.
Set the beach ambiance with decorations like colourful beach towels, umbrellas, and inflatable beach balls. Use seashells, starfish, and sand buckets as table centrepieces or scattered accents.
Organize beach-inspired activities to keep the kids entertained. Ideas include sandcastle-building contests, beach volleyball, relay races, and treasure hunts. Provide buckets and shovels, and other sand toys for the children to enjoy.
Provide an assortment of coolers with plenty of chilled beverages to keep everyone hydrated under the sun.
Offer sunscreen, towels, and beach mats for everyone to stay comfortable and protected from the sun. Encourage guests to come dressed in beach attire and provide beach-themed favors such as sunglasses, flip-flops, or mini beach balls.
Incorporate water activities like swimming, boogie boarding, or water balloon fights, depending on the age and swimming abilities of the children. Just be sure that appropriate supervision and safety measures are in place.
Under-Sea Mermaid Party
Set the scene for a mermaid birthday party with ocean-inspired decorations. Hang bubble streamers and blue balloons to create an underwater ambiance. Use seashells, starfish, and mermaid cutouts as table centerpieces and scatter them throughout the venue.
Encourage the children to come dressed as mermaids or sea creatures. Provide mermaid-style accessories like tiaras, seashell necklaces, and sparkly temporary tattoos to enhance the mermaid transformation.
Create a mermaid activity station where kids can decorate their own mermaid tails or crowns using glitter, sequins, and craft supplies. Set up a face painting station where they can have mermaid scales or sea-themed designs painted on their faces.
Organize water games and activities such as a treasure hunt in a kiddie pool filled with colored sand or water. If you have access to a pool, you can also have a mermaid race, where kids swim with their tails or flippers.
Serve ocean-inspired snacks like seafood-shaped sandwiches, fish-shaped cookies, and blue gelatin cups with gummy fish. Provide mermaid-inspired cupcakes or a cake decorated with edible seashells and pearls.
Send the little mermaids home with goody bags filled with mermaid-themed items like mermaid tail keychains, seashell-shaped soap, or mermaid coloring books.
Mermaid summer birthdays create an enchanting and memorable experience that will leave them feeling like they've embarked on a magical underwater adventure.
Outdoor Picnic Gathering
Set up picnic birthday decorations with colorful picnic blankets, baskets, and cushions. Use bunting, paper lanterns, or pom-poms to add a festive touch. Incorporate nature-inspired elements like flowers or potted plants as table centerpieces.
Organize classic picnic games and activities like sack races, three-legged races, or potato sack relays. Set up stations for arts and crafts, such as creating flower crowns or decorating mini picture frames.
Serve picnic-friendly foods like sandwiches, fruit skewers, cheese and crackers, and finger foods. Offer refreshing beverages like lemonade or fruit-infused water. Consider having a dessert station with cupcakes, cookies, or mini pies.
Make sure the location has restroom facilities and shade options for comfort. Provide picnic blankets, umbrellas, or portable shade structures for guests to relax and enjoy the outdoors comfortably. Offer sunscreen and bug spray to ensure everyone stays protected.
As favors, give each child a mini picnic basket filled with goodies like baked goods, candy, bubbles, sunglasses, or small outdoor toys.
Outdoor Movie Party
Combine the joy of cinema with the beauty of the outdoors. Here are some tips to help you organize a memorable outdoor movie experience.
Choose a suitable location with enough space for a projector screen and seating. A backyard, patio, or community park are ideal options. Consider the availability of electricity and the potential need for buying or borrowing a movie projector and screen.
Create a cozy seating area using blankets, cushions, and lawn chairs. Encourage kids to bring their own blankets and pillows for added comfort. Set up string lights or lanterns to create a magical ambiance.
Select a family-friendly movie that suits the age group of the children. Consider having a few movie options and let your child choose their favorite. Ensure the sound system is set up properly for optimal viewing and audio quality.
Offer movie-themed snacks like popcorn, candy, and soda. Set up a concession stand or a snack bar where kids can choose their treats. You can even provide individual popcorn boxes or goody bags as a special touch.
Consider providing bug repellent and citronella candles or torches to keep pesky insects away. Have a backup plan in case of inclement weather, such as moving the event indoors or rescheduling.
Ice Cream Social
Here are some tips to help you organize a sweet and memorable ice cream birthday celebration. For the venue, a backyard, patio, or indoor space with enough room for seating and ice cream stations is ideal. Consider setting up a small ice cream bar or renting an ice cream cart for added fun.
Create a vibrant and festive atmosphere with colourful decorations, balloons, and ice cream banners. Use tablecloths, napkins, and plates in ice cream-inspired colors like pastels and bright hues.
Offer a variety of ice cream flavors for kids to create their own sundaes or cones. Provide a range of toppings like sprinkles, chocolate chips, crushed cookies, and fresh fruit. Don't forget to have whipped cream, sauces, and cherries for the ultimate sundae experience. You can also provide alternative treats like fruit popsicles or sorbet for those who prefer a lighter option.
Organize fun ice cream-related games or activities such as an ice cream-eating contest, blindfolded taste test, or a DIY ice cream sandwich station. You can also set up a photo booth with ice cream-style props for added entertainment.
For favors, give each child a small ice cream-themed item like a keychain, sticker, or mini ice cream scoop.
Watermelon Theme
Watermelon is a quintessential summer food and a watermelon-themed celebration is perfect for summer birthday party ideas. Decorate the event area using watermelon-inspired colors such as bright green and vibrant pink. Hang watermelon-colored banners, balloons, and paper lanterns. Set the table with watermelon-patterned tablecloths, plates, and napkins.
Incorporate watermelon-themed games and activities to keep the kids entertained. Consider a watermelon seed spitting contest, a watermelon-shaped piñata, or a relay race where participants carry a watermelon slice between their knees. You can also set up a watermelon painting station or a watermelon carving activity.
Serve watermelon-inspired treats such as watermelon slices, watermelon lemonade, and watermelon-shaped cookies or cupcakes. Fruit skewers with watermelon, pineapple, and other colorful fruits are a healthy snack option.
Give each child a watermelon item like a watermelon beach ball, watermelon-shaped sunglasses, or a watermelon-scented lip balm as a take-home gift.
Bounce House Bash
Planning a bounce house birthday for kids is a surefire way to create a fun-filled and energetic celebration. Choose a suitable location with enough space to accommodate the bounce house. A spacious backyard or a local park may be suitable options. Ensure that there is easy access to electricity for the bounce house blower.
Rent a bounce house that suits the age group and interests of the children. There are various options available, including traditional bounce houses, inflatable slides, or obstacle courses. Consider the size, safety features, and any specific requirements for setup.
Decorate the party area with vibrant and festive party decorations that complement the bounce house idea. Balloons, streamers, and banners in bright colors will add to the celebratory atmosphere.
Plan additional activities to keep the children entertained outside of the bounce house. Set up summer birthday games like relay races, bean bag toss, or a mini obstacle course. You can also incorporate crafts or face-painting stations.
Provide age-appropriate snacks and refreshments such as finger foods, mini sandwiches, and fruit skewers. Offer plenty of water and refreshing beverages to keep everyone hydrated.
With careful planning and attention to safety, a bounce house bash for summer birthdays will create an exhilarating and memorable experience that will have everyone bouncing with joy.
Summer Birthdays Games Competition
Planning a celebration for kids with an outdoor summer birthday games theme is an excellent way to create a fun and active celebration. Here are some tips to help you organize an exciting and engaging party.
Set up various game stations throughout the venue. Include classic activities like sack races, three-legged races, hula hoop contests, and tug-of-war. Yard games like Giant Jenga or Scrabble are also fun. Create a mini sports area for soccer, basketball, or volleyball. Consider setting up a water balloon toss or a relay race with water obstacles to keep kids cool and entertained.
Choose a suitable outdoor location such as a park, backyard, or community recreation area with ample space for games and activities. Ensure there are restroom facilities and shaded areas available for breaks from the sun. Decorate the party area with vibrant banners, balloons, and streamers in bright colors. Incorporate sports and outdoor-themed decorations to enhance the atmosphere.
Provide plenty of snacks and refreshments to keep everyone energized. Serve finger foods, healthy snacks, and cool beverages like fruit punch or lemonade. Consider offering a DIY ice cream or popsicle station to provide a refreshing treat.
Prepare goodie bags with small toys, bubbles, or sports-themed items as gifts for each child to take home.
Where to Host Summer Birthdays
When it comes to hosting a celebration in the warmer months, choosing the right venue can make all the difference in creating a memorable and enjoyable experience. Here are some of the best venues for summer birthdays.
Backyard
Hosting the event in your own backyard offers convenience and familiarity. It provides a comfortable and private space where you can set up summer birthday games, decorations, and a food station. Plus, it allows for easy access to amenities like bathrooms and kitchen facilities.
Local Park
Parks provide a natural and spacious setting for summer birthdays. With ample green space, playgrounds, and picnic areas, parks offer a fun and interactive environment for children. Many parks also have barbecue pits and sports fields, allowing you to organize outdoor games and activities.
Community Pool
If your child and their friends love swimming, a community pool can be an excellent venue choice. Most community pools have designated areas for parties, complete with lifeguards, water slides, and other attractions. Make sure to check the pool's availability and any specific rules or regulations beforehand so you can plan accordingly and share any details with guests.
Indoor Play Centers
Indoor play centers can provide relief from the heat while offering a variety of entertainment options. These centers often have trampolines, climbing structures, arcade games, and more, ensuring that kids have a blast regardless of the weather outside.
Beach
If you live near a beach, it can be a fantastic venue for this type of birthday party. Children can enjoy building sandcastles, playing beach volleyball, or splashing in the waves. Just be sure to bring sun protection, beach toys, and plenty of water to keep everyone hydrated.
Choosing Memorable Summer Birthdays Party Ideas
From selecting the perfect outdoor venue to incorporating a theme that captures your child's interests, there are endless opportunities to create a memorable celebration. Whether it's playing games, indulging in water-based activities, or enjoying the sunshine, these summer birthday party ideas provide an opportunity for children to have a blast.
Remember to prioritize safety by providing necessary precautions and adult supervision, especially during water activities. Don't forget to thank the guests with party favors that will make them smile.
By following these tips and putting careful thought into your planning, summer birthdays for kids are bound to be a tremendous success, leaving everyone with cherished memories of a fun-filled celebration.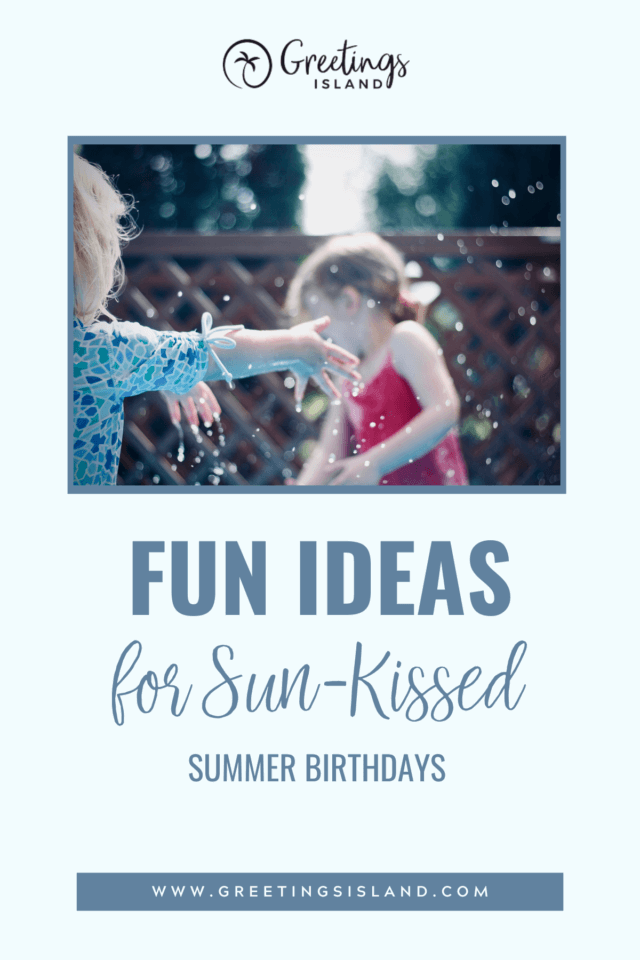 ---
Photo Credits: Jelleke Vanooteghem, karelnoppe, mo jo, StockPlanets, anna sullivan, Josh Campbell,Brooke Lark on UnSplash