How to Design the Perfect Wedding Invitations
If you're looking for clever ways to cut your spending or make your wedding more unique, wedding invitations are a brilliant place to start. How can you get affordable, high-quality invitations? The trick is to create your own.
With a bit of time and creativity, anyone can design breathtaking wedding invitations. Not only will you save hundreds of dollars, but the final results are more personal and special.
The latest you can send out invitations is six weeks in advance. Destination weddings require more accommodations, so try to get your invitations out three months in advance.
Want to learn how to create perfect wedding invite designs? Keep reading for all of the expert tips!
1. Choose Your Ideal Layout

The best part about making your own wedding invitations can also be the most intimidating part. Since the sky is the limit, it's easy to feel overwhelmed by all of your options. When you start, it's helpful to have some idea of how you'd like it to look.
Don't be discouraged if you're having a hard time choosing your layout. Take a moment to explore the different themes and design options available to you. The best way to create an invitation you both love is to work together as a team.
A simple place to start is to browse through templates that match your wedding theme. Whether you're having a beach wedding, a formal wedding, a rustic wedding, an indian wedding or something else, you're bound to find tons of invitation samples that can give you some inspiration.
Once you get more comfortable with these basic design elements, you can start working on other details that will pull your card together. With a bit of patience, the final results will blow you away.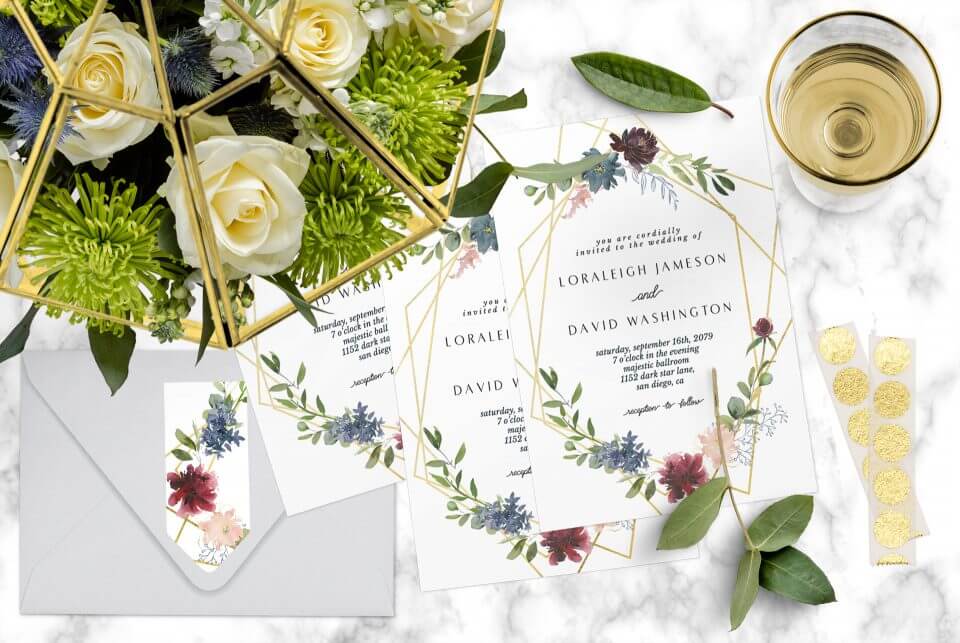 2. Reflect Your Wedding's Tone

Your wedding invitations should serve as a preview of the main event. First impressions matter! When your guests receive their invitations, they'll be gauging your wedding's energy.
If you're hosting a fancy wedding, florals or a more minimalistic design could be a tasteful presentation. If you're having a laid-back wedding, you could include a joke or a fun photo. Invitations for small weddings can feel intimate with warm colors, simple fonts, and a heartwarming message from the couple.
Destination weddings can start on an exciting note with a matching invitation. If you're traveling abroad, you could use a national monument or landscape photography from that region to transport your guests' minds. Once they receive your invitation, they'll be counting down in anticipation of your wedding day.
3. Consider Using a Photo

The best way to customize your wedding invitations is to add a personal photo. For a romantic wedding invitation, you can make your love the focal point. Nothing is more heartwarming than seeing a happy couple who's excited to commit to each other for the rest of their lives.
If the two of you are easygoing, feel free to use any nice shot you snapped on your phone. You could choose a picture of the two of you on a nice vacation, a kissing photo, or even the first picture you ever took together as a couple. If you have engagement photos, those would be perfect, too.
For a more elegant card, you could hire a professional photographer to capture more high-quality shots. If you have any friends with excellent photography skills, you could ask them to do the photo shoot. This idea is great for people who are a bit camera shy because a friend is sure to make you feel more relaxed during the shoot. To save money, try proposing a deal where they can take your photos in lieu of a wedding gift.

4. It's all about the fonts

Most wedding invitations use around two or three different fonts. Some variation can add depth and charm to your invitation, but it's important not to go overboard. As you experiment, be sure to find fonts that are legible and complementary.
Although cursive and script fonts look elegant, it's best to avoid using them for any text that includes wedding details like the date or location. This information should be the clearest and easiest to read to avoid confusion.
If you need some help getting started, this font pairing guide can give you some inspiration to find your best match. Once you have a rough draft, it's helpful to put your project down for a while and come back later with fresh eyes. After you take a break, you'll be able to more closely check the text for proper grammar and legibility.

5. Color Matters

Since your wedding day is an important announcement, your news deserves to be surrounded by dazzling colors. You can use a color scheme inspired by your wedding theme or you can simply find unique pairings that you think look beautiful.
Do you want to plan a trendy wedding? If so, Wedding wire's wedding color palettes are inspired by nature. When you're creating your wedding invitations, you can borrow your color scheme from sunsets, flowers, moonlight, or the tropics.
The season in which you're getting married could also influence your palette. Colder months are complemented by dark, romantic colors like navy, burgundy, or grey. Summer weddings pop with vibrant colors like cherry, lavender, or cyan.
Although there are tons of colors to choose from, stay true to your unique tastes and design a card that represents you as a couple. If you need some help, it never hurts to get some outside opinions from a few trusted friends.

As for text colors, make sure to keep contrast between background color to text so it will be easy to read. Make sure to use a single color or 2 colors for the text. Black or white text colors are the most popular choice.

6. Choose Center Alignment for a Clean Look

Wedding invitations are usually full of different text blocks. Trying to keep them organized can be tricky. The easiest way to ensure your invitations look neat is to use center alignment for all text.
Not only does it look good every time, but it can be a lifesaver when you print out the invitations. If you create any text that lingers too close to the border, you risk cutting out some of the letters.
Although you can experiment with different alignments, make sure all of your text blocks are symmetrical and complement the rest of the layout. Don't be afraid of white space either. Leaving some empty space throughout your invitation will accentuate the most important details and give your card a crisp look.

7. Consider Adding Your Wedding Registry, Website, and Hashtag
Thanks to the internet, weddings are a lot easier to plan and enjoy for both the couple and the guests. You can use several online tools to make the most of your big day. One of the best places to showcase your wedding registry, website, or hashtag is your invitation.
Taking the time to create a wedding registry will ensure that you receive the gifts you actually want. Although every guest has the best intentions, you don't want to be the couple who winds up with 10 different toasters because your guests had a hard time choosing your gift. When your loved ones see your wedding registry information on their invitation, they'll be relieved once it's time to start shopping.
A wedding website is a great way to keep all of your important links, photos, announcements, and other crucial information in one place. Although you may not feel like you need to make a whole website devoted to your wedding day, you'll be happy that you did. Once your wedding is over, you'll be able to look back on your website for many years to come.
A wedding hashtag is a brilliant tool to maximize your social media game. If you're allowing guests to take photos and videos during the event, you'll be able to find all of their wedding content in one convenient location. All your guests have to do is include your wedding hashtag in each post.

9. Choose the Right Size and Delivery Method
Most people wouldn't think that sending out invitations is hard. However, with so many different paper sizes and delivery methods, you'll have a lot to consider. Size and delivery can impact the appearance and cost, so be sure to take your time deciding.
5×7 or 7×5 cards are the most common sizes. Because of this, mailing prices are reasonable. If you decide to use a less popular size like 5×5, note it requires an extra postage
If you have a tight wedding budget, don't overlook the possibility of sending your wedding invitations online. One additional benefit of this method is that you can also collect your RSVPs with ease. Since guests are one click away from responding to your invitation, you won't have to worry about hunting people down for their reply.
If you have your heart set on the traditional mailing route, be sure to choose the cheapest shipping option. As long as you give yourself enough time to send the invitations out early, your guests will have plenty of opportunity to mark their calendars.

10. Consider Adding a Wedding Monogram

A wedding monogram is a unique and stunning symbol of your union. The best part about making one is that you can use it on your invitations and tons of other wedding items like napkins or champagne flutes.
Wedding monograms would work well as the centerpiece of your invitation or as a small decoration on the top. No matter where you put it, it's sure to catch people's eyes.
If you can't fit your wedding monogram on your invitations, you should consider using yours as a wax seal for your envelopes. Wax seals are especially stunning for traditional weddings since this lost artform was so popular in past centuries.
11. Get Crafty with Extra Pizzazz

Do you enjoy doing arts and crafts? If you have some extra time on your hands, you can transform your wedding invitations with a dose of 3D magic. There are tons of small objects you can glue onto your invitations for some extra flair.
If you want to add some elegance, you can glue dried flowers or any other stunning piece of nature. The best part is that you can even find some treasures in your own backyard.
If you want to create glamorous wedding invitations, you can't go wrong with a pop of gold or silver glitter. When your guests receive their invitation, they'll be wowed once the light makes the paper shimmer.
You could also add objects that match your wedding theme. If you're throwing a beach wedding, you could glue tiny seashells onto the card. Winter wedding invitations would look extra cheery with little pinecones, sprigs of fir, or holly berries.
Don't forget that smell is an important sense, too. Playing around with different scents can be a creative way to surprise your guests. If you find the perfect scent, be sure to spray lightly from a distance to avoid staining your invitations.
The possibilities for 3D decorations are endless! Just remember to keep shipping weight in mind. If your invitations get too heavy, they may require two stamps instead of one.

12. Choose the Right Paper and Do Print Tests

When it comes to paper, there are all kinds of thicknesses, textures, finishes, sizes, and other features. Thankfully, there are helpful guides on how to choose cardstock for your wedding invitations that make the process less confusing.
If you have a tight budget, you can still print high-quality invitations from home or at a local print shop. You just have to be more careful and do some print tests in order to get the perfect results.
Glossy and textured papers do have a refined look, but they come with the risk of ink not properly coating the invitation. It's also worth noting that different kinds of printers may not be equipped to handle varying sizes of paper.
When you're ready to print, do one invitation at a time. If you notice that some text gets cut off at the border or the ink doesn't look crisp, you can make some adjustments then try again. This process does involve a lot of guessing and checking, but once you print one perfect invitation, you'll be ready to print the rest with no problems.

13. Remember to Include an RSVP
After you've put a lot of care into creating stunning wedding invitations, you'll want to follow up with equally beautiful wedding RSVPs. No matter how you decide to send your invitations, it'll be easy to include a separate RSVP.
If you're sending by mail, the best way to get a written response is to include a self-addressed envelope with postage included. To save money, you can also request that guests contact you by phone, email, or another method you prefer.
If you're emailing your wedding invitations, you'll be able to get an RSVP even faster. All your guests have to do is click once to respond. Wedding planning will be much less stressful the sooner you know how many guests you have to accommodate.
One important tip to remember while you design your wedding RSVPs is that they should match or complement your invitations. Since they'll be accompanying each other, they shouldn't clash.
Some simple ways to tie the two cards together could be to include your wedding monogram on both, use the same pattern or theme, or continue your color scheme. Once you think you've finished your RSVP, be sure to compare it side by side with your invitation. If they look good together, then you're ready to announce your wedding to your loved ones.
---
Wedding Planning Doesn't Have to Be Stressful
Planning the happiest day of your life shouldn't make you stressed out! The good news is that making your own wedding invitations is fun and affordable.
With these helpful tips, you'll be able to create the wedding invite designs of your dreams. Since you're in control, you know the final product will be perfect and fit your budget.