16 Magical Christmas Wedding Ideas Guests Will Never Forget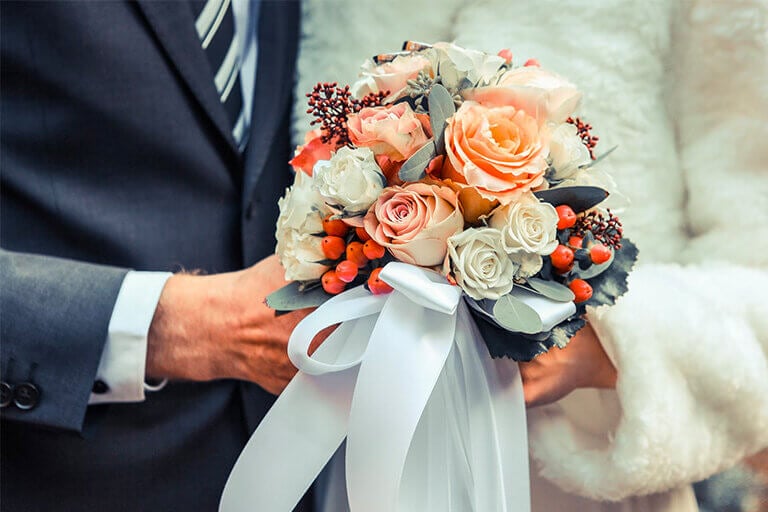 Wedding season traditionally starts in May and runs through October. Brides, grooms, and planners tend to gravitate toward warmer weather, but weddings in the colder parts of the year are cozy, beautifully unique, and can even be more affordable. Create a stunning and intimate holiday affair with some unique Christmas wedding ideas that will delight your guests.
These Christmas wedding ideas will help you throw an unforgettable celebration during one of the most festive times of the year. Lean into the nostalgia and give your guests a beautiful evening with fun, food, and wonderful memories during your big day.
Is A Christmas Wedding A Good Idea?
There are lots of potential advantages to having a Christmas wedding in the winter. While it isn't the most popular time of the year to host a bash, there are some reasons it tops events during your typical wedding season. Here are some of the best benefits to having a winter wedding.
More venue options and dates to choose from
Lower venue and vendor rates
Less competition for RSVPs from family and friends
Cheaper travel and hotel costs for guests
A unique and memorable party for everyone
Christmas & Winter Wedding Invitations
Christmas and winter wedding invitations may sound like a challenge, but they're actually quite the opposite. Spring and summer weddings tend to stick to a flower theme and fall weddings may include some foliage, but winter wedding invitations are the perfect time to step outside the box.
Winter greenery invitations are a gorgeous way to drive home your cozy, winter wedding theme. A Christmas town invitation gives guests a sneak peek into what to expect from your Christmas-themed wedding. For elegant winter wedding invitations without a full-blown holiday theme, opt for a classy wedding invitation in a deep burgundy hue with gold or sparkle accents.
Christmas Wedding Decor
Christmas themed wedding ideas for decor can range from traditional and festive to elegant and classy. Select from gorgeous Christmas decor ideas that best fit the mood you're aiming for. When planning winter wedding decor, try to focus on making the event feel cozy and intimate for your guests.
Colors
A classic Christmas themed wedding color scheme could be a combination of deep burgundy and emerald green. For accent colors, consider neutrals like black, white, or even a soft gray or nude beige. Red and green are long-established holiday colors and selecting deeper hues ups the elegance factor. Emerald green table coverings with black dinner napkins and gold napkin rings make a gorgeous table setting.
If you want to create a fancy, festive feel for your event, a black and gold theme is a classy and understated wedding color scheme. Consider a black tablecloth and a gold, sequined runner. Crisp white plates with gold silverware add a subtle radiance to guests' tables.
For a winter wonderland theme that shies away from traditional Christmas colors, a dusty blue hue accented with blush, white, and sparkly silver would make for an enchanting and gorgeous decor palette.
Flowers
Floral arrangements are an attractive way to create a charming winter wonderland wedding atmosphere. Consider in-season winter wedding flowers to match the motif and to save on cost. Some gorgeous winter flower options are camellias, ranunculus, gardenias, or the most festive of all, poinsettias.
Choose flowers that fit your color scheme. White flowers are a beautiful accent to a black and gold theme while burgundy or blush flowers look stunning with emerald green decor. Use flowers to accentuate the main areas of your ceremony and reception like the altar, bridal party table, bar, or photo backdrops.
Lights
Using Christmas lights in your winter wonderland wedding theme adds that ideal warm glow to an evening reception. They create a cozy ambiance and set the mood for an intimate and friendly affair. Dazzle your guests with Christmas lights in unique places by using battery-powered lights that don't require a plug. Run them along the center of the tables, drape them behind the bride and groom's chairs, and create a whimsical photo scene using tulle as a backdrop with glowing lights woven throughout.
Trees and Garland
Play up the holiday theme by using Christmas trees and holiday garlands in your winter wedding decor. The luscious green of the trees with the warm yellow glow of the lights creates a beautiful backdrop for wedding photos and for creating memories.
Use trees to frame the altar for the ceremony, hang garland across the bar, and use sprigs of pine to add a little cheer to place settings. Bringing in pops of greenery is a must for affordable wedding decor. For winter weddings, keep the greenery seasonal and use pine, blue spruce, cedar, or juniper to add texture and color to your winter wonderland wedding theme.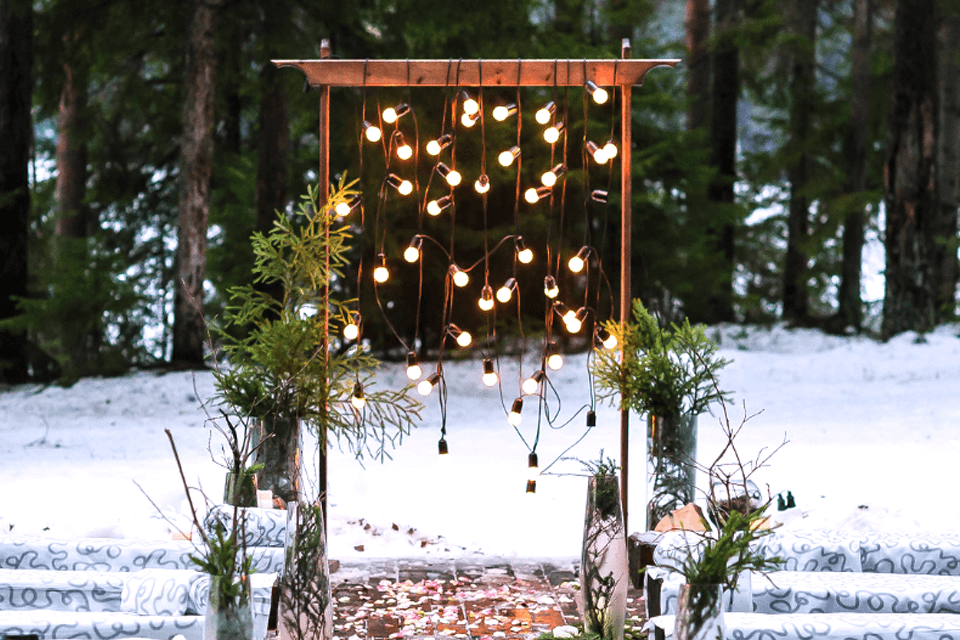 Christmas Wedding Centerpieces
Create a warm and inviting environment by using Christmas wedding centerpieces for all of your guests' tables. These centerpieces don't need to be baubled Christmas trees, but you can use this opportunity to get into the winter theme.
Garlands of greenery with crisp white candles make beautiful accents on long rectangular tables. Use a crisp white napkin in the center of a round table with cuts of fresh winter greens, like pine or blue spruce, along with some pinecones and glowing white tea light candles or warm yellow Christmas lights. Utilize some of your winter-season flowers for stunning floral arrangements that highlight your wedding's accent colors
Winter & Christmas Wedding Favors
Send your guests home with a small token of your appreciation in the form of Christmas wedding favors. These gifts don't need to be large or complicated, just a sweet and sentimental offering to help them remember your big day.
Wedding Christmas Ornament
A holiday ornament is a charming gift for your guests that will remind them of your wedding for years to come. Whether it's a personalized Christmas wedding ornament with your wedding date engraved, a trio of simple jingle bells tied together with twine, or a wood-carved snowflake, let the ornament tell your wedding story.
For a fun activity at the reception, you could also allow guests to make their own Christmas wedding ornament favors by providing empty glass ornaments and fillers such as sprigs of pine, holly berries, faux snow, glitter, or pinecones.
Hot Chocolate Mix Kits
Hot chocolate kits are a perfect treat for chilly winter nights. Fill a small mason jar with homemade hot chocolate mix, complete with marshmallows, and decorate the jar with a sprig of pine or a neat Christmas bow.
Get creative with your mix-ins and let guests choose which hot chocolate best suits their mood. Cinnamon adds a sweet spice for a Mexican-style hot chocolate. Gingerbread spice creates a holiday-themed mug full of goodness and espresso powder adds a much-needed kick for guests who stay just a little too late at your holiday-themed affair!
Pine Trees
Send guests home with a gift that helps the environment. A pine tree seedling is a festive holiday wedding favor that your friends and family can use to decorate their own home for the holidays and then plant to remember your big day.
What To Serve Guests At a Christmas Wedding
Treat your guests to an amazing meal with a holiday mood. Start with a fun cocktail hour serving festive drinks and fun finger foods. Move on to a deliciously comforting dinner menu with some elevated family favorites, and then serve dessert, like a gorgeous Christmas wedding cake to share with all of your loved ones.
Christmas Cocktails
Themed cocktails are a fun way to show your personality to your wedding guests. Get festive with your drink offerings by doing a Christmas old fashioned, mulled wine, or a traditional egg nog with rum, brandy, or bourbon. Offer all three Christmas themed wedding drinks and see which one your guests love most.
Ask if your bartenders can garnish drinks using sprigs of rosemary or pop a couple of cranberries in flutes of champagne. These tiny drink details add a dose of merriment to create the perfect winter wonderland wedding ambiance.
Festive Appetizers
Whether you decide to do themed appetizers that look like Christmas trees or wreaths or go a more subtle route by highlighting holiday flavors in traditional wedding treats, the appetizers you choose during cocktail hour are another way to liven up the holiday mood.
Cranberry and brie bites are a flavorful and colorful holiday appetizer. Skewers with mozzarella, tomato, and basil play up the traditional Christmas colors, and rosemary and orange marinated olives bring a subtle holiday flavor to a unique wedding appetizer.
Christmas Themed Wedding Dinner
For dinner, consider some family favorite comfort foods that you'd find on a holiday dinner table. Delicious cuts of beef with creamy mashed potatoes and a side of roasted brussels sprouts adorned with pops of red pomegranate seeds. A pumpkin-filled ravioli with a sage-infused butter sauce. Or a spice-rubbed salmon with roasted root veggies.
Keep the food easy, simple, and classic. Make guests feel like they're joining you for a holiday feast in your home and focus on laughter and good conversation, not fancy ingredients and over-the-top courses.
Christmas Wedding Cake
A wedding cake can be as simple or as embellished as you choose. Whether you serve a sheet cake or a five-tiered display, keep with the holiday theme by choosing warm flavors and decorating with holiday accents.
A layered cake looks gorgeous with smooth white frosting and pops of color from fresh Christmas greenery and sugared cranberries. Or opt for a simple sheet cake using complex and holiday-spiced flavors. Traditional options like chocolate and vanilla are great, but you could also try a spice cake, eggnog cake, or gingerbread cake to delight and surprise guests.
Not a cake fan? Try a Christmas cookie table where guests can satisfy their sweet tooth with a variety of Christmas cookie classics.
Winter Wonderland Wedding Photos
Capture your memories on film to make them last a lifetime. Winter wedding photos are unique, and with a little bit of planning and a photographer with a great eye, they can be absolutely stunning.
Snowy Outdoor Shots
Bundle up and get outside for some beautiful snowflake shots. The contrast of your formal bridal attire against a crisp white backdrop will create some awe-inspiring photos. During spring and summer weddings, rain can be a nuisance. But during the colder months, some fluffy falling snow can add drama and mood to your wedding photos.
To keep comfortable, bring layers of shawls, blankets, sweaters, or even winter coats to fend off the cold in between shots and add texture to your attire. Have a solid plan of what photos you want beforehand to shorten the time in the chilly outdoors.
An Indoor Glow
Along with the beautiful outdoor shots, the warm and inviting indoor space you've created is also a perfect setting for cozy and intimate wedding photos. Utilize the glow of the twinkle lights and capture the juxtaposition of the warm and cozy indoors with the snow-covered outdoors by having some photos near large windows. Create the illusion of snow inside by using crisp, white accents in your decor and twinkle lights strung from the ceiling.
Christmas Wedding Attire
When selecting your wedding party's attire, you can consider a lot of the same color scheme options as your winter wedding decor. Dark, moody hues work beautifully with a winter or Christmas themed wedding. Burgundy and emerald bridesmaid dresses are chic and festive. Black bridesmaid dresses and tuxes give an elegant touch to the wedding party. Add more whimsy to your bridal party with dresses in dusty rose or light blue hues accented with sparkly silver or gold jewelry.
Find ways to keep everyone warm, particularly during outdoor photo sessions. Long sleeve wedding gowns or bridesmaid dresses are elegant and add warmth. Faux fur wraps or jackets, capelets, or shawls help keep shoulders warm. Chunky knit blankets can add a fun layer for photos and keep the chill at bay. You can also utilize your long gown or bridesmaid dresses to cover any fleece-lined tights or snow boots for additional layers during outdoor photo sessions.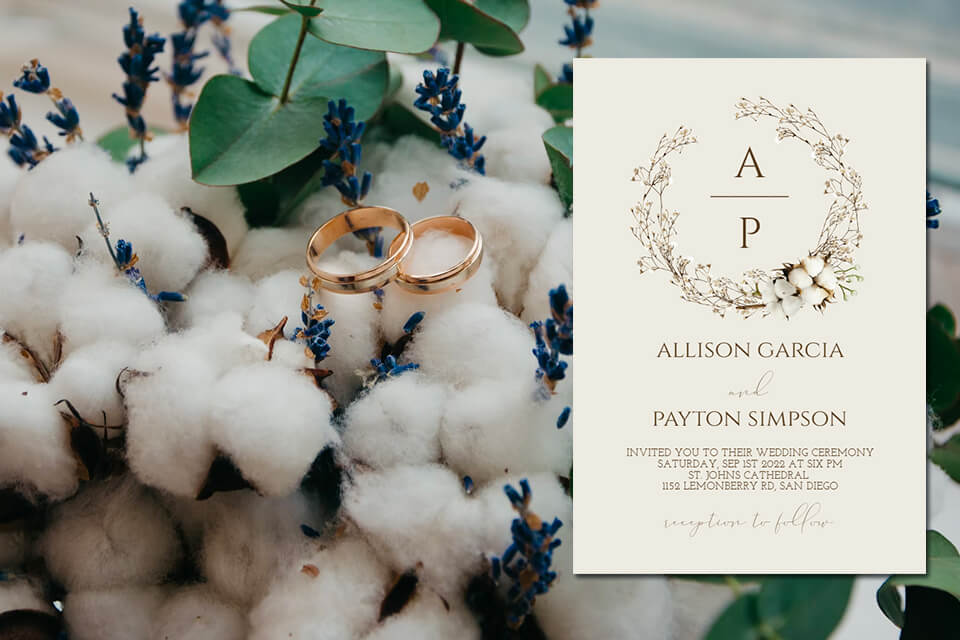 Christmas Wedding Ideas For A Festive Evening
These Christmas wedding ideas will help you throw a memorable celebration that your friends and family won't soon forget. Bring loved ones together during one of the most magical times of the year and commemorate the occasion with delicious foods, gorgeous colors, seasonal decor, and beautiful memories.
Don't be afraid to lean into the holiday theme and create a festive event with lots of Christmas accents. Stay traditional and classic with trees, Christmas lights, winter greenery, and snowy photo sessions. Or create a gorgeous winter wonderland wedding with crisp white decor, sparkly accents, and glowing twinkle lights casting a dazzling glow on all your guests. Use these Christmas wedding ideas to dazzle your guests and create a night you'll remember forever.
---
Photo credit: Nick Karyounis, Irina Iriser, Amanda Vick, Todd Trapani, Valeria Aksakova, NIka Vera, Fred Heap, Konstantin Mishchenko