7 Fun And Practical Ideas For Hosting An At-Home Bridal Shower
Can you believe that a whopping 17 tons of gold are used each year in the United States to make wedding rings?
If your partner popped the question and you're ready to get married, don't forget to throw an amazing bridal shower. Many people think that you need to book a super fancy venue to host a bridal shower, but it's possible to have the most memorable event right in your own home.
Are you wondering how you can make yours one for the books? Keep reading to get inspired by 7 bridal shower ideas at home that can help you plan an unforgettable party.
Can You Have a Bridal Shower at Your House?
With enough dedication and creativity, an at-home bridal shower can be better than one at a different venue.
In fact, this type of bridal shower is cozier and much more intimate than if you were to rent out a giant venue somewhere else. Plus, it can make the planning go much more smoothly since you won't have to travel to a bunch of venues to see if they're right for you. Best of all, this option allows you to have a bigger budget for other aspects of the shower, such as food, decorations, party favors, and so much more.
Is your home a bit too small for what you're envisioning? Don't worry just yet because the bridal shower might be a better fit at one of your closest friends' houses. There's no doubt that at least one of your friends will consider it an honor to host your party.
How Do You Throw a Bridal Shower at Home?
Instead of rushing everything, it's best to give yourself and your guests plenty of time to prepare.
It's a good idea to have the bridal shower at least a couple of months before the wedding day, if not more than that. You also don't want the bridal shower to take away from the bachelorette party or vice versa.
Once you pick the perfect day, it's time to send out the beautiful invitations. In the excitement, it's easy to go overboard and invite more people than your home can handle. With that in mind, it's worth assessing the size of the home and the outdoor space.
The bridal shower can end up being the most intimate part of the marital festivities. You could always save the giant roster for when the wedding day arrives.
1. Choose the Perfect Theme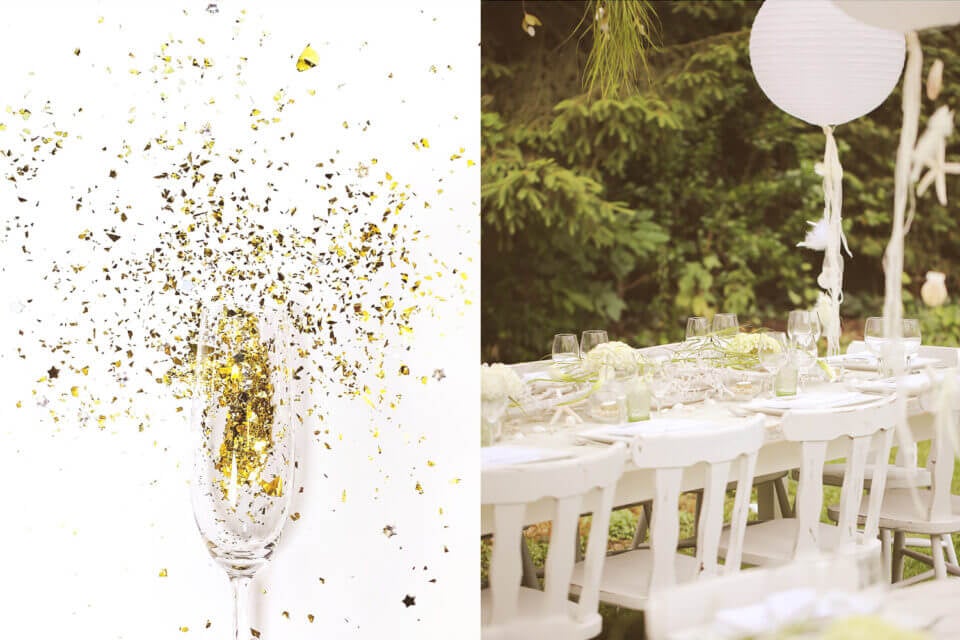 Throwing a bridal shower at home is far from the only thing you can do to make the event unique. You can also select a theme that will enhance the fun and make the memories even more long-lasting. It's up to you whether you want to complement the theme of your wedding or pick a contrasting theme so that they don't blend together in people's minds.
For instance, most weddings are all about the beautiful purity of the color white. Instead of having a bridal shower that's white as well, you could go the total opposite way and include a variety of vibrant colors. In fact, the perfect overarching theme for your bridal shower could be a rainbow.
There's added meaning to this theme when you think about how people believe a pot of gold is at the end of the rainbow, just like a husband is awaiting the bride at the end of all the festivities.
If you've decided to include the backyard, then why not opt for a garden party theme? Nothing is more elegant than sipping champagne while surrounded by a plethora of beautiful plants and blooming flowers.
For future brides who would rather keep the fun indoors, you could go with a slumber party theme. This nostalgic idea can remind you and your girls of all the fun nights you spent together talking about crushes, eating great food, and getting dressed up. Who would have thought back then that you'd be getting married to such a wonderful partner?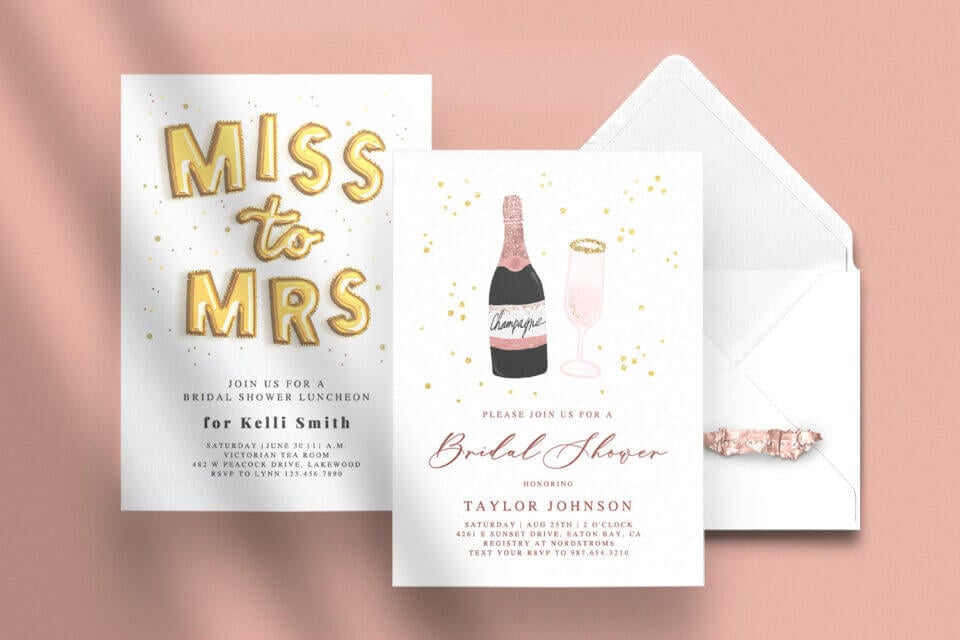 2. Decorating Your At-Home Bridal Shower
Once you've decided on the perfect theme, you can go all-out with decorations. After all, the décor is what will truly transform your home into a venue like no other. You can start with ordering a custom welcome sign or building one yourself if you enjoy doing arts and crafts.
Not only will this make the event feel more official and momentous, but it'll also help guests find your home if they aren't familiar with the area. One sign is never enough, which is why it's worth getting a banner you can hang up within the home or in the backyard. The sign could even feature the hashtag of your event so that people know what to use when sharing memories on social media.
One decoration that we love seeing at bridal showers involves garlands that feature the future couple. Above the romantic and silly photos can be letters that spell out "bride to be," for instance.
Whatever you plan on eating during the bridal shower, your table decorations should heighten the experience and set the mood. From a mason jar bouquet to floral placemats, the possibilities are almost endless. Don't forget to add some glitzy straws and custom napkins into the mix.
If you're looking for easy decorations that can make the room pop, then consider buying some balloons of varying colors, such as white, gold, pink, and more. With an air pump, you can cover plenty of ground so that the rooms feel more extravagant and fun.
Not all decorations need to be limited to the walls and furniture. For example, topping your deserts with hearts or ring cutouts can go a long way toward tying everything together.
3. Decide Between Cooking and Catering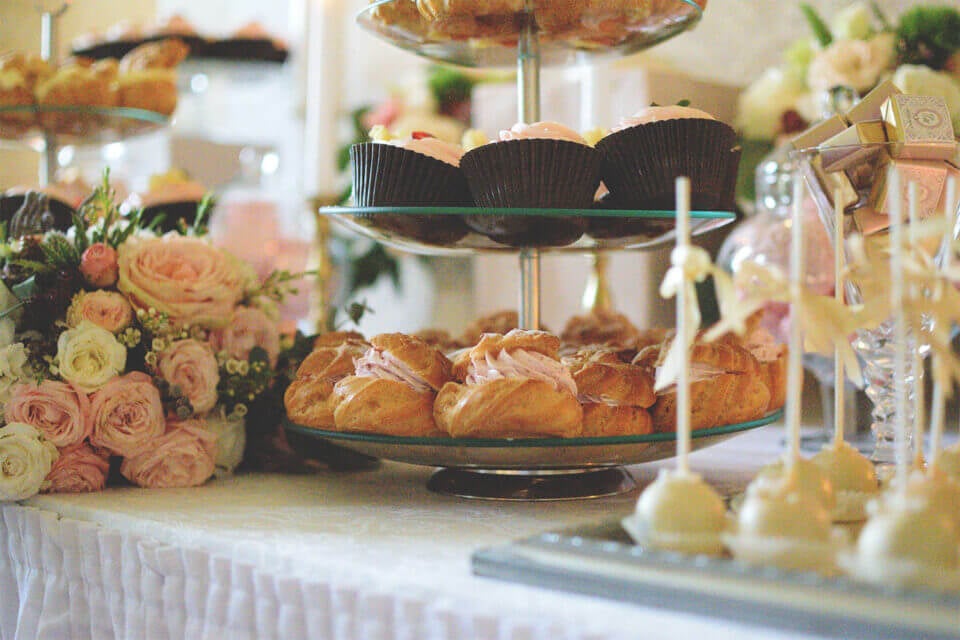 Some people have green thumbs while others were born to cook. If you're up for a challenge, then you could try cooking the food for your bridal shower. That way, the party will have yet another layer of intimacy and coziness to it.
You could even have a combination of cooking and catering. You could leave the bigger meals to the professionals while you focus on concocting some finger-licking snacks and appetizers, such as stuffed mushrooms, Cuban sandwiches on a stick, Mexican seven layer dip, and more. Don't forget about drinks.
While you don't want to upstage the cake on your wedding day, that shouldn't stop you from having a smaller but no less delicious cake for everyone to enjoy. Even people who are great at cooking may not have much experience with baking, so you should feel free to order a cake that you can either pick up from the store or get delivered right to your door.
An open bar is always a welcome staple at adult parties and your bridal shower is no exception. You could enlist the help of a friend who knows their way around various types of liquors or you could hire someone for the evening. To make things safe, it's a good idea to set out a bowl where people can leave their keys so that nobody drives home if they've had one too many.
4. Plan the Best Bridal Shower Games
Tie the knot is a game that's as fun as it is delicious. It involves giving people bowls of cherries and competing to tie the most cherry stems into knots within a certain time period. This is a great game for snacking and playing at the same time. For a twist to tie the knot, you can soak the cherries in some vodka to give the fruit a bit of a kick.
Everyone loves scavenger hunts, so why not play a version of this game with purses? You can call out the names of items from a list and see who can find that item within their purse before anyone else. Of course, some items are worth more if they're not as common.
For instance, lipstick and car keys might be more common than a tin of mints or some matches. Whoever has the most points by the end should get a prize.
Who doesn't enjoy hearing a good love story? Instead of simply going from person to person and having them tell their stories, you can turn it into a guessing game. Instruct your guests to come up with two lies in their story and then it's on everyone else to guess which two parts of the meet-cute weren't true.
You can break everyone up into two groups and compete against each other as teams. Is that game too tame for you? If so, you can take things to a whole new level when you make a rule that each wrong guess means the player has to take a shot of liquor.
Yet another fun game involves classic mad libs. However, you can fill in the gaps of wedding vows instead. Whoever can come up with the funniest ad-libbed vow is crowned the winner.
5. Curate a Popping Soundtrack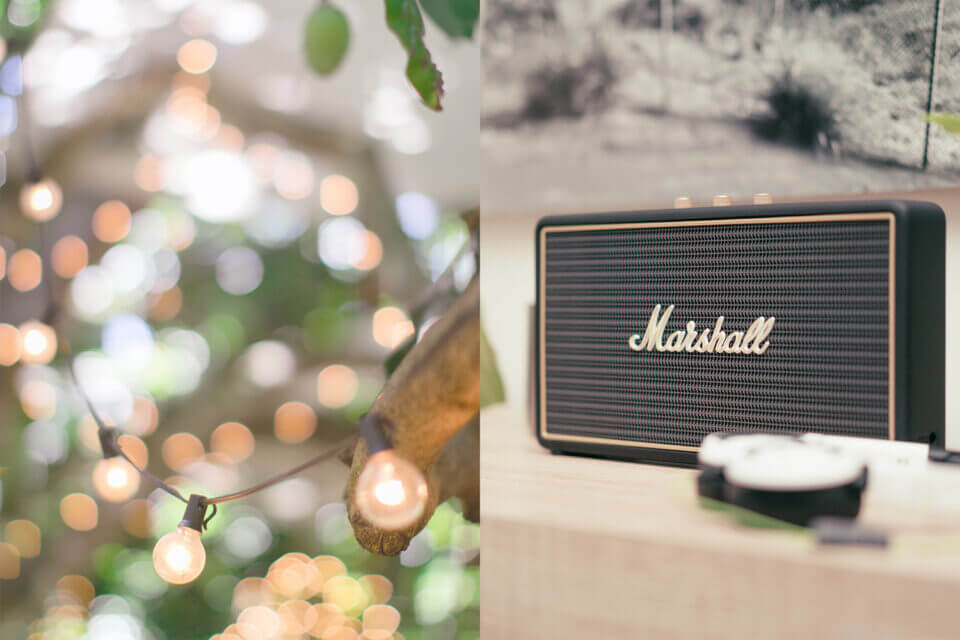 No bridal shower is complete without a soundtrack to set the mood. You can have it playing in the background as you chat and do activities, then you can turn it up when it's time to dance it out. There are many different songs you can choose from that have a romantic atmosphere without being too lovey-dovey.
For instance, you and your friends could jam out to the following songs:
"White Wedding" by Billy Idol
"Butterflies" by Kacey Musgraves
"Beyond the Sea" by Bobby Darin
"Marry You" by Bruno Mars
"For Once In My Life" by Stevie Wonder
"Sugar" by Maroon 5
"My Girl" by The Temptations
"You Still Believe in Me" by The Beach Boys
"The Joker and The Queen" by Ed Sheeran
"Lovebug" by The Jonas Brothers
Spotify is one of the most popular ways to make playlists and stream music, but you could also use YouTube or iTunes. It's worth noting that Spotify can create a radio playlist based on similar songs if you go through your entire playlist over the course of the bridal shower. This prevents you from fiddling around with the app when you're trying to entertain your guests.
Don't forget to invest in a speaker that can do the tunes justice. One of the best speakers for both indoor and outdoor use is made by JBL. Since it's waterproof, you can even keep it by the pool without worrying about it falling in or getting wet from splashes.
6. Set Up a Gift Registry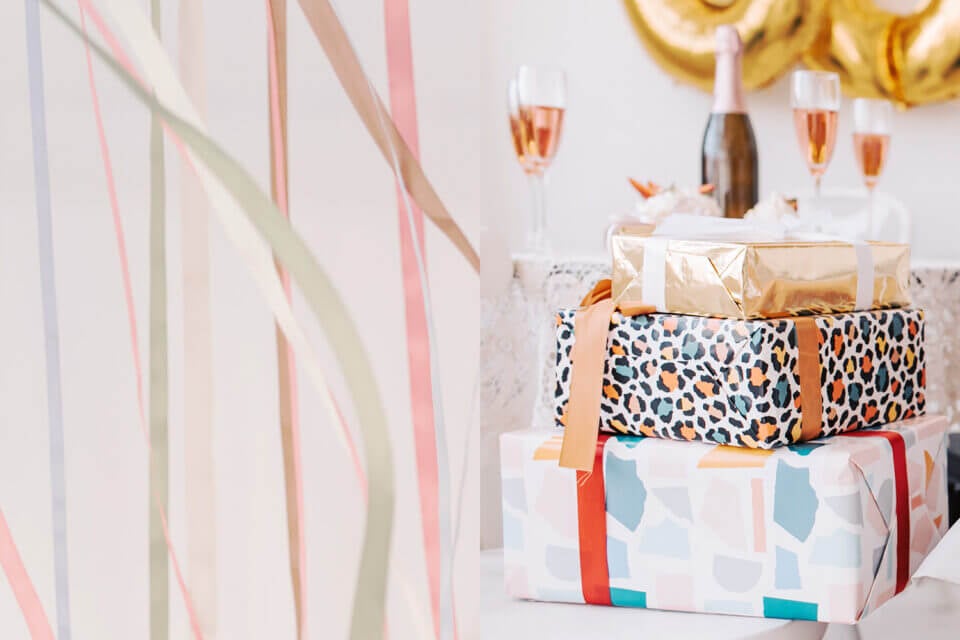 Like a baby shower, it's expected that your guests will arrive with a range of gifts to celebrate the soon-to-be bride. A gift registry can work wonders for avoiding the same gift twice or even three times in a row. Plus, people can refer to this gift registry when it comes time to celebrate the wedding itself.
Not only does it simplify the process, but it can also give your guests ideas of what they can get you. Instead of playing a guessing game, it's much easier to see what's on the list and what hasn't been claimed yet.
There are many ways you can set up a virtual gift registry that your guests can access from any computer or smartphone. You don't have to worry about something not loading quickly enough because it'll update in real-time.
Are you wondering what kind of gifts you can list on a bridal shower registry? The possibilities are endless, but some examples include a personalized makeup bag, engagement ring dishes, a custom robe, comfy slippers, a cake serving set, honeymoon-themed luggage tags, a luxurious hanger for the wedding dress, and so much more.
7. Get Bridal Shower Party Favors Everyone Will Love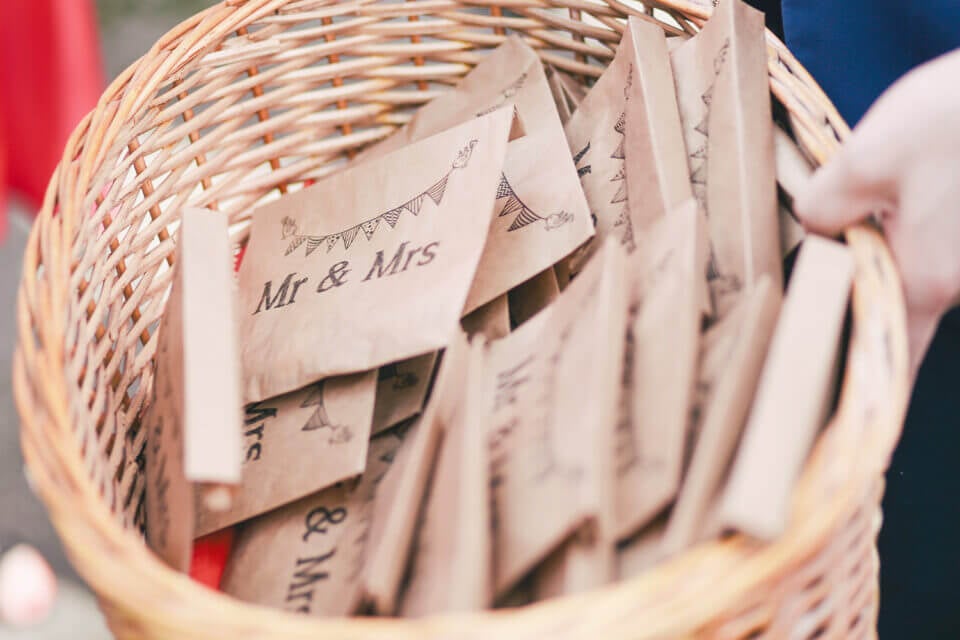 After your friends and family members have showered you with gifts, it's nice to hand out party favors that have just as much love and meaning behind them. You'll be glad to know that there are many party favors you can choose from that are guaranteed to be a crowd pleaser.
For example, who wouldn't fall head over heels for a miniature cheese board in the shape of a heart? This is something they could use for every occasion in which love is in the air, such as Valentine's Day, marriage anniversaries, and even Christmas. The bamboo material of the cheese board ensures it'll look great for a long time to come.
The same is true of a high-quality drinking glass. Whether your gal pals want to relax after work with a glass of wine or they're throwing their own party just because, they can always rely on the custom wine glass or other cup types you gave them at the bridal shower. Be sure to include the date of the shower on the glass, along with other commemorative info, such as "Sarah's Bridal Shower."
Of course, not every single party favor needs to be something that will last a lifetime. Even a special snack can have your guests leaving the bridal shower with a sweet taste in their mouths. It's possible to order gummies and other candies that have custom packaging.
Party favors allow you to commemorate the bridal shower and the fact that everyone was there to celebrate true love. One option that can get the memories of the event stirring like nothing else is a custom candle. If you need even more ideas, then consider giving out sheet masks, custom koozies, elegant soap, beautiful bottle openers, gourmet truffles, or even embroidered straw bags.
---
Are You Ready to Use These Bridal Shower Ideas at Home?
Now that you've learned about 7 incredible bridal shower ideas at home, you can host one of the most memorable bridal showers of all time. After you've brainstormed the details with your besties, don't forget to send out invites that are worthy of an event like yours.
Greetings Island specializes in invitations for all kinds of events, including bridal showers and other parties. We feature a wide range of expert artists so the invitations can speak to your unique style and theme. When it comes to notifying people about fun and important events, you can count on us.