The Ultimate Guide on Engagement Party Planning and Themes
Did you feel like your proposal was one of the most magical moments of your life and then a bunch of stress crept into your life once you realized you had lots of wedding festivities to plan?
From bachelor and bachelorette parties to engagement parties and the wedding itself, it's normal to feel overwhelmed by these major events. In fact, 96% of couples say that wedding planning stresses them out. The key to enjoying the journey instead of feeling worried about it is to take deep breaths and gather helpful resources that will make your engagement party planning fun.
Do you need help figuring out how to plan an engagement party so you can celebrate this magnificent news with your loved ones? Continue reading for the ultimate guide on engagement party planning and incredible theme ideas that can shape the event.
Who Usually Hosts the Engagement Party?
One of the most common questions that couples and their loved ones ask themselves after an engagement is announced is "Whose responsibility is it to host the engagement party?" If you want to follow tradition, then the bride's parents are the ones who should plan the party.
Lots of traditions don't feel as relevant today to many people, so this means that you should feel free to assign this honor to anyone who's passionate about party planning. For instance, all of the parents of the couple could band together to host, the couple can host, and even best friends can host.
Where Should You Host an Engagement Party?
An important step in engagement party planning is determining where you'd like to host the event. There are endless possibilities that you could consider, so it's helpful to reflect on the vibe that you want your party to have.
For example, if you'd like to host an intimate party with only a few close loved ones, then there's nothing wrong with decorating your home to entertain your guests. Other couples who want to have a huge celebration to spread the love will need a larger venue to accommodate all of those people. Once you've figured out your guest list and desired ambience, you can set a budget and start browsing your venue options.
When Should You Send Out Engagement Party Invitations?
What is an appropriate engagement party invitation timeline? There aren't any solid rules that you need to abide by, but it's a common courtesy to give people enough warning to work their schedule around your party.
To create an elegant first impression on your guests, you may want to send out print invitations so they can get excited when they receive a beautiful card in the mail. Since postal services aren't always fast and some guests may live far away, you should try to send out your invitations six weeks in advance. This will give everyone at least a month to figure out if they can attend.
Sending virtual invitations is becoming more popular now in our digital world because it's convenient and cheaper. If you take this route, then you can send out your invitations a month ahead of your engagement party. Instead of having to track down RSVPs, you can collect them with ease online.
What Should Happen at an Engagement Party?
Like any other kind of party, chatting with everyone is the main form of entertainment at an engagement party. While you shouldn't feel pressured to put on a circus to keep the energy lively, it's still nice to plan some party games that can break the ice. Playing games is a simple way that you can help all of your loved ones who haven't met yet come together and laugh.
While you can always count on reliable party games like charades or never have I ever, why not put a unique engagement spin on these activities? Instead of playing normal ring toss, you can design a big engagement ring that guests have to toss onto a bottle painted like a finger. Another activity that gets people fired up is the newlywed game where couples and good friends can band together to see which pair knows each other the best.
Before the party starts, you should also create a thoughtful playlist that can make guests laugh, dance, or even feel sentimental. Having some background noise will ensure that there are never any uncomfortable silences.
What Food Should You Serve at an Engagement Party?
Whether you're hosting an engagement party, a birthday party, a retirement party, or any other event, the type of food that you serve should hinge on how long the festivities will last. Shorter events aren't as serious, so you don't need to feel obligated to serve a giant feast. Longer events are more tiring, though, so you'll have to have a meal in addition to snacks that people can munch on.
You may have an easier time planning your engagement party menu if you think of this event as the prelude to your wedding. If your engagement party has fancy catering, then people will likely expect the same treatment at your wedding. To keep costs low, you always have the option to make a bunch of freezer-friendly party foods ahead of time so nobody is scrambling in the kitchen the night before.
Don't forget to quench your guests' thirst as well! Water and ice are obvious must-haves, but you should also set out some different kinds of soda, juice, and alcohol so people can pour themselves the drinks that they want.
Do Engagement Parties Have Themes?
We've all heard of romantic and silly proposal ideas, but not as many people know that they can choose engagement theme ideas to celebrate the incredible news together. Some couples like the flexibility that comes with not having a theme while others find that the planning process is much more manageable when there's a central idea.
If you think that choosing a theme can simplify the planning process and make your engagement party more memorable, then you might be wondering which option you should pick. Here are ten fabulous engagement party themes to consider:
1. Love Is Sweet
Getting engaged is an exciting milestone in life since you know that you've found your life partner. Although you've shared so many amazing moments together already, your engagement party can be a reminder that the best is yet to come. This is why choosing a love is sweet theme will charm all of your guests.
Planning this party is simple since the only rule you need to follow is to serve a bunch of sweet foods. The rest of the party atmosphere and entertainment can be up to you. Some delicious treats that you can serve to make everyone's mouths water could include cookies, cupcakes, doughnuts, chocolates, fruit salad, cotton candy, and ice cream.
2. Party Like Royalty
When people fall in love with their soulmate, they often refer to their partner as their king or queen. If you and your fiancé want to be cheeky, then you can turn your venue into a castle and everyone who's invited can also arrive as royalty. From stunning gowns to noble robes and beyond, everyone will have a blast admiring others' attire.
As it turns out, there are plenty of different castles that you could potentially rent out for your engagement party to make the festivities feel more authentic if your budget allows it. You can all dance in the ballroom and share an epic feast. Make sure that the happy couple has special thrones to sit on during the event.
3. Seasons of Love
Many people agree that love comes in seasons and that there's always beauty that you can find as your lives change. Couples who want to honor their lifelong commitment to each other may adore the sentiment behind a seasons of love engagement party. To give your theme a concrete feeling, you can represent it by combining all four seasons at your event. Whether you're renting out a large venue with separate rooms or you're hosting your party in one intimate room, you can split your party space into sections that have different seasons.
In the spring section, guests can plant something magical that they can take home in a little pot as a party favor. For summer, guests can have snow cones while they relax in beach chairs. In the fall area, guests can eat pie and carve pumpkins. To capture the winter vibe, guests can sip on hot cocoa and make snowman crafts.
4. Did They or Didn't They? (Sharing Favorite Memories)
One of the nicest parts of bringing people together is that each guest will have unique memories of the couple that they can share with everyone else. You can create a fun game that will also break the ice that revolves around sharing fond memories. Every guest can brainstorm a few true memories and a few fake memories to try to trick the crowd.
Each guest will then take turns standing at the front of the room telling people their true or fake memory. Everyone else will have to choose one side of the room to stand on to cast their votes for whether they think the couple actually did this or not. You can come up with all kinds of silly punishments for everyone who chose the wrong answer, such as taking a shot, doing a hilarious dance, or pretending that they're walking on a fashion runway.
5. Garden Party
Garden parties are always a popular party theme since they're elegant and easy to adjust when it comes to your party size. You can host a small engagement party in a cozy backyard or rent out an actual garden for a bigger guest list. The benefit of renting space at a local garden is that you don't need to do lots of outdoor work to make your yard look picturesque.
The main thing that you'll need to focus on to pull off an astonishing garden party is your table spread. Aside from romantic decorations like bouquets and candles, you'll need to fill up your table with garden party foods like finger sandwiches, salads, and flatbreads. Tasty drinks like tea, punch, and water with fresh fruits and herbs will keep everyone refreshed as they soak up the sunshine
6. Enter Your Favorite Fictional Love Story
Every couple's love story is heartwarming and inspiring, but we all have our own favorite fictional love stories that make us swoon. If you and your fiancé would love having an opportunity to dress up, then your engagement party could recreate the world of your top love story. This is guaranteed to be a party unlike anything else that your loved ones have ever attended.
For example, if you and your partner adore the film Titanic, then you can dress up as Jack and Rose and instruct your guests to arrive in attire inspired by the early 20th century. You can try your hand at eating a fancy dinner with proper etiquette, having a wild dance party, and even painting portraits of each other. This theme is such a great way to get creative with your partner and share new experiences together with the people who matter most.
7. A Private Dinner Party
If you're a low-key couple who appreciates the small joys in life, then you can have a relaxing evening with your loved ones by hosting a private dinner party. You'll all be surprised by how many hours can fly by when you're sharing good food and conversation together. There are a few different ways that you can accomplish this, so be sure to assess your budget and personal preferences.
The easiest but most expensive option is to rent out a room in a nice restaurant so you can keep the event intimate. The cheapest option that requires the most work is to make your own food and host the engagement party at home. A happy medium could be hiring a personal chef to come cook in your kitchen.
8. Love Games
A challenging aspect of dating is figuring out how serious a potential partner is and if they're just playing games with your heart. The fantastic news is that you can look forward to having fun with your life partner once you've found them. In the spirit of staying playful no matter how long you've been married, you can celebrate your engagement by hosting a love games party.
The most thrilling love games engagement party should be held in a venue like a bowling alley, arcade, or trampoline park where the entertainment is already waiting for you. It's still possible to have a love games engagement party at home, but you'll need to get crafty. Board games and silly activities can keep your guests laughing all night long.
9. Tapas and Dancing
What's more dazzling than having a Spanish-style meal and dancing with your fiancé and closest loved ones? If you've never had tapas before, the concept involves serving a bunch of mouth-watering appetizers. Guests can graze on a wide variety of foods until they're full, which feels more adventurous than only having one simple dish.
While your taste buds will enjoy traveling to Spain, you should feel free to make any kinds of appetizers that you think are crowd pleasers. Once everyone has enough energy from their tapas, they can take the dancefloor by storm and jam out the whole evening. Your guests will be buzzing about how excited they are for your wedding once they see how spectacular your engagement party is.
10. Popping the Question
Building up the courage to pop the question is no easy feat! You can honor your fiancé's bravery by choosing an engagement party theme that's all about popping the question. This party is whimsical since everything about it will be bubbly and bright.
Some must-haves for your party are balloons, champagne and other sparkling beverages, and gourmet popcorn. You can even take eye-catching group photos while blowing bubbles. Racing on bouncy hopper balls is a party game that will make everyone giggle.
Are You Excited to Be a Master at Engagement Party Planning?
It can be challenging not to feel overwhelmed by engagement party planning since our minds sometimes make issues seem more complex than they really are. Now that you've equipped yourself with this guide, you know all of the simple steps you should take to plan a beautiful engagement party that showcases your love.
If you're ready to get the party planning in motion, then designing your invitations is a fun way to start! Greetings Island has a huge array of invitation templates that you can choose from and customize to perfection. Check out our engagement party invitations so you can start designing.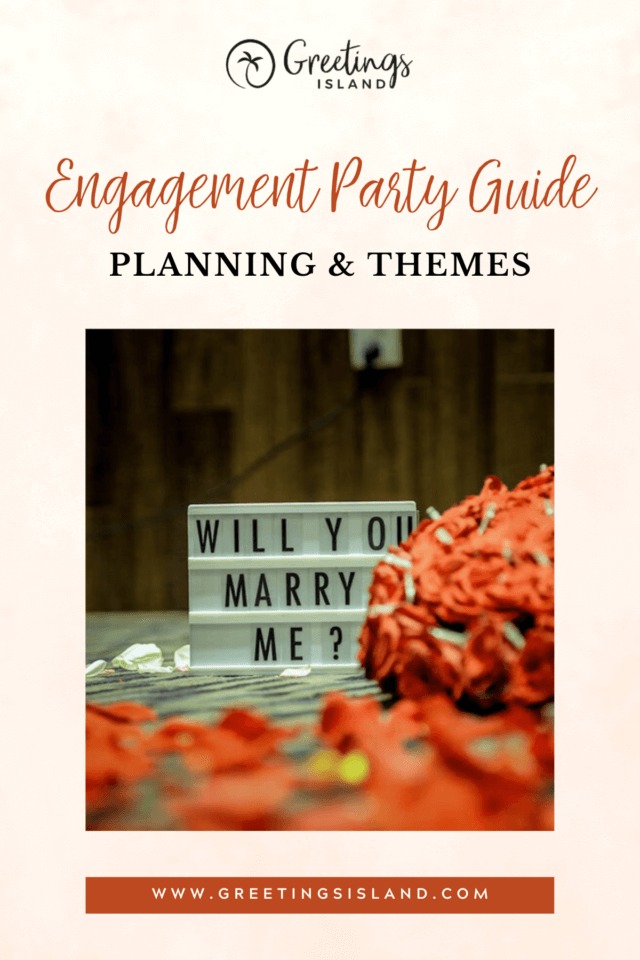 ---
Photo Credits: Gift Habeshaw, Al Elmes, Tom Pumford, Aneta Pawlik, Tabitha Turner, freestocks on Unsplash