Gender Reveal Party Ideas to Share Your Exciting News
Throwing a gender reveal party can be a fun and exciting way to announce the arrival of a new baby. These parties typically involve sharing the baby's gender with family and friends in a creative and unique way. From colorful smoke bombs to confetti-filled piñatas, the options for gender reveal party ideas are endless.
The atmosphere is usually filled with anticipation as loved ones gather to celebrate the parents-to-be and their little bundle of joy. It's an excellent opportunity to bond with friends and family, play games, enjoy delicious treats, and capture precious memories.
To plan an enjoyable reveal celebration, start with choosing a creative and inclusive way to reveal whether the baby is a boy or a girl. Consider unique ideas like a themed cake, colored balloons, or a surprise announcement. Pay attention to the guests' comfort, provide fun activities, and focus on making the day memorable for yourselves as parents and your guests.
Ultimately, reveal parties are a chance to share the happiness surrounding a new addition to the family and create lasting memories for everyone involved.
What is a Gender Reveal Party?
A reveal party is an event where expecting parents share the exciting news of their baby's gender with family and friends. It has gained popularity in recent years as a way to add an element of surprise and celebration to the pregnancy journey. The excitement revolves around the big announcement of whether the baby is a boy or a girl.
The reveal itself can take various forms, ranging from cutting a cake with colored filling to popping balloons filled with confetti or releasing colored smoke. The chosen method is often kept secret by the parents-to-be until the big event, creating anticipation and excitement among the attendees.
These parties provide an opportunity for loved ones to come together, celebrate, and offer support and well wishes to the expectant parents. They serve as a joyous occasion to bond, share in the couple's happiness, and eagerly anticipate the upcoming arrival of the baby.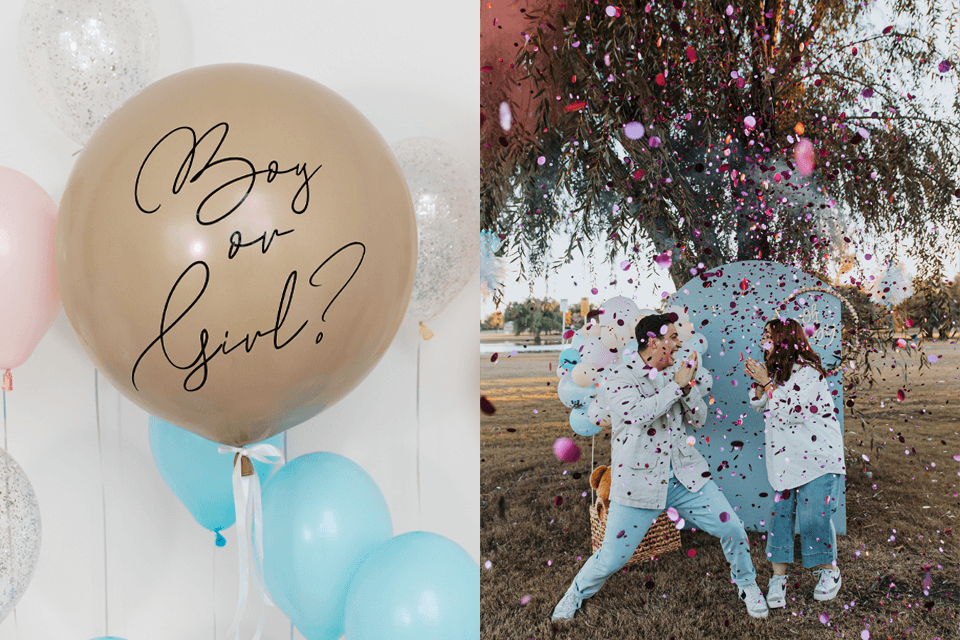 The Best Time to Throw Gender Parties
Parents usually throw a reveal party during the second trimester of pregnancy, typically around 18 to 20 weeks. This timing is chosen because it allows for a higher likelihood of accurate determination of the baby's gender through ultrasound. It also provides the parents with enough time to plan and prepare for the party while still leaving ample time for guests to make arrangements to attend. However, the timing can vary depending on personal preferences and circumstances.
Who usually plans a gender reveal party?
The question of who should host depends on personal preference and cultural norms. Traditionally, the expecting parents take on the role of hosting. This choice allows the parents to actively participate in the planning and execution of the event, as it is their special moment to share. Hosting also enables them to have control over the details and ensure the celebration reflects their style and preferences.
However, there is no hard and fast rule on who should host. Close friends, siblings, grandparents-to-be, or other relatives can also take on the role if the parents prefer a more relaxed approach or if they are unable to organize the event themselves. The most important aspect is that the host is enthusiastic, reliable, and willing to put effort into creating a joyful and inclusive atmosphere for the announcement.
Ultimately, the decision of who should host rests with the expecting parents and should be based on what makes them most comfortable and happy.
Choosing the Right Venue
Choosing the right venue is crucial to create the desired atmosphere and accommodate the number of guests. The venue should align with the theme and style of the celebration while providing ample space for activities and decorations. Here are some venue options to consider:
Home: Hosting at home offers familiarity, convenience, and cost-effectiveness. It allows for personalized decorations and easy access to necessities. Hold the event indoors or outdoors depending on the time of year, the weather, and the messiness of your reveal element!
Backyard or Garden: If weather permits, an outdoor space can provide a beautiful backdrop and ample room for games and activities. Consider renting a marquee or tent for shade or shelter.
Event Space or Banquet Hall: These venues are ideal for larger gatherings. They often provide amenities like catering services, ample seating, and audio-visual equipment.
Community Centers or Halls: These affordable options offer flexible space and amenities, making them suitable for medium-sized parties.
Restaurants or Cafes: Some establishments have private dining areas or large rooms that can be reserved for a reveal celebration. It saves the hassle of catering and provides a comfortable setting.
When choosing a venue, consider factors like budget, accessibility, capacity, and the overall ambiance you wish to create for your event.
Gender Reveal Decor
Choosing decor for a gender announcement is an exciting opportunity to enhance the theme and create a festive atmosphere perfect for taking photos and creating memories. Consider these tips to make your decor selection a success:
Color Palette
Select a color palette that represents both boys and girls or embraces the traditional pink and blue. Incorporate these colors into your decorations, such as tablecloths, balloons, streamers, and banners.
Theme
Choose a theme that aligns with the reveal concept. It could be based on popular themes that are specific based on whether you know it's a boy or girl, or you can stay gender-neutral for a true surprise. Keep reading for unique gender-reveal party themes later in this article.
Props and Signs: Use props like question mark symbols, baby rattles, or baby onesies with question marks to build anticipation. Customized signs and banners with phrases like "Boy or Girl?" or "What Will Baby Bee?" add a fun touch.
Reveal Element: This is whatever item you've chosen to help announce the news. Incorporate the reveal element into your decor. For example, if you plan to pop balloons or cut into a cake, make sure these items complement the big announcement and theme.
Photo Booth: Create a photo booth area with themed props and a backdrop for guests to capture memorable moments.
Remember, the key is to create an inviting and joyful atmosphere that reflects the excitement of the big news while incorporating your personal style and preferences into the decor.
Best Foods to Serve
When planning the menu for this type of event, it's ideal to offer a variety of delicious and crowd-pleasing foods. Consider these food options to satisfy your guests:
Finger Foods: Serve an assortment of bite-sized appetizers like mini sliders, chicken skewers, stuffed mushrooms, or vegetable spring rolls.
Snack Stations: Set up themed snack stations with popcorn, pretzels, mixed nuts, and colorful candies in pink and blue.
Miniature Desserts: Offer an array of mini cupcakes, cookies, cake pops, or macarons with pink and blue frosting or filling to add a sweet touch.
Customized Treats: Order or make gender reveal-themed cookies, cupcakes, or cake, with a surprise filling that matches the baby's gender.
Refreshing Drinks: Offer a variety of refreshing beverages like fruit-infused water, mocktails, or lemonade in pink and blue hues.
Gender-Reveal Cake: The highlight of the celebration can be a beautifully decorated cake with a surprise inside, unveiling the baby's gender when cut.
Remember to consider any dietary restrictions or preferences among your guests and offer some vegetarian, gluten-free, or dairy-free options. Providing a balance of savory and sweet treats will ensure everyone has something to enjoy during the celebration.
Invite Special Guests
When deciding who to invite to reveal parties, it's best to consider close family and friends who will share in the excitement of the moment. Include immediate family members, such as parents, siblings, and grandparents, as well as close friends and relatives. Additionally, you may want to invite individuals who have been supportive throughout the pregnancy journey. However, the guest list ultimately depends on personal preference and the size of the gathering you wish to host.
Choosing the right invitations for a gender reveal sets the tone and builds anticipation for the event. We love playing up the boy or girl theme with a traditional blue and pink invitation, you can easily keep the decor in the same hues to match. We have quite a few more theme ideas and coordinating invitations, so keep reading!
Remember to include essential details like the event date, time, location, and any specific instructions. The invitation should reflect the excitement and element of surprise surrounding the celebration.
Gift Ideas for a Gender Reveal Party
It is thoughtful to bring a gift that celebrates the impending arrival of the baby, but it is not at all necessary. Many times this party is for the parents-to-be to celebrate their excitement and announce whether they're having a boy or girl. Gifts can be given at the baby shower.
However, if you do feel comfortable bringing a gift, consider these appropriate ideas.
Neutral Clothing or Accessories
Opt for gender-neutral clothing items like onesies, hats, or blankets. Choose colors and designs that can be enjoyed by any baby, boy, or girl. If you are leaning a certain way with your gender guess and choose clothing to match, just be sure to provide the parents with a gift receipt in case your gut feeling turns out to be wrong.
Books
Select children's books that are loved by all, such as classic stories or educational books. These gifts encourage early literacy and can be enjoyed by the baby as they grow.
Gift Cards
Offer a gift card to a baby store, allowing the parents-to-be to choose items they need for their little one. This ensures they get exactly what they want or need.
Diapers and Essentials
Practical gifts like diapers, wipes, baby toiletries, or nursery essentials are always appreciated and will come in handy for new parents.
Personalized Keepsakes: Consider personalized items like engraved baby frames, handprint kits, or custom-made baby blankets. These thoughtful gifts create lasting memories.
Remember, the focus of this type of party is on celebrating the baby's impending arrival, so gifts should be suitable for girls and boys.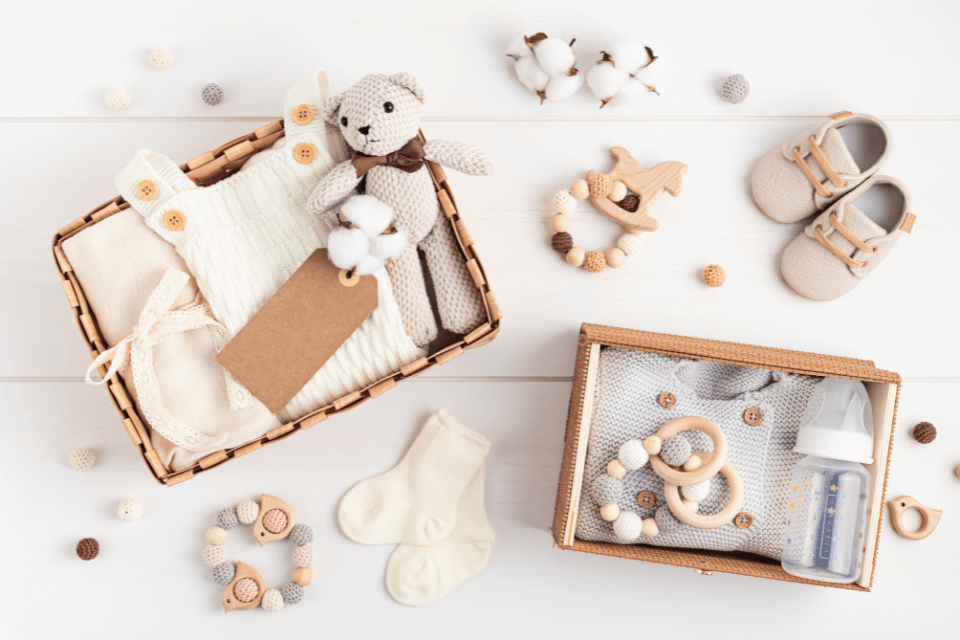 Unique Gender Reveal Party Theme Ideas
Choosing a theme adds an extra layer of excitement and cohesiveness to the event. A theme sets the tone, creates a visually appealing atmosphere, and helps guide your decor, invitations, and even food choices. It adds a level of anticipation and intrigue for guests, making the event more memorable.
Additionally, a theme allows you to personalize the celebration and showcase your creativity. Whether it's a whimsical fairytale theme or a sports-inspired gathering, a theme brings everything together and enhances the overall experience, making your event truly unique and unforgettable.
Here are some of our favorite themes.
Twinkle Twinkle Little Star
Decorate with star-shaped balloons, twinkling lights, and a moon backdrop to go along with an Over the Moon party invitation. Serve star-shaped cookies, cupcakes, and blue or pink sparkling drinks. Have a star-themed photo booth with props like wands and star-shaped glasses.
What Will It Bee?
Use yellow and black balloons, a honeycomb-patterned backdrop, and a bee-themed invitation. Serve honey-flavored treats like honey-glazed wings, honey-roasted nuts, and honey lemonade. Set up a DIY honeycomb station where guests can create their own honeycomb-inspired crafts.
Little Prince or Princess
Embellish with regal colors like gold, silver, and purple, with crown-shaped balloons and banners, and a tea party invitation. Serve bite-sized finger foods fit for royalty, like mini quiches and cucumber sandwiches. Set up a "Royal Throne" photo area with crowns and props for guests to take memorable pictures.
Wheels or Heels
Adorn the venue with bicycles and stiletto shoe motifs, using pink and blue accents throughout. Serve cupcakes with edible bicycle or high-heel toppers and offer a variety of fruity mocktails. Organize a friendly competition with a tricycle race for wheels and a shoe relay race for heels.
Little All-Star
Enhance the space with sports-themed decorations, such as mini basketball hoops, soccer balls, and baseball bats. Serve stadium-style food like hot dogs, nachos, and popcorn, along with sports-themed cupcakes. Organize fun activities like a mini basketball shootout or a soccer penalty kick competition.
Under the Sea
Decorate with ocean-inspired elements like blue and turquoise balloons, seashells, and fish cutouts. Serve seafood appetizers like shrimp cocktail and crab cakes, along with blue-colored beverages. Create a DIY sand art station where guests can make their own colorful sand jars as a keepsake.
Wild Wild West
Consider cowboy hats, bandanas, and hay bales, with a rustic Western-style backdrop. Serve barbecue-style food like pulled pork sliders, cornbread, and sweet tea. Arrange a horseshoe throwing contest or set up a photo area with cowboy props and a "Wanted" sign.
Little Aviator
Try to find airplane-themed banners, clouds, and vintage travel maps. Serve mini sandwiches shaped like airplanes, fruit skewers, and blue sky-themed mocktails. Set up a pilot photo booth with aviator goggles and a prop airplane for guests to pose with.
Jungle Safari
This safari theme comes to life with tropical foliage, animal prints, and plush jungle animals. Serve fruit kebabs, animal-shaped cookies, and tropical punch. Create a safari adventure scavenger hunt where guests can search for hidden animal clues around the venue. Consider an invitation with baby elephants or other cute safari animals.
They're Two Cute Twin Party
Twins gender reveal party ideas are double the fun. Create a two-cute party by incorporating fun themes like "Two Peas in a Pod" or "Double Trouble" to celebrate the arrival of multiples. Decorate with things that come in pairs like baby booties, baby socks, and mittens. Be sure you have two separate reveal elements so you can announce both genders.
Science Lab
Create a lab with beakers, test tubes, and laboratory-themed banners. Serve "mad scientist" treats like colored popcorn, fizzy drinks, and test tube gelatin shots. Set up a science experiment station where guests can make their own slime or participate in simple chemical reactions.
These theme ideas and planning suggestions can help create a memorable and engaging party experience for both the parents-to-be and their guests.
Throwing a Memorable Gender Reveal Party
Organizing announcement parties involves thoughtful considerations from the venue and decor to the invitations, gifts, and themes. The event is typically held during the second trimester and provides an opportunity for expecting parents to share the excitement of their baby's gender with loved ones.
When planning, choose a venue that suits the size of the gathering and aligns with the desired atmosphere. Opt for creative and inclusive decor, selecting colors and themes that celebrate both boys and girls or embrace a completely neutral theme. When it comes to invitations, consider fun ideas that build anticipation.
As for gifts, choose items that are gender-neutral, practical, or personalized to create lasting memories. Lastly, explore a variety of theme options to infuse creativity and excitement into the party, ensuring an enjoyable and memorable celebration for all.
It's a big day with special meaning for you and your family. Plan, prepare, and enjoy sharing the big news with your closest family and friends.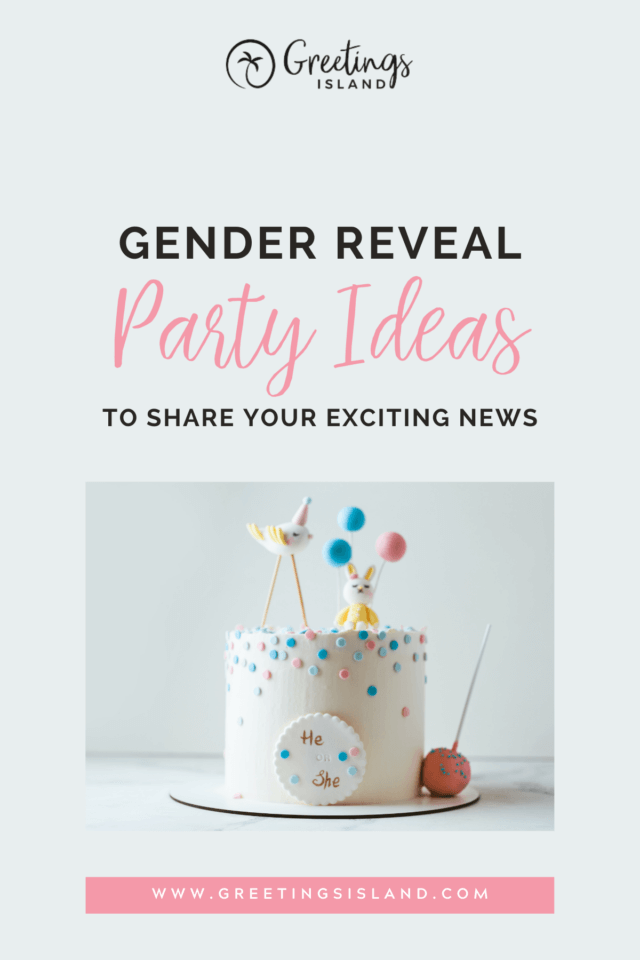 ---
Photo Credits: Oleksandr Sytnyk, Rebeca Alvidrez, Anchiy, Rod Long, Seyedeh Hamideh Kazemi, netrun78, 2K Studio on UnSplash