A Complete Baby Shower Planning Checklist for a Memorable Celebration
Planning a baby shower involves several vital steps to ensure a memorable and joyful event. A baby shower planning checklist helps orchestrate a seamless and enjoyable event. You'll want to decide who is hosting, whether it's one person or a group. Then, they'll start by setting a date and time that works for the expectant parents and guests.
Next, the host will need to consider the venue, theme, food, drinks, activities, and a guest list. While all this may seem like a lot, we've put together a baby shower planning checklist as well as some basic information about hosting. We hope it serves as a comprehensive roadmap, ensuring that no detail is overlooked during the process. With this guide, you can systematically track tasks such as selecting a theme, sending out invitations, arranging decorations, coordinating activities, ordering food and drinks, and coordinating party favors.
This structured approach not only prevents last-minute scrambling but also provides a sense of accomplishment as items are checked off. Moreover, a checklist promotes better communication among event organizers and helps them allocate responsibilities effectively, for a collaborative and stress-free experience. Ultimately, a well-organized checklist guarantees that every aspect of the celebration is considered, leading to a successful event for the parents-to-be.
Deciding Who Hosts a Baby Shower
A close friend, family member, or colleague of the expectant parents traditionally hosts this celebration. This person is usually someone who wants to share in the joy of the impending arrival and is eager to create a memorable celebration.
However, modern practices have expanded the possibilities, and anyone close to the parents-to-be can take on the hosting role, be it a sibling, grandparent, coworker, or even the expectant parents themselves. The key is to have someone who can organize the event, coordinate the logistics, and ensure the celebration reflects the parents' preferences and style.
Who Pays for the Baby Shower?
The responsibility of financing this celebration falls on the host or hosts, often friends or family members of the expectant parents. However, contemporary trends have seen a shift in this practice. It's becoming more common for the cost to be shared among multiple individuals, including family, friends, coworkers, and sometimes even the parents-to-be themselves. This inclusive approach reflects the evolving dynamics of modern celebrations and acknowledges that a collaborative effort can create a more enjoyable and meaningful event.
Ultimately, the financial arrangements depend on the preferences and arrangements made among those involved in planning.
Choosing the Best Time For a Baby Shower
Selecting the right date is crucial as it ensures the availability of key guests and expectant parents. A well-chosen date allows for proper planning, accommodating travel schedules, and creating a relaxed atmosphere. It contributes to the overall success of the event by ensuring maximum participation and enjoyment.
Plan the shower during the second or third trimester.
A baby shower is typically held during the later stages of pregnancy, either near the end of the second trimester or early in the third trimester. This timing ensures that the pregnancy is well-established and the parents have received necessary medical assessments.
Generally, these parties are scheduled between the 6th and 8th months of pregnancy. This allows the expectant parents to have a better idea of the baby's gender and provides ample time for the host to plan and prepare. However, individual preferences and circumstances can influence the specific timing of the party.
Daytime is the most common time.
Choosing the right time of day depends on the atmosphere you want to create. Brunch or early afternoon—perhaps a two-hour timeframe between 11 a.m. and 4 p.m.—is usually ideal. This way, guests can enjoy food and beverages, games, and gifts, without feeling rushed.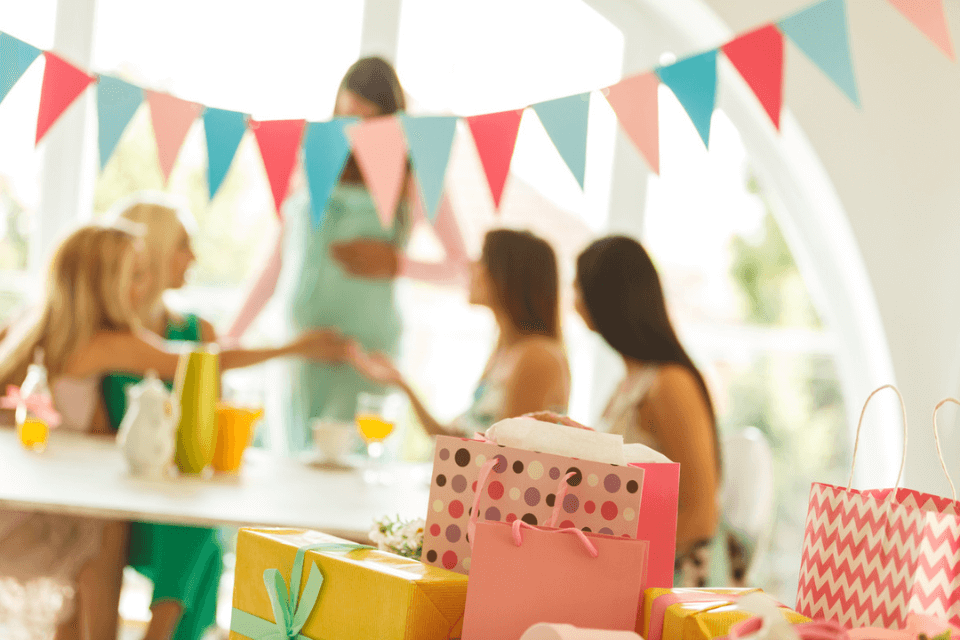 The Best Baby Shower Venues
Choosing the right venue involves several considerations to ensure a comfortable and enjoyable event. Firstly, assess the number of guests and select a location that can comfortably accommodate everyone. If it's an intimate gathering, a home setting might be cozy, while larger guest lists may require renting a hall or reserving a restaurant's private space.
Consider the theme or style of the event when selecting a venue. Ensure that the chosen place aligns with the intended ambiance and decorations. Accessibility is crucial – opt for a location that's convenient for the majority of attendees, with suitable parking and ease of navigation.
Taking weather and climate into the venue decision is crucial for a successful day. If you're planning during warmer months, outdoor venues like gardens or parks can offer a fresh and airy atmosphere. However, having a backup plan, such as a nearby indoor space, is essential in case of unexpected rain or extreme heat.
For colder seasons, opt for indoor venues that provide comfort and protection from the elements. If you're in an area with unpredictable weather, choose a venue that offers versatility, like banquet halls, restaurants with private rooms, or even a hotel space.
Prioritize the comfort of your guests – if you're in a region with a particularly hot or cold climate, opt for climate-controlled venues to ensure everyone's enjoyment. By choosing the best venue, you're ensuring a celebration that is not only aesthetically pleasing but also comfortable and accommodating for all attendees.
Selecting Baby Shower Invites
Selecting baby shower invites is a chance to set the tone for the upcoming celebration. Consider the party theme or color scheme of the event, incorporating them into the design for a cohesive look. Choose a style that reflects the parents' personalities – from elegant and classic to playful and whimsical. Ensure all necessary details are included: date, time, venue, RSVP information, and any special instructions.
Personalize invitations with the expectant parents' names for a heartfelt touch. Whether opting for traditional paper invitations or digital ones, the chosen design should evoke excitement and anticipation, giving guests a glimpse of the joyous occasion to come.
Baby Shower Planning Checklist
A baby shower planning checklist is crucial as it ensures nothing is overlooked in the excitement. It provides a structured roadmap, helping organizers stay on track with tasks like venue selection, invitations, decorations, activities, and food. A checklist reduces stress, fosters efficient collaboration, and guarantees a well-organized and joyful celebration.
Here is our step-by-step guide to planning a baby shower. It's worth noting that some of the steps can only be completed once you know your event date, so that should be one of the first things you accomplish.
6-8 Weeks Before the Shower:
Set the Date and Time: Choose a suitable date and time in coordination with the expectant parents and essential guests.
Create a Guest List: Work with the parents-to-be to draft a list of invitees. This helps in estimating the number of guests for the venue and catering.
Choose a Venue: Decide on the location – it could be a home, a park, a rented event space, or a restaurant. Ensure the venue accommodates your expected guest count comfortably.
4-6 Weeks Before:
Select a Theme and Decorations: Choose a theme that resonates with the parent's preferences, and plan decorations accordingly. This could involve banners, balloons, table settings, and more.
Send Baby Shower Invites: Design and send out invitations, whether digital or physical, to give guests ample time to RSVP. Include details like theme, date, time, venue, and a contact for RSVPs.
Plan the Menu: Decide on the baby shower food and drink options based on the time of day and guest preferences. Consider dietary restrictions and allergies.
2-4 Weeks Before:
Plan Activities and Games: Brainstorm and organize engaging activities and games that fit the theme and the crowd. Ensure they're light-hearted and inclusive.
Order or Prepare Party Favors: If you plan on offering party favors, order or create them now. These can be linked to the theme or personalized keepsakes.
Check Gift Registry: Review the parents' baby gift registry, if applicable, and make sure the items are varied in price range for guests' convenience.
1 Week Before:
Confirm RSVPs: Follow up with guests who haven't responded yet. This helps finalize catering numbers and seating arrangements.
Double-Check Decorations and Supplies: Ensure all decorations, tableware, and supplies needed for games and activities are ready to go.
2-3 Days Before:
Confirm Details with Venue: Touch base with the venue to confirm the reservation, layout, and any specific requirements.
Prepare Food and Drinks: Begin food preparation or coordinate with caterers. Ensure there are options for different dietary needs.
Day Before:
Set Up the Venue: If possible, set up decorations, tables, chairs, and any equipment needed for activities in advance.
Double-Check Details: Ensure you have all necessary supplies, from games to guest books, camera equipment to chargers.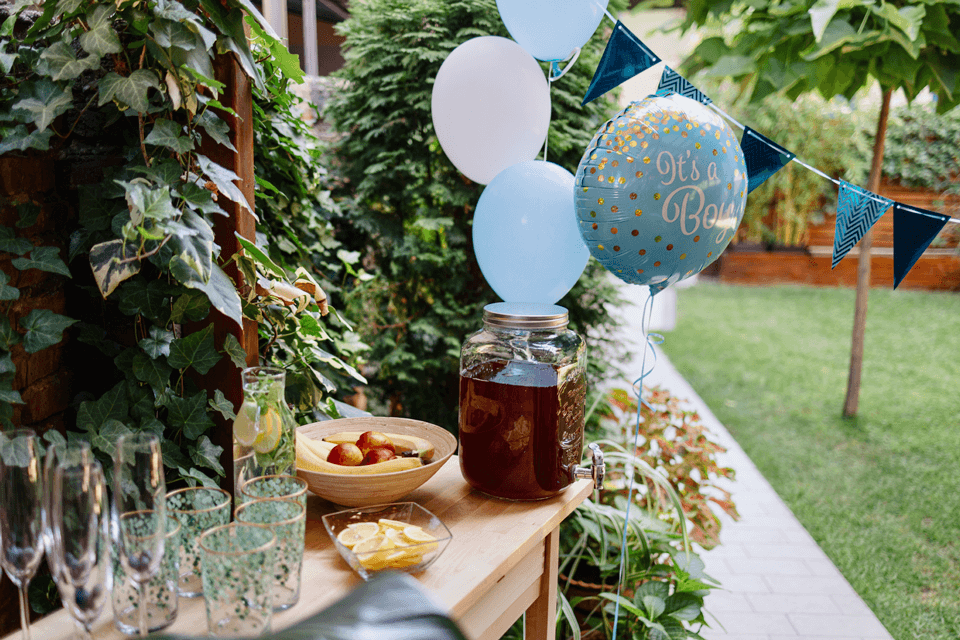 What to Do at a Baby Shower
This is when the people closest to the parents-to-be come together to celebrate the arrival of a new baby. They play baby shower games, share parenting advice, and enjoy food and treats. The event often features gift-giving, where guests offer essentials, thoughtful presents, and baby shower cards for the parents-to-be.
Traditionally, the big day consists of a few main events and you'll want to schedule ample time for each of the following:
Allowing the guest(s) of honor to mingle and accept congratulations
Games and activities
Food and beverages
Gift opening
Goodbyes and cleanup
Sample Baby Shower Schedule
If you need a little guidance on how to organize the day's activities, here is a sample schedule for a baby shower that would run for two hours—a very common duration for this event. Use this alongside the baby shower planning checklist for a cohesive and well-planned party.
Welcome and Mingling – 15 Minutes
Guests begin to arrive. Greet them with warm smiles and direct them to the designated area.
Continue welcoming guests as they arrive. Offer refreshments like non-alcoholic beverages and light snacks.
Opening Remarks and Introductions – 10 Minutes
Gather guests for the official start of the baby shower.
Introduce yourself as the host and welcome everyone to the celebration.
Introduce the expectant parents and share a few heartfelt words about their journey.
Games and Activities – 35 to 45 Minutes
Start the first planned game/activity. For example, a baby-themed trivia or "Guess the Baby Food" game.
Transition into the next activity, perhaps a baby shower bingo or a creative craft station.
Conclude the games and activities, ensuring everyone is engaged and having a good time.
Serve Food, Dessert, and Refreshments
Invite guests to enjoy the food spread and buffet, if applicable.
Gift Opening – 1 Hour
Begin the gift-opening session as most guests sit down with food. Provide a comfortable seat for the expectant parents.
As gifts are unwrapped, offer commentary or anecdotes, creating a lighthearted atmosphere.
Closing Remarks – 5 Minutes
Share a final thank-you and closing remarks, expressing gratitude to everyone for their presence and contributions.
Invite guests to take photos, say their goodbyes, and depart at their leisure.
Remember, the schedule can be adapted to the specific activities, games, and preferences of the parents-to-be and guests. Flexibility is key to ensuring a relaxed and enjoyable atmosphere during the baby shower.
What to Do After the Baby Shower
Congratulations! You hosted a successful event. Now what? A thoughtful host can continue to support expectant parents during their exciting journey. Here are some ways to do so:
Gift Organization: Help the parents sort and organize the gifts they receive. Assist in creating an inventory or list of gifts and their senders and their addresses for easy thank-you notes later. (Pro tip: Have guests write their addresses on blank envelopes when they arrive).
Thank-You Notes: Offer to help the parents write and send thank-you cards to show appreciation for the gifts and support received.
Assist with Unpacking: If the parents receive a lot of items, offer to help them unpack, wash, and organize baby clothes, accessories, and gear.
Step-By-Step Guide: A Baby Shower Planning Checklist
A well-organized party serves as a heartwarming prelude to the adventure that awaits. With the aid of a comprehensive planning checklist, the path to crafting a memorable celebration becomes not only manageable but also delightful.
From venue selection to creative decorations, interactive games, tantalizing treats, and cherished gifts, each step plays a vital role in weaving together a tapestry of joy and anticipation. The checklist acts as a guiding compass, ensuring no detail goes unnoticed and no aspect is left to chance.
So, as you embark on the heartening task of orchestrating this momentous day, let this checklist be your trusted companion, ushering you through the process with ease and enthusiasm. In doing so, you are creating a memorable event that celebrates not only the upcoming arrival of a new life but also the bonds of love and camaraderie that surround it.
---
Photo Credits: Freepik, Anchiy, nedjelly, dianakovach, fotostorm,Tuva Mathilde Løland on UnSplash