Sweet 16 Party Ideas That Will Make Your Teen's Day Unforgettable
Planning a sweet 16 party requires careful consideration and attention to detail to create a memorable birthday celebration. The first step is to establish a budget and determine the guest list, as these factors will influence the venue selection, decorations, and catering options. Next, choosing a theme or concept can add a unique touch to the party. Whether it's a glamorous affair, a casual outdoor gathering, or a specific theme like a masquerade ball or a beach party, the theme sets the tone for the entire event.
Once the theme is decided, selecting a suitable venue follows, taking into account the number of guests and the desired ambiance. Decorations, including table settings, lighting, and floral arrangements, help create the desired atmosphere. Entertainment options like DJs, live bands, or photo booths can add excitement and fun. Finally, planning the menu, including cake and refreshments, should cater to the preferences and dietary needs of the guests. With careful planning and attention to detail, a sweet 16 birthday party can be a joyful and unforgettable occasion for the celebrant and their guests.
Finding the Right Venue
Selecting the right venue for a sweet 16 party is crucial in creating the desired atmosphere and accommodating the needs of the celebration.
Consider the following factors when choosing a venue:
Capacity
Determine the number of guests you expect to invite and ensure the venue can comfortably accommodate them without feeling overcrowded.
Location
Choose a venue that is easily accessible for your guests, taking into account factors like distance, transportation options, and parking availability.
Amenities
Consider the amenities offered by the venue, such as audiovisual equipment, dance floors, seating arrangements, and restroom facilities. These can enhance the overall experience of the party.
Theme Suitability
If you have a specific theme in mind, select a venue that complements and enhances the chosen theme through its architecture, layout, and ambiance.
Budget
Establish a budget for the party and compare venue options to find one that fits within your financial limitations. How much sweet 16 parties cost will vary. Some families can throw a party on your budget and comfort level. on a budget by utilizing friends and family for food and entertainment. Cut costs even more by creating DIY decor that fits the birthday girl's theme. Some event venues even offer the option to rent decor which can cost less than purchasing it yourself.
Catering Options
If you plan to serve food and beverages at the party, inquire about the venue's policies regarding outside catering or their in-house catering services.
Flexibility and Customization
Determine whether the venue allows for personalization and flexibility in terms of decorations, entertainment, and other party elements.
Visiting potential venues, reviewing their contracts and policies, and seeking recommendations from others can aid in making an informed decision. Remember to book the venue well in advance to secure your preferred date and time.
Sweet 16 Party Decor Checklist
When it comes to purchasing party decor, it's important to choose items that reflect the celebrant's style and create a festive ambiance.
Consider the following types of party decor:
Table Decorations: Invest in tablecloths, table runners, and centerpieces that match the theme or color scheme of the party. Add coordinating napkins, plates, and utensils to complete the look.
Balloons and Banners: Balloons in various sizes, colors, and shapes can instantly liven up the party space. Hang personalized banners with the celebrant's name or age to add a special touch.
Backdrops and Photo Booth Props: Set up a backdrop for memorable photo opportunities. Include props like hats, glasses, and signs to encourage guests to strike a pose and capture fun moments.
Lighting: Choose string lights, fairy lights, or paper lanterns to create a warm and inviting atmosphere. Consider using colored or themed lighting to enhance the party theme.
Wall Decor: Adorn the walls with posters, banners, or decals that showcase the Sweet 16 theme or highlight the celebrant's interests.
Cake and Dessert Displays: Showcase the birthday cake and desserts on a stylish cake stand or dessert table with coordinated decor items like cake toppers, dessert labels, and decorative serving platters.
Personalized Touches: Incorporate personalized elements like custom-made signs, monogrammed items, or photo displays that celebrate the birthday girl.
Remember to consider the party venue, theme, and budget while selecting party decor. Create a cohesive and visually appealing space that will make the sweet 16 celebration truly memorable.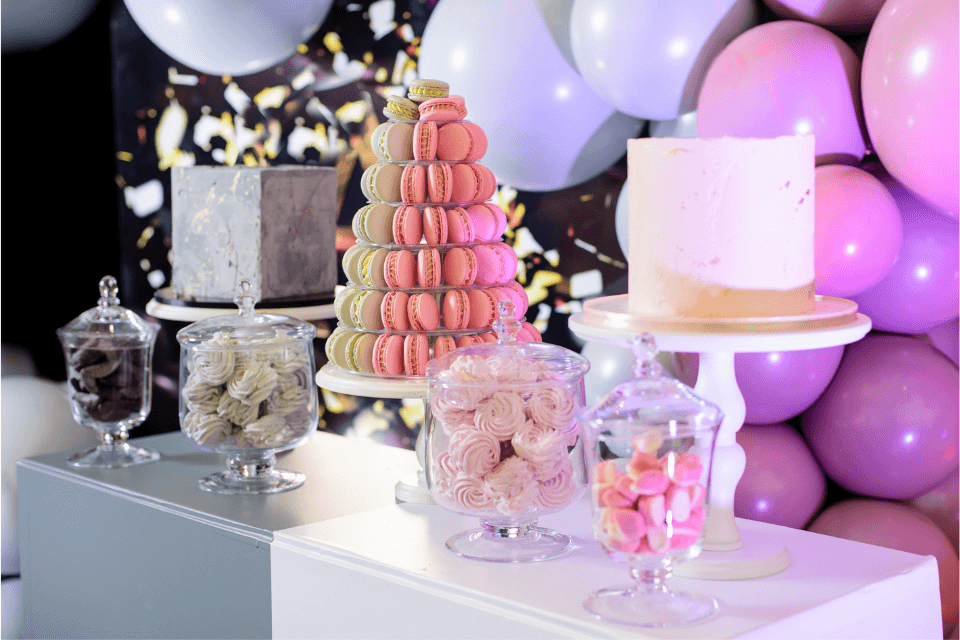 Party Favors the Guests Will Adore
Party favors are a great way to send your guests home with something to help them remember the event. When it comes to selecting party favors for a sweet 16 celebration, the options are endless. Consider these ideas to ensure your guests leave with a memorable token of appreciation. Personalized items such as customized keychains, photo frames, or monogrammed accessories can add a special touch.
Sweet treats like personalized candy jars, customized chocolate bars, or mini cupcakes packaged in attractive boxes are always crowd-pleasers. Beauty or grooming kits, such as mini manicure sets or skincare samples, can pamper guests and provide a practical favor. Customized water bottles or tote bags with the celebrant's name and event date can be both useful and stylish. For a touch of nostalgia, consider gifting guests with personalized mixtapes or CDs featuring the celebrant's favorite songs.
Lastly, consider creating DIY favors like handmade soaps, scented candles, or friendship bracelets, allowing you to add a personal and heartfelt touch. Whatever you choose, make sure the favors reflect the celebrant's personality and make a lasting impression on guests.
Selecting Cakes, Food, and Beverages
Choosing the perfect cakes, foods, and drinks for this celebration is an essential part of creating a memorable experience. Start with the centerpiece: the birthday cake. Consider the celebrant's preferences and choose a cake design that reflects their personality or party theme. Whether it's a whimsical creation or an elegant masterpiece, ensure it's visually stunning and delicious.
For the food menu, offer a variety of options to cater to different tastes and dietary restrictions. Include appetizers, finger foods, and main course selections that are both appetizing and visually appealing. Consider incorporating interactive food stations like a taco bar, pasta station, or a build-your-own burger station to add an element of fun.
Regarding beverages, provide a mix of non-alcoholic mocktails, refreshing drinks, and signature beverages. Create a beverage station with a variety of options such as flavored waters, fruit juices, sodas, and custom-made mocktails.
Remember to take into account any dietary restrictions or allergies of your guests and provide suitable alternatives. With careful selection and attention to detail, the cakes, foods, and beverages will contribute to a memorable sweet 16.
Sweet 16 Party Ideas and Themes
Start brainstorming a sweet 16 birthday theme by considering the birthday girl's interests, hobbies, and personality. Take inspiration from their favorite movies, books, or music genres. Popular themes include glamorous Hollywood, tropical paradise, fairytale, music festival, or personalized themes based on their favorite countries or cultures.
The theme should be fun, unique, and reflective of the celebrant's style. It sets the tone for the entire party and guides the decorations, attire, and activities. Ultimately, choose a theme that resonates with the birthday girl, creating a memorable and enjoyable celebration.
Hollywood Glamour
Start by selecting a venue that exudes elegance, with a red carpet entrance. Decorate with gold and silver accents, incorporating elements like sequins, feathers, and luxurious fabrics. Choose an elegant and glittery party invitation to invite your guests. Set up a VIP photo booth with a professional photographer to capture glamorous moments. Hire a DJ or live band to provide music for dancing and entertainment.
Encourage guests to dress in formal attire, and consider adding a dress code element like "Black Tie" or "Old Hollywood Glamour." Finally, provide a selection of gourmet food and beverages to add to the upscale atmosphere. With meticulous attention to detail, the Hollywood Glamour theme will transport guests to a glamorous and unforgettable celebration.
Enchanted Forest
Plan an enchanted forest party by creating a magical and whimsical atmosphere. Choose a venue with lush greenery or transform the space with fairy lights and nature-inspired decorations. Set up a DIY centerpiece with branches, flowers, and twinkling lights. Encourage guests to dress in ethereal attire and send a sparkly night-themed invitation with pretty pastels and glitter.
Organize outdoor activities like a treasure hunt or bonfire. Provide enchanting elements like fairy wings or flower crowns for guests. You can also serve nature-inspired refreshments like woodland-themed desserts and herbal teas. For a unique idea, incorporate mystical entertainment like fortune tellers or strolling musicians. By immersing guests in an enchanting world, the birthday celebrant will experience a truly unforgettable celebration.
Neon Glow
Planning a neon glow event with a vibrant and energetic vibe. Choose a venue with dimmable lights or use blacklights to make the neon colors pop. Decorate with fluorescent balloons, glow sticks, and neon signage. Provide neon accessories like bracelets and sunglasses for guests to wear.
Set up a DIY neon paint station for creative fun. Hire a DJ or create a neon-themed playlist for dancing. Serve glowing mocktails and neon-colored snacks. With glowing decorations and an electrifying ambiance, the neon glow theme will ensure a dynamic and unforgettable celebration.
Masquerade Ball
Planning a masquerade ball involves creating an elegant and mysterious get-together. Select a venue with a grand ballroom or ornate architecture. Decorate with luxurious fabrics like silk or velvet, chandeliers, and candlelight.
Encourage guests to wear elegant attire and provide masquerade masks for an air of intrigue. Set up a glamorous photo entrance for the celebrant. Hire a live band or DJ and consider getting ballroom dancing lessons or having a ballroom teacher at the event. Serve fancy finger foods like puff pastry-wrapped asparagus or goat cheese crostini alongside decadent desserts. With meticulous attention to detail, the masquerade ball theme will transport guests to a night of enchantment for your daughter's guests.
Beach Party
You can select a tropical party invitation to set the mood for this fun party theme. Choose a venue with outdoor space or transform an indoor space into a tropical oasis and give a casual, laid-back feel. Decorate with seashells, starfish, and colorful beach towels. Set up a sandy area with beach chairs and umbrellas. Serve refreshing mocktails and tropical snacks.
Provide beach-themed games like limbo or beach volleyball. Encourage guests to dress in their favorite beach attire. With the beach theme, the birthday girl can enjoy a relaxed and unforgettable celebration by the shore.
Retro 80s
For this party theme, decorate with cassette tapes, Rubik's Cubes, and iconic 80s symbols. Set up a dance floor with a playlist of classic 80s hits. Encourage guests to dress in retro fashion, complete with big hair, leg warmers, and shoulder pads.
Organize activities like an 80s trivia quiz or a lip-sync battle for your guests' entertainment. With nostalgic elements and a rad atmosphere, the 80s theme will ensure a good time for all ages.
Carnival Extravaganza
You'll need a spacious venue or outdoor area for various game booths and activities with the carnival theme. Decorate with colorful banners, balloons, and streamers. Set up game booths with classic carnival games and offer prizes for winners. Arrange for carnival treats like cotton candy, popcorn, and hot dogs.
Entertain guests by hiring a magician or a juggler. Create a lively ambiance with music and a dance floor. Guests can dress in their favorite carnival-inspired attire, like brightly colored dresses. With thrilling games and delectable treats, the carnival extravaganza theme will ensure a vibrant and unforgettable time.
Sports Fanatic
Find a venue that allows for various sporting activities or choose a location associated with the celebrant's favorite sport. Decorate with the guest of honor's favorite team colors, balloons, and sports equipment. Organize sports-themed games or competitions like a mini basketball tournament or relay races.
Serve snacks and refreshments commonly found at sporting events, like nachos, hot dogs, or pizza. Hire a DJ to create a lively atmosphere or fill a playlist with music related to different sports. Encourage guests to dress in jerseys or attire representing their favorite teams to create a friendly and competitive mood.
Travel Around the World
Take guests on an exciting global adventure by selecting a handful of countries the guest of honor is interested in. Decorate different areas of the party venue to represent different countries, incorporating flags, maps, suitcases, and cultural artifacts. Serve a variety of international cuisines, allowing guests to indulge in flavors from around the world.
Provide cultural activities or games from different countries, such as henna art or traditional dances and a fun "Adventure Awaits" backdrop for photos. Encourage guests to dress in outfits inspired by their favorite destinations and select a travel-themed invitation so they know what to expect. With the travel around the world theme, the birthday girl and guests will embark on a memorable and culture-filled celebration.
Alice in Wonderland
Design a whimsical setting with oversized playing cards, teacups, and fantastical props. Decorate with vibrant colors, magical garden elements, and whimsical signage. Set up a "Mad Hatter's Tea Party" corner with mismatched teapots and cups. Create a photo booth with props inspired by the story.
Organize a themed scavenger hunt or croquet game. Serve whimsical treats like "Eat Me" cupcakes and "Drink Me" mocktails. With the Alice in Wonderland theme, the sweet 16 celebration can transport guests to a wonderland of imagination.
Music Festival
Arrange for live performances or hire a DJ to play a variety of music genres. Offer food truck options and festival-inspired snacks. Provide activities like temporary tattoo stations or DIY flower crown stations. Encourage guests to dress in their festival best, suggesting a boho vibe for attire.
Choose a venue with ample space for multiple stages and a dance floor. Decorate with colorful balloons and banners, festival flags, and twinkling fairy lights.
Remember, these themes are just starting points, and you can customize and personalize them to suit the birthday celebrant's preferences and style.
Creating a Sweet 16 to Remember
Planning a sweet 16 birthday party requires meticulous planning and attention to detail to ensure a memorable celebration and birthday well wishes for the special girl. From establishing a budget and guest list to selecting a theme and venue, each step plays a vital role in creating the desired ambiance and atmosphere.
Carefully chosen decorations, entertainment options, and a thoughtfully planned menu all contribute to the overall experience of the event. By considering the preferences and dietary needs of guests, the party becomes a personalized and inclusive experience.
With careful planning and attention to detail, a sweet 16 birthday party can be a joyful and unforgettable occasion, leaving lasting memories for the celebrant and their guests.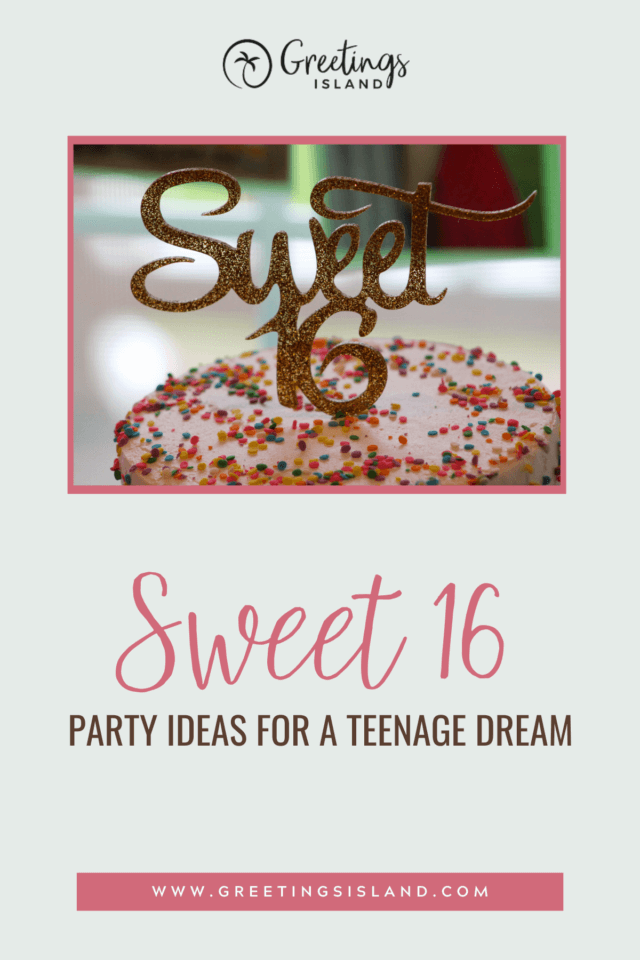 ---
Photo Credits: Tim Pennington, Dariia Havriusieva, Ross Parmly on UnSplash