25 Christmas Movies Good for Every Unique Taste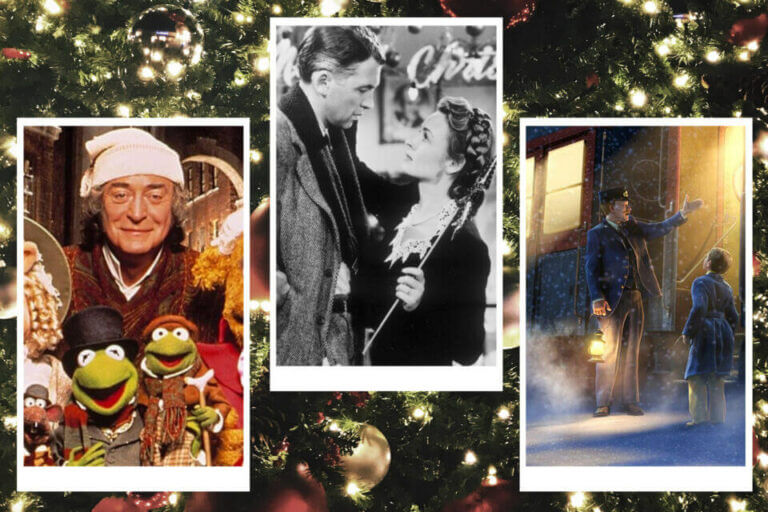 Exchanging gifts, listening to holiday music, sending out Christmas cards, and sipping on festive drinks may be fun, but there's something extra magical about watching an amazing Christmas movie.
Whether the film is hilarious, heart-warming, thoughtful, or even romantic, it's hard not to get into the Christmas spirit after seeing one of these movies. If you're excited for the upcoming holiday season, then you might be wondering what you should watch to spend your time well.
Since there are hundreds of movies about the holidays out there and we all have our own interests, it can be challenging to make the right choice. Keep reading to learn about 25 stellar Christmas movies categorized by popular genres and why they're perfect for hosting movie nights.
QUICK NAVIGATION
Classic Christmas Movies
If you ask any random person to name the most impactful Christmas movies they've ever seen, you're guaranteed to hear It's a Wonderful Life near the top of the list. This old black-and-white film dives into one of the darkest thoughts many people have had: Would the world be a better place without me?
When a struggling businessman faces the threat of jail and considers suicide, an angel is sent to him to show him what would happen if he had never been born. The movie may seem tragic, but the happy ending will make you want to hold your loved ones tight and never let go.
Most Christmas movies about family reflect on how amazing it is to gather with loved ones and bond. Home Alone has earned the title of a classic because the plot does the exact opposite. What was supposed to be a family Christmas vacation turns into a whacky nightmare when a son gets left behind and has to defend his home from robbers.
As you watch the brilliant Macaulay Culkin play the lovable prankster Kevin McCallister, you'll laugh out loud over how over the top the entire concept of the film is.
This classic may only be 25 minutes long, but it sure does pack a lot of meaning into the screen time. In A Charlie Brown Christmas, the beloved Charlie Brown voices his concerns over how Christmas has turned into a display of who can have the nicest things. Even though the movie is over 50 years old now, modern viewers will still be able to relate to Charlie's frustrations.
Everyone around you may seem like they're only focused on gifts, but the true spirit of Christmas will always live on. This touching movie is the perfect reminder to all of us about what matters most during the holiday season.
It's hard for any Christmas movie to top the legendary performance of Jim Carrey as the Grinch. Carrey may make his comedy look effortless, but the filming process was one of the hardest jobs of his life. As it turns out, the amount of makeup and prosthetics he needed to wear for his Grinch costume was so claustrophobic that he actually needed professional training from the CIA.
We're all lucky that Carrey didn't follow through with his desire to quit after his first day on set. By enduring over 100 days of grueling acting, he gave the world one of the funniest Christmas masterpieces that pays homage to Dr. Seuss and the Grinch who learns to love Christmas.
Taking kids to the mall to sit on Santa's lap and share which gifts they'd like to receive for Christmas is a staple winter activity. Grownups know that these Santas are all actors, but Miracle on 34th Street is a story about a mall Santa who insists he's the real deal. Meeting Santa is fantastical enough, but the woman who hired him refuses to believe his assertions.
After a dramatic incident occurs in the store, Santa is taken away to be held on trial. Will he be able to convince everyone to believe in Santa Claus so he can be free?
Funny Christmas Movies
There have been tons of movies made about an absent father who tries to get his act together once he realizes that he might lose his family. This plot feels fresh and exciting thanks to Arnold Schwarzenegger's phenomenal performance as the father. In order to redeem himself, Schwarzenegger goes on an exhausting journey to get his hands on the popular Turbo Man action figure he promised his son.
Right when you think that all hope is lost, he's able to surprise the audience and his son with an even greater gift than the Turbo Man action figure. No matter how old you are, Jingle All the Way never loses its charm.
7. Elf (2003)
What happens when a human gets raised by elves in the North Pole? You'll have to watch Elf to find out! After Buddy discovers the true reason why he's not like all the other elves, he goes on a quest to learn about his origin.
Elf may be classified as a comedy, but Will Ferrell's pure and naive portrayal as a human elf can warm even the coldest hearts, including his biological father's when they reunite in New York City. His father may not be his biggest fan at first, but he finally believes Buddy once he has to help Santa Claus get his broken sleigh off the ground on Christmas Eve.
One of the highlights of this movie is learning about one of Buddy's favorite breakfasts: spaghetti with maple syrup, M&M's, chocolate syrup, marshmallows, and sprinkles. You can follow this recipe if you're brave enough to try it while you watch the movie.
Bad Santa is a raunchy dark comedy that's guaranteed to give you a perspective on Christmas movies you've never had before. In this film, Billy Bob Thornton plays an alcoholic who applies for mall Santa positions around the country each year in order to commit a big robbery that can allow him to be unemployed the rest of the year. The next holiday season was going according to plan until Thornton meets Thurman Merman, an overweight boy who gets bullied often.
As fate has it, Thurman Merman is the key to helping Thornton escape a lifetime in prison, but not for the reasons you might expect. If you're a fan of adult comedy, then you'll be in stitches the entire time.
Can you think of anything worse than killing Santa Claus? If you're Tim Allen, then this nightmare is a reality in The Santa Clause. With no Santa around to deliver Christmas presents, Allen makes up for this accident by becoming the big man himself.
We can all imagine how hard it must be to take on Santa's responsibilities, but Allen does a hilarious job in this role. If you love this movie and you're hungry for more, you'll be delighted to know that you can also watch The Santa Clause 2 and The Santa Clause 3: The Escape Clause.
Not only has Tim Allen played Santa Claus, but Christmas with the Kranks allows him to play a man who hates the holiday with every fiber of his being. Instead of dealing with nosy neighbors who demand outdoor Christmas decorations and hosting an exhausting party, Allen has the bright idea to take his wife on a tropical getaway. What seems like a dream come true turns into more headaches since people can't fathom why they'd want to escape Christmas.
Tim Allen may not get the Christmas he was fantasizing about, but the final results are still breathtaking. You'll have to watch for yourself to find out what it takes to turn Allen into a Christmas believer.
Romantic Christmas Movies
Every father dreams that his daughter can grow up and marry an outstanding man who will always be a good partner to her. In Why Him? Bryan Cranston is in for the shock of his life when he realizes that his daughter is in a serious relationship with James Franco, who plays an awkward and obnoxious millionaire.
Franco asks Cranston for permission to propose to his daughter, which results in an immediate shutdown. Franco makes a deal that he deserves a few days to gain his approval and he can start getting called "son" by Christmas morning. Is true love enough to sway a picky father?
Lots of little girls fantasize about becoming a princess, but Vanessa Hudgens plays a duchess who is desperate for a taste of a normal life before her upcoming arranged marriage. With a stroke of luck, she's able to bump into a humble baker who looks just like her and gets her to agree to switch lives.
Walking in someone else's shoes can be fun for a short time, but trouble ensues when they realize they've both fallen in love with each other's man. The Princess Switch is a silly film that shows people will do wild things to be with the person they love.
Hugh Grant, Kiera Knightley, Liam Neeson, and Andrew Lincoln are just a few of the many brilliant actors in the star-studded cast of Love Actually. This unique movie has worked its way toward becoming a Christmas classic because it packs a whole lot of love and holiday spirit into two hours. On this journey, you'll bounce around 8 different stories about people who are just trying to love and be loved.
From a prime minister battling his attraction to his young employee to a writer traveling in Paris and falling in love with his housekeeper who doesn't speak any English, these strange couples showcase all the highs and lows of being in love. One of the most memorable and romantic scenes is when Andrew Lincoln holds up posters with phrases like "To me, you are perfect" to try to win over Kiera Knightley.
After serving in World War II, Bing Crosby and Danny Kaye pursue their passion for singing and dancing. They plan on having fun with their performances until they meet two sisters who are a song-and-dance duo as well.
Love makes them follow the sisters up to Vermont where they bump into their general during the war who needs their help. Can the lovers put their talents together to save the general's failing business?
The idea of meeting future in-laws can send shivers down even the bravest person's spine. As if this wasn't scary enough, now imagine getting into a predicament where you end up spending all your energy schmoozing the wrong family? In this Hallmark Christmas movie, Alicia Witt wrestles with her confusion over her attraction to a new man and his kind family.
What sounds like a total disaster could end up being the best mistake Witt ever makes. It goes to show that you never know when love is waiting to knock you over the head.
Christmas Movies for Kids
The 1964 version of Rudolph, The Red-Nosed Reindeer is a fascinating stop-motion Christmas movie that stands the test of time. We've all heard the song about the poor bullied reindeer, but this film brings the magic to life.
Kids and adults alike will be grateful to watch this sweet story and absorb the message that we all deserve to shine in our own special way. Since many parents and grandparents grew up watching this classic, it's touching being able to share this with younger generations and watch them fall in love, too.
Charles Dickens' famous story "A Christmas Carol" has always been a Christmas staple, but the eerie ghosts that visit Scrooge can be too grim for younger minds. Since the lessons that are present in this story can have a positive impact on kids and their views on Christmas, this is where The Muppet Christmas Carol comes in handy.
The story is the same, but it's played by the lovable Muppets like Kermit the Frog and Miss Piggy. If your children already enjoy the original The Muppet Show, then you can't miss out on this fun holiday remake.
The Polar Express is a work of art based on the stunning computer animation alone. Once you see the first few minutes, you'll understand why this film stands apart from other types of children's movies.
The story is about a little boy who isn't sure that Santa is real until he takes a mystical night train up to the North Pole during Christmas Eve. On the train, we meet lots of kids with big personalities and get an incredible song about hot chocolate that will make you want to pause the movie to make a tasty mug. This movie will inspire kids and get them excited about waking up on Christmas morning.
When it comes to Christmas movies, Disney never lets us down. This movie is broken down into three shorter stories, which means it can hold the attention of the youngest kids. The three parts are called "Donald Duck: Stuck on Christmas," "A Very Goofy Christmas," and "Mickey & Minnie's Gift Of The Magi."
In the first story, the Donald Duck household finds themselves stuck in Christmas on a loop. The second story is all about Goofy trying to turn his doubtful son into a Santa Claus believer. The final story is a lesson about why gifts shouldn't be the focus of Christmas.
We've all asked for unbelievable gifts for Christmas when we were kids, and this is also the case for Peter Billingsley, who plays a boy named Ralphie Parker. Ralphie is desperate for a specific gift: a Red Ryder BB gun. His mother warns him that he could shoot his eye out, but this doesn't stop Ralphie from going on a campaign to try to persuade adults why he's mature enough for a gun.
Ralphie does end up getting his gun and funny calamity follows. Christmas may not be perfect, but this movie shows that miracles can still happen.
Alternative Christmas Movies
When you combine the two comedic superstars Eddie Murphy and Dan Aykroyd, you know you're in for a wild ride. In this subtle Christmas movie, two bigshot brokers decide to meddle in the lives of people from opposite backgrounds. Aykroyd gets in trouble for a crime he didn't commit so that Murphy, a hustler, can take his position instead.
These two weren't aware of the meddling, so they can't believe their luck and misfortune. Once they discover the scheme, the two have to team up to get revenge on the brokers.
When most people think of Christmas movies, horror is the last thing that comes to mind. However, sometimes a good scary movie can help cleanse your palate from all the syrupy-sweet holiday cheer. If you're in need of a break from mainstream Christmas culture, then you can feast your eyes on Better Watch Out.
The title is a creepy play on the lyrics of "Santa Claus Is Coming to Town" and the plot is about a babysitter who has to protect the younger boy who has a crush on her from a home invasion. Christmas is supposed to be a comforting time, but this movie will make you distrust people who are supposed to be dead.
If you're interested in foreign films, then you'll be grateful to have the opportunity to watch the animated Japanese movie Tokyo Godfathers. Christmastime is rough for homeless people, but three friends come together when they discover an abandoned baby in the trash. As a team, they make it their mission to find the baby's parents.
The plot may seem sad all around, but these lovable characters get into all kinds of adventures that will make you laugh.
If you look at images of Brazil without knowing the context, you could mistake this dystopian sci-fi for a normal Christmas movie. With all of the unsettling things that happen in this society, the contrasting Christmas imagery is the one constant that keeps you grounded.
Jonathan Pryce plays Sam Lowry, who shakes off the feeling of being a cog in a machine by daydreaming all the time. Fantasy meets dark reality when he comes face to face with the woman who is the star of his daydreams. Trouble finds its way to Pryce and he must save her in order to get his happy ending.
If you're on the hunt for interesting Christmas movies that are new, then Happiest Season can take you on an emotional rollercoaster. Kristen Stewart and Mackenzie Davis play any normal, happy couple. The drama starts when Davis brings Stewart home for the holidays to introduce her to her conservative family who she hasn't come out to yet.
This startling fact threatens to spoil Stewart's plan to propose at the Christmas party where they can celebrate with her girlfriend's family. Can Stewart be confident that she's met her soulmate if she keeps her a secret?
---
These Christmas Movies Are Good for Every Crowd
Any time you put on Christmas movies, good times are sure to ensue. If you're overwhelmed by the number of options out there, this list can help you find films that suit your tastes best. Whether you want to cozy up on the couch to get into the spirit or find entertainment for your next holiday party, these Christmas movies will help you fall in love with wintertime.
The holiday season is all about welcoming as much love and joy into your heart as possible. If you want to spread the cheer, then Greetings Island is here to help you send beautiful Christmas cards and party invitations so your loved ones know how much you care. Check out our selection so you can get started on your special design.