How to Throw an Unforgettable Ugly Christmas Sweater Party
The holidays are an ideal time to get friends and family together to create special, long-lasting memories. While many images of holiday-themed parties involve sipping egg nog in formalwear around an open fire, there are options for more casual and silly-themed parties for your holiday get-together.
One of the most fun and entertaining holiday party themes is an ugly Christmas sweater party. We've put together some party ideas that will help you throw a memorable holiday party for your friends and family this season.
What is an Ugly Christmas Sweater Party?
Throughout the 1980s and early 1990s, Christmas sweaters were bright and festive, almost to the point of being gaudy. Back then, it was fashionable to wear these bold tops, but now they are a source of hilarity and harmless fun.
These obnoxiously festive frocks have become the inspiration for a cherished Christmas party theme where guests show up wearing their most outrageously decorated holiday-themed sweaters. The rest of the party can be as classic or as out-there as you wish, but the key to this type of party is to show off your personality through a vintage-inspired, crazy Christmas sweater.
How to Throw an Ugly Christmas Sweater Party
The most important aspect of throwing this type of party is to inform your guests of the theme and make it clear that the dress code is fun and not formal. The easiest way to do this is by selecting the right Christmas party invitations.
Whether you want to invoke a cozy feeling with a Snuggly and Ugly party invitation or set a fun, vibrant mood with a Sweater Soiree invitation, let guests know what to expect by requesting a sweater in the invitation details. Use a Holiday Catwalk invitation to invite your guests to model their ugliest sweaters. Whichever party style you choose, just be sure to select the perfect Christmas invitation to create the ideal atmosphere.
Once you've invited your guests and they know what to expect, you can be as classic or creative as you want for the party theme. Keep reading for more tips on party decor, food, drinks, and games.
What to Wear to an Ugly Christmas Sweater Party
This should be pretty obvious by now; you want to wear your ugliest Christmas sweater! But how do you know what constitutes ugly? In this case, bolder is better. Think tinsel-wrapped and shiny, or battery-powered and flashy. If your taste is a little more subdued, you can find beautifully knitted sweaters with funny or custom patterns that reflect your personality.
Where To Shop for Ugly Christmas Sweaters
Ugly sweaters have become a fun holiday tradition, so they are easier to find now than they were in the past. The best place to check for these hilarious holiday sweaters is at your local thrift shop. These are the true vintage classics that were worn at office Christmas parties across the country!
If you can't find a thrifted treasure, there are hundreds of retailers that sell ugly Christmas sweaters online or in-store. Some big-name stores get them on the shelves right after Halloween and online retailers sell these shirts all year round. Consider themes that show off your character and do a quick online search and you're bound to find the perfect choice to wear this holiday.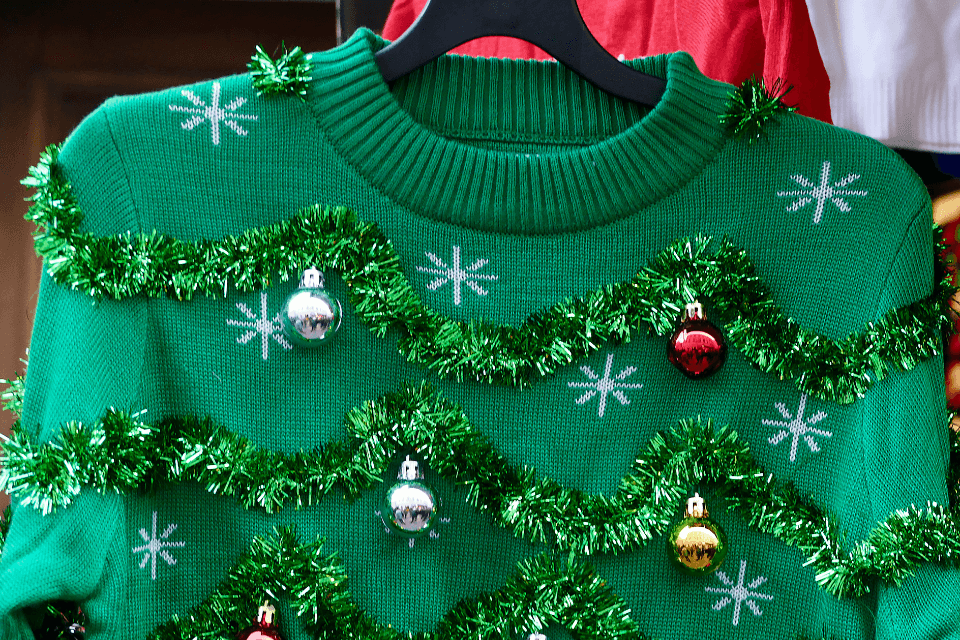 Fun Party Decor
Bold, over-the-top Christmas party decorations fit the bill nicely for this party theme. Look for reds, greens, plaids, and even some sparkle to add a little glitz to your party decor. Some stores offer ugly sweater party decorations, or you could keep it more of a general Christmas vibe.
Ugly Sweater Themed Decor
For very convenient decor, many party stores sell pre-made decor that fits this theme perfectly. From garlands and tablecloths to paper plates, your party accessories can match your guests' sweaters. If you're buying sweater-themed party decor, make a list of where and how you want to decorate your space, and then shop for only the items you need. Keep in mind that since this is a casual holiday party, much of your current Christmas decor can be used alongside any new decor.
Christmas Lights
While many holiday parties benefit from the subtle warmth of white Christmas lights, colorful Christmas lights add a cheery glow and bright festive feel to a Christmas bash. For indoor lighting, you could opt for battery-powered strands so you're not limited on where to string them. Plus, this reduces the risk of tripping over cords.
Colorful Christmas Decor
Stick to bright, bold colors and fun, festive decor throughout the party. Use plaids in red and green for table linens to reflect the bold prints in your guests' attire. Add chunky, knit accents like snuggly bottle coozies that your guests can take home. Now is also the time to break out your Santa-themed glassware and gingerbread cookie plates. Nothing has to match, and there are no hard rules when it comes to this party decor! Keep it fun, light, and festive.
What to Serve at an Ugly Sweater Party
The food and drinks you serve can be as creative and bold as the decor. This is not the time to serve a three-course meal and, in fact, you aren't required to host a sit-down dinner at all. Keep the food easy and casual and let guests munch while they mingle.
Appetizers
Finger foods are an ideal snack for holiday parties. Guests can nibble all night while they chat, play games, and exchange gifts. Stick to easy to make and easy-to-eat options that will keep well all night. Crock-pot meatballs are a party favorite and a flavorful dip recipe makes for great party food that's easy to make ahead of time.
Be sure to stock up on plates if you're serving an appetizer-heavy meal. Guests will likely come back for more as the night goes on.
Christmas Cookies
For a sweet treat, set up a cookie table where guests can enjoy Christmas cookie classics like iced sugar cookies, festive thumbprints, spritz cookies, and more. Remember that you can decorate your cookies as flashy and bold as your sweaters!
Cookies also make for a great party favor. Send your guests home with a pre-made bag of Christmas cookies, or just set bags out near the cookie trays and let guests build their own doggy bags before they leave.
Christmas Cocktails
Get festive with the drink options by serving some holiday favorites. A Christmas margarita is a great option because it's easy to make in bulk. You can add the margarita mix to a pitcher or drink dispenser and allow guests to top it with tequila. Or pre-mix the entire cocktail and let guests sip without any work. Egg nog with brandy or rum is another holiday classic that can be made ahead and chilled for guests to help themselves.
For an alcohol-free option, try a classic party punch recipe. Make this ahead and serve it in a vintage punch bowl with colorful Christmas mugs.
Holiday Potluck Party
If you do want to offer your guests something more substantial for dinner, try hosting a holiday potluck. Ask guests to bring a family-favorite Christmas recipe and set up a table where everyone can sample these holiday favorites all night. A potluck creates great conversation and allows friends and family to share personal stories about their favorite Christmas potluck recipes.
If it helps you plan, you can ask guests to let you know what they're bringing ahead of time, that way you can fill in any gaps. If several people are bringing a dessert, you can whip up a few savory bites for balance.
Ugly Christmas Sweater Party Games
While guests will be entertained just by scanning the crowd for their favorite knitted frock, you can also amp up the fun with holiday-themed games to keep the crowd excited. For the winners of these hilarious holiday games, here are some fun prize ideas sure to get the competition started.
An over-the-top Christmas flask with a popular bottle of booze
Scratch off lottery tickets
A tacky Christmas mug with a bag of coffee or hot cocoa mix
A bottle of wine with a bottle sweater
Christmas Sweater BINGO
Before the party begins, print out Christmas BINGO cards, and guests can check off objects they find on sweaters. A check for a Santa sweater, a check for a battery-powered sweater—until someone has a full row and receives a prize. Print out extra cards and play a few rounds, this is a holiday party favorite!
Christmas Paper Plate Game
This fun game from Happy Home Fairy has guests place a paper plate on their heads and draw a Christmas scene without looking. You'll need to provide guests with a paper plate, a marker, and an idea of what to draw. The best (or the funniest!) drawing wins a prize.
Snowman Building Contest
Get your guests outdoors with a creative snowman-building contest. Provide a box of old clothes, hats, gloves, and other props, and allow your friends to build the snowman of their dreams. Take advantage of a perfect snowy winter day with more options for outdoor Christmas games you can play at a festive party.
White Elephant Gift Exchange
Have each guest bring a wrapped gift of a specific budget; $10 and under allows most people to participate. Place gifts in a pool and have guests draw numbers for their turn. The first person opens a gift and their turn is over. Each subsequent person can then choose to unwrap a new present or steal one of the gifts that have already been unwrapped. This game can get pretty competitive and creates a hilarious back-and-forth rivalry for the most popular gifts.
Fun Ideas for an Ugly Christmas Sweater Party
Keep the fun going in between games with some night-long activities your guests can participate in, no competition is required!
DIY Photo Booth
Use a bold-printed sheet or tablecloth as a backdrop where guests can snap photos of each other wearing their crazy sweaters. Provide Christmas props like reindeer antlers, Santa hats, battery-powered Christmas lights, and elf ears for guests to create hilarious memories they can share on their social media pages later.
Ugly Christmas Sweater Awards
Set up a voting area where your friends and family can vote for their favorite ugly sweaters. It can be as simple as setting out a few bowls with pieces of paper and pencils where guests can write in their votes and you can tally them up at the end of the night. Consider setting out bowls for the following categories.
Ugliest
Best couple's set
Most creative
Funniest
Most original
Best DIY
Christmas Carol Karaoke
Set up a karaoke station where guests can sing Christmas classics. Whether they want to croon a classic like White Christmas or do a group rendition of Have a Holly Jolly Christmas, give them the mic and let them belt it out.
Watch a Classic Christmas Movie
For a relaxing party idea, play a classic Christmas movie in the background. Provide seating, cozy blankets, and comfy pillows for guests that want to sit back and enjoy a holiday favorite. If you plan to show a movie, you could also play a game of trivia or BINGO based on the movie theme.
Home Alone
Elf
National Lampoon's Christmas Vacation
A Christmas Story
A Charlie Brown Christmas
Tips For the Best Ugly Christmas Sweater Party
If you're looking to throw a unique and entertaining holiday party this year, an ugly Christmas sweater party is an ideal option. Guests can enjoy a casual atmosphere, peruse the party for hilarious sweaters, enjoy tasty finger foods, and compete in silly holiday-themed games.
Remember to choose the right party invitations for the event and to keep things festive and fun. Bright, bold patterns, Christmas lights, and colorful decor add to the ambiance of this amusing party theme.
---
Photo Credits: Julia Kostiuchenko, Amy Shamblen, Jeshoots, Svetozar Cenisev, Zoltan Tarlacz, and Cody Chan on Unsplash