Spring Party Themes And Ideas For Fun And Easy parties
Are you surprised that 30% of people say that spring is their favorite season?
Even though summer has the warmest weather and winter is packed with exciting holidays, it's hard to deny how special this time of the year is. After a long period of the winter blues, the sun finally starts to peek out and plants blossom back to life.
Now that you can spend more time outdoors again, you should gather all of your loved ones for an unforgettable celebration. Read on so you can learn about 13 creative spring party theme
1. Garden Brunch
Spring is the perfect season to host an outdoor brunch party because the weather isn't too hot yet. By combining brunch with a traditional garden party, you and your guests can feel like true royalty.
Serving classics like pancakes, eggs, toast, and orange juice along with fancy teas, pastries, and finger sandwiches will give everyone lots of tasty options to choose from. You can keep hot foods warm with electric heaters or aluminum pans with lids and keep your cold foods chilled by serving the dishes on top of ice.
You could even ask your guests to dress up from a special period in history like the Victorian era so you can take unique photos. Make sure to set a gorgeous table to complete the scene so you can wow all of your friends. This will be a brunch party that nobody will ever forget.
2. Sunset Cocktails
There's nothing more glamorous than sipping on a fancy cocktail while watching the sun go down. The good news is that throwing your own cocktail party can be easy and rewarding.
One of the most important things that you'll need is a chic and portable bar cart that can make pouring your own drinks a breeze. The next thing you'll have to do is stock it with a few different types of booze, cups, ice, and garnishes. You should also have some pitchers of pre-mixed cocktails like margaritas or espresso martinis for guests who don't want to be their own bartenders.
You'll also need to spend some time creating a mystical party ambiance. String lights, candles, cozy outdoor sofas, and upbeat music can keep the party going after the sun goes down. You should set out some hors d'oeuvres so that nobody is drinking on an empty stomach.
3. Flower Frenzy
A common reason why people say that spring is their favorite time of the year is that nature comes back to life. During this time of rebirth, it feels like we also have the power to work on becoming our best selves.
If you want to celebrate this magnificent transition, then you should plan a party that's all about flowers. Everyone can wear their finest floral prints and you can choose a setting that's bursting with colors. Do some research on local parks and gardens to see if you can book a reservation there.
During your flower party, one sweet activity you could do is build flower crowns. You'll be able to take breathtaking group photos once your guests have finished their masterpieces. You could also hire a florist to come and teach a flower arranging class so you'll all know how to spruce up your homes.
4. Taco Feast
Taco Tuesday has become a staple in many households because this dish is easy to customize, making it a wonderful crowd pleaser. Although this may sound like a simple party theme, you'll be amazed by how excited all of your guests will be when they get their invitations.
It's helpful to know that a lot of the prep work for tacos can be done many hours in advance so you're not scrambling in the kitchen while your loved ones arrive. You can chop up pico de gallo, lettuce, and cheese and put those ingredients in serving bowls. If you're worried about your guacamole turning brown, you could stock up on the store-bought kind because it has convenient preservatives.
You'll also need some ground beef and black beans for any vegetarians. Rice and refried beans are fantastic side dishes that will fill everyone up. If you don't feel like cooking for a large group, then you always have the option of supporting a local Mexican restaurant by ordering catering.
5. Outdoor Movie Night
As long as the weather isn't too chilly in the evenings, you could host the party of the year by having an outdoor movie night. If you're worried about the video or audio quality, you'll be relieved to know that things like Bluetooth speakers and portable projectors have never been more affordable or efficient.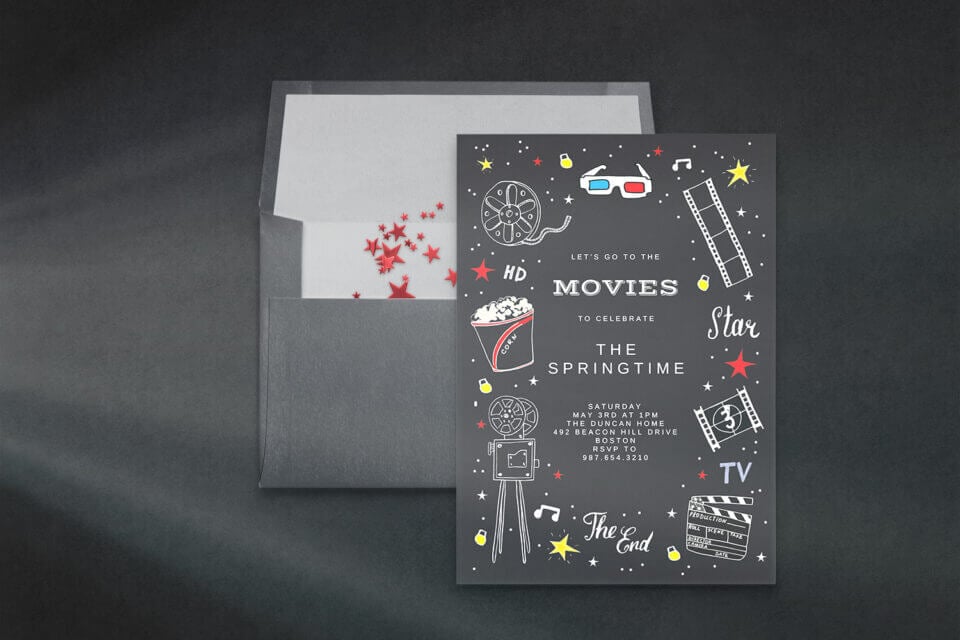 Once you've covered your tech bases, the next thing you should focus on is setting up a cozy space to watch the movie. An outdoor sofa works best, but people can also manage sitting on a thick blanket or folding chairs. Make sure you set aside plenty of soft blankets and ask everyone to bring a sweatshirt.
The most exciting part about watching movies with friends is munching on snacks. Popcorn, candy, and soda are must-haves, but feel free to throw in other treats like brownies, nachos, and flatbread pizzas.
6. Fruity Fun
In addition to flowers, many fruits grow during the spring. This means that you could come up with all kinds of creative themes like berry sweet or go bananas.
When it comes to party foods, fruit pairs well with almost anything. Smoothies, charcuterie boards, strawberry shortcake, fruit salad, and skewers made with prosciutto and honeydew are a few of the many fabulous options.
If you're lucky enough to live near an orchard, then you could even take the gang along for some fruit picking. If you and your friends are competitive, then you can play silly games like seeing who can create the longest apple peel before it breaks.
7. Potluck Picnic
Some people don't like hosting parties because there are simply too many mouths to feed. To take the pressure off of yourself, you can invite your loved ones to a potluck picnic where everyone is responsible for bringing a large dish that all can sample.
Sandwiches are a popular picnic food and a few people can make their own version of a sandwich by dressing up a big loaf and cutting it into smaller servings. Others could agree to bring potato salad, deviled eggs, fried chicken, corn on the cob, drinks, pies, cookies, and utensils.
Everyone will be grateful for being able to share this magnificent feast with friends while soaking up some sunshine. Don't forget to set up a few backyard games like bean bag toss and croquet to keep the festivities lively.
8. Rainbows and Unicorns
Spring is a magical time, so why not go all out and throw a rainbows and unicorns party? To bring this theme to life, you'll need lots of vibrant colors and statement unicorn decor. You could buy a giant unicorn float that people can pose with for pictures.
Serving rainbow food may sound challenging, but nature is full of amazing colors. You could create a rainbow pizza with toppings like tomatoes, bell peppers, red onions, broccoli, and olives. No rainbows and unicorns party would be complete without an impressive rainbow cake as the centerpiece.
Some clever activities that you should consider include pin the horn on the unicorn, tie-dyeing, and unicorn ring toss. If there are any artists in your group, they could help everyone apply cute face paint as well.
9. Bonfire Bonanza
What's more relaxing than sitting in front of a toasty fire under the stars? As long as you live in an area where you're allowed to have backyard fires, you can become everyone's favorite host by planning a bonfire.
Since the fire will be the highlight, you need to decide which type of fire pit suits your needs well. Some people don't mind collecting their own wood because this is the cheapest option, but fires can be tricky to start and smoke can get in the way. There are electric and gas fire pits that cost a bit extra, but they're way easier to light and there's no pesky smoke.
In addition to setting up enough comfortable chairs, you'll need a nice variety of drinks and some music to create an ambiance. Don't forget to buy ingredients for s'mores and hotdogs so people can roast delicious food while they socialize.
10. Alfresco Fondue
Even though melting ingredients like cheese and chocolate is simple, the presentation and act of dipping make fondue parties so fun and elegant. Since everyone will be focused on preparing their food, you don't have to worry about awkward silences or having enough games.
Alfresco fondue parties would be great during the day or at night, depending on your preference and party setup. To prevent everyone from fighting over the same pot, you should try to set up a few others. You'll also need plenty of things to dip, such as bread, fruit, cured meats, graham crackers, pretzels, roasted potatoes, pound cake, and cookies.
Cheese and chocolate fondues are classics, but the exciting part is that there are tons of creative twists you can try. Instead of a basic Swiss cheese fondue, you could try making beer cheese or queso. Chocolate fondue can be made with different percentages of cocoa and you can try recipes like Mexican hot chocolate or cookies and cream.
11. Pool Party
Spring can still have its chilly days, but you might live somewhere that gets hot enough to enjoy a refreshing dip in the pool. If this is the case for you, then you should invite your loved ones over for a pool party.
Pool parties are always laid-back, which means you don't need to plan much entertainment aside from getting a few floats and water games. You should stock up on sunscreen and keep a cooler packed with ice and yummy drinks so everyone can stay safe in the sun.
If you don't own a backyard pool, then you can still have a blast with your friends by doing water balloon fights, running through sprinklers, and even setting up a Slip 'N Slide.
12. Birdhouse Building
Not many people can say that they've ever been to a birdhouse building party, so this is an event that your friends will always remember. Doing arts and crafts projects allow us to let our inner kids out and you can also feel good about helping your neighborhood birds.
Since most of us aren't expert woodworkers, you should shop around for affordable birdhouse kits that are easy to assemble. Most of the excitement will happen when everyone gets to paint and add their own decorations.
Your birdhouse party is guaranteed to be relaxing and intimate. Be sure to bust out some wine and finger foods so everyone can munch and sip while they work.
13. Barbecue and Board Games
Everyone loves a good old-fashioned barbecue because it gives people an excuse to gather with their friends and share an incredible meal outside. A high-quality grill and humble picnic tables are all you need to get started.
There are all kinds of meats you can grill, such as hamburgers, hotdogs, sausages, chicken breasts, kebabs, and veggie burgers. When it comes to side dishes, you should think about making coleslaw, corn on the cob, macaroni salad, roasted veggies, baked potatoes, and baked beans. You can keep dessert simple by picking up a few boxes of cookies or pies from your local grocery store's bakery section.
A silly way you can bond with your guests is to whip out some board games and card games to play before and after you eat. Don't forget to set some wet napkins down nearby so everyone can wipe their hands to avoid getting the board game messy.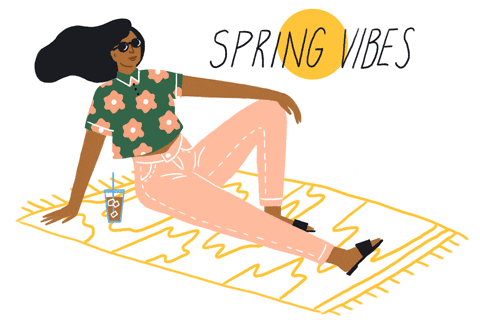 ---
Have You Fallen in Love With These Spring Party Theme Ideas?
Life is better when we all stop to appreciate the little joys with the people who matter most. After reading this guide on the nicest spring party theme ideas, you can get ready to throw a successful bash.
If you're thrilled to start planning, then let Greetings Island help. Have a look at our customizable party invitations so you can give your guests a wonderful first impression.