15 Tips for Planning the Best Pool Party
Did you know that summer is the best season for your health and happiness? Aside from people being more active and eating better, warm weather can improve your sleep and even boost your immune system! With so many health benefits to reap, you definitely don't want to miss out on getting your daily dose of vitamin D.
What's the best way to enjoy summer? Pool parties are a blast for kids and adults alike.
If you want to host the best pool party, keep reading to learn 15 incredible tips.
Before you start planning, take some time to envision your dream pool party. What does it look like? Which foods would you like to serve? Is there an overarching theme?
If you want to throw a unique party, you should consider having a luau theme. It's especially popular for girls' birthday parties and casual get-togethers for adults. If you love the idea of turning your backyard into a tropical paradise, establish your theme with cute luau party invitations.
Once you have a vision, it makes party planning much easier. Whether your pool party has a theme or not, make sure your invitations are vibrant and fun. Don't forget to include any items that guests should bring (like a swimsuit or towel) on the invitation.
2. Buy Summer Decorations
Decorations are crucial for setting the tone of any party. To give your pool party a relaxed, happy vibe, you need lots of inviting colors.
Tiki torches are not only beautiful, but they can help keep the party illuminated if it continues into the evening.
Summer inflatables are also a great way to liven up the party atmosphere. Palm trees, beach balls, and flamingos are the perfect addition. Inflatables also make great photo props if your guests want to get the perfect Instagram shot.
Other classic party decorations include streamers, balloons, lantern lights, and tableware. Feel free to get creative and use as many decorations as you want. Just make sure they have a summer feel.
3. Stay Hydrated with Fun Drinks
If you're going to be spending many hours in the sun, you need to make sure your party is stocked with refreshing drinks. To keep things simple, fill a cooler with some ice and popular drinks like bottled water and soda. If you're having an adult pool party, a beer cooler is also nice.
To elevate things, you could set up your own tiki bar complete with fancy drinks. These easy cocktail recipes are sure to be a hit at your pool party. If you need to leave out the alcohol, these drinks will still taste great virgin.
If you anticipate that your friends will spend a lot of time in the pool, they may not want to get out for refreshments. A floating bar is a clever detail that your guests will love.
4. Have a Nice Array of Snacks
Having a good balance between junk food and healthy food is important for satisfying your guests. Too much salt can cause bloating, which isn't nice when you're wearing a bathing suit. However, since everyone will be sweating in the sun all day, some salty treats can help replenish electrolytes.
For these reasons, having a balance of fresh fruit and typical party foods like chips is ideal. If you want to be the ultimate host, buy a bunch of different fruits and create a tasty fruit salad. Lots of supermarkets offer pre-cut fruits, so if you want to save time, all you have to do is toss the fruits together.
For salty foods, potato chips, corn chips, and pretzels are always appreciated. Dips like salsa, guacamole, and hummus are healthy and filling.
Once you cover those basics, you can add other fun extras you think your friends would enjoy. The more variety, the better!
5. Plan a Vibrant Menu
Most pool parties go on long enough to require a meal. While this is good news because it means your friends are having a great time, it can be stressful trying to prepare a meal for a lot of people.
Since pool parties are relaxed, don't worry about hosting an elegant dinner party. Instead, fire up the grill and treat your friends to a barbecue. Not only are hamburgers and hot dogs easy and inexpensive, but they're guaranteed crowd pleasers. Be sure to get some veggie burgers and dogs for any vegetarian or vegan friends!
Another great way to get a lot of food at an affordable price is to shop at your local farmers' market. There you can stock up on all kinds of fruits and vegetables to prepare some light and fresh side dishes.
6. Don't Forget Cute Pool Floats
No pool party would be complete without picturesque pool floats. You and your friends will love lounging on classic ice cream, pizza, flamingo, or unicorn floats.
Want some inspiration? Check out these trendy pool floats to start shopping. You can also scroll through Instagram to see what all of your favorite influencers are posing with at the pool.
If any kids will be at your pool party, be sure to get some arm floaties, lifejackets, or pool noodles so everyone can have a good time.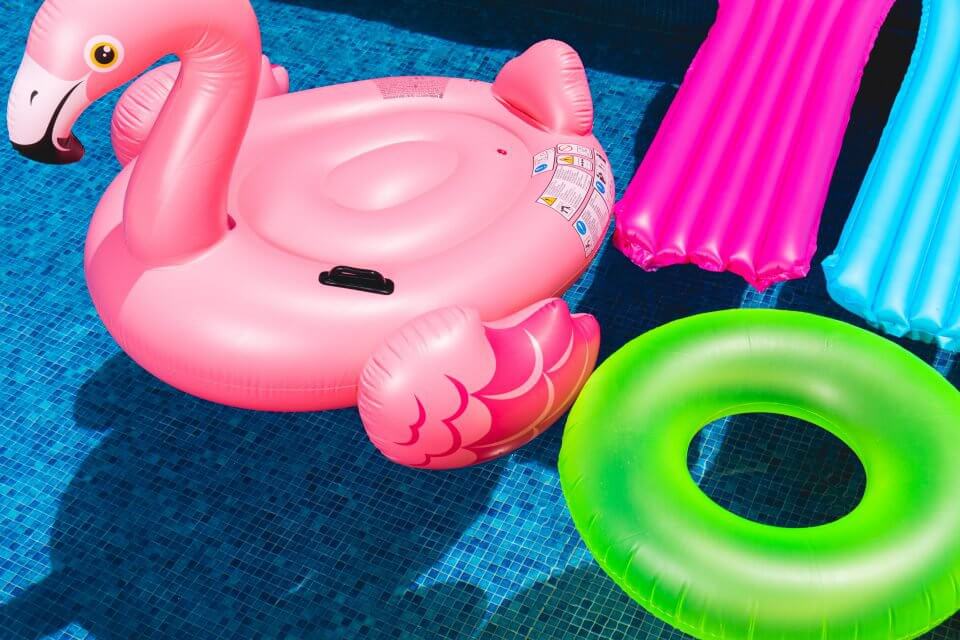 7. Consider Matching Accessories
Matching with your best friends can help you feel connected and give you even more awesome photo ops. When you're planning a pool party, there are plenty of accessories you can choose from.
Beach towels, sunglasses, coverups, and flipflops are a few affordable choices. If you want to go the extra mile, you could even order customized beach towels or other apparel for your guests. This can also double as a thoughtful party favor. Every time they use it, they'll remember how amazing your party was.
8. Set the Mood with a Party Playlist
Summertime is all about having fun, so your party needs a playlist full of hits.
Streaming services like Apple Music, Spotify, and Pandora have tons of curated party playlists. If you want to build your own, you can take the time to choose your favorite songs.
If you don't pay for a subscription of one of these streaming services, you should claim a free trial before your party. This will keep the tunes playing nonstop so you won't have to listen to pesky advertisements every few minutes.
In order to play the music loud enough, it's worth investing in a high-quality speaker. These outdoor speakers are perfect for any budget, waterproof, and have other handy features like Bluetooth.
9. Create a Sunscreen Station
Although some guests will pack pool party essentials, you shouldn't expect everyone to bring their own sunscreen. This is why setting up a sunscreen station is a good idea!
Even if guests lather up before your party, all the sweating and swimming will wash their sunscreen off. Skincare experts recommend reapplying sunscreen every two hours when you spend the day outdoors.
To keep things simple, just place a few different kinds of sunscreen on a small table. Be sure to have at least one spray bottle and one lotion since people have different preferences. To offer the best protection, make sure the sunscreen is SPF 25 or higher.
10. Have Cozy Lounge Chairs
Although it's called a pool party, plenty of people prefer to avoid pools altogether! If you have any friends who want to work on their tan, make sure you have a few cozy lounge chairs that can recline in different positions.
Even guests who spend a long time swimming will appreciate taking some breaks to relax. While it's not necessary, it is nice to have a seating area that is shaded by an umbrella. This can help guests stay cool and protected from the sun.
11. Buy Waterproof Phone Cases
If you're going through all the trouble of planning an epic pool party, you better document the best moments! While there are plenty of opportunities to snap great pictures on land, buying a waterproof phone case can lead to some unique shots.
The good news is that there are tons of affordable waterproof phone cases on the market. Did you know that you can get a universal waterproof case for under $10? This means you can bring your phone to the beach, lake, and pool for many years to come without ever worrying about water damage.
If you feel comfortable, try letting your friends take some shots during the party. You never know what kinds of awesome moments are happening when you're not the one behind the camera!
After the party is over, you can upload all of the photos to a shareable album. You can send an online thank you card along with the album link to all of your friends.
12. Plan Pool Party Games
With plenty of music, food, and friends, your party is already guaranteed to be a blast. In order to take things up a notch, though, make sure you have a few games prepared if your friends ever want a change in pace.
These pool party games are just a few ideas to get you started. If you want to keep things simple, you can always stay classic by pairing up to play chicken or have a water balloon fight.
Just remember to be courteous of guests who prefer staying dry. If there's a lot of splashing, keep an eye on any sunbathers to make sure they're happy.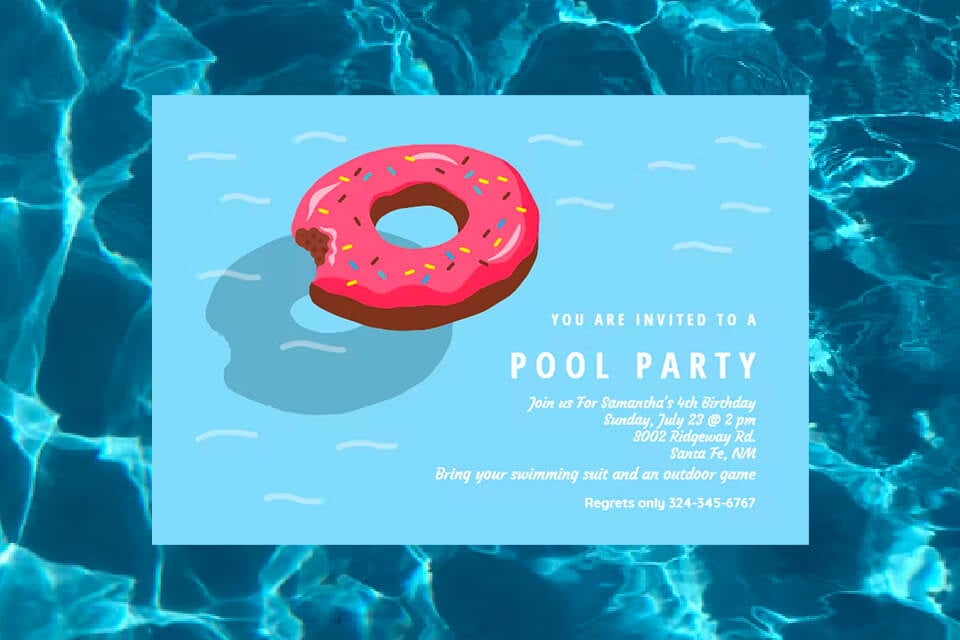 13. Take Precautions to Keep Pests Away
Wonderful outdoor parties can turn into a nightmare fast if any bugs try to join the festivities. It's crucial to take preventative measures to ensure your guests can focus on having a good time instead of swatting pests all day.
Aside from adding tropical flair to your pool party, another benefit of decorating with tiki torches is that they repel bugs. However, if you don't plan on using those, there are plenty of other ways you can keep uninvited pests away.
The most important area of your party is the table where the food will be laid out. To keep your food fresh, try burning some candles with a strong scent. Mosquitos in particular hate citrus, so lemon or orange will do a great job of protecting your food.
Want more tips? Check out these tricks to keep your pool party bug-free.
14. Give Memorable Party Favors
If you don't plan on making custom matching accessories for your friends, consider throwing together a little goodie bag for them to take home. While it's not required, this extra step means a lot to your guests.
One idea is to make candy packs. You can fill them with Life Savers, Swedish Fish, and other treats related to water. For extra fun, you can place these treat bags in a toy sand bucket with a shovel.
If you want to be silly, kids and adults would also love goofing around with oversized sunglasses, kinetic "beach" sand, or bubbles. Since people are happy simply to receive a surprise, you don't have to spend a fortune on extravagant gifts. The gesture is what counts the most!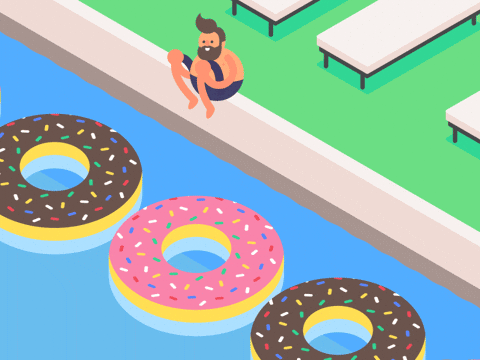 15. Consider a Nighttime Pool Party
Want to treat your friends to a party like no other? Then you should think about throwing your pool party at night!
Planning a nighttime pool party is a bit different, but there are only a few major things you need to prepare for in order to do it right. Since the sun won't be out, you need to make sure your pool is heated and well-lit.
Take the time to shop for fun pool lights that can amplify your party atmosphere. Although normal lights will get the job done, your party would look much cooler with neon lights shining underwater. Don't forget to install extra lights around your deck if that lighting is insufficient. People will need to walk around safely and see what they're eating and drinking.
If you can manage those two important things, then you can make your pool party feel like an incredible nightclub. It's perfect setup to create an unforgettable event.
---
Ready to Get Your Party Started?
Now that you know the best tips for throwing a pool party, it's time to make your invitations. Greetings Island has a huge selection of cards for any occasion. Check out our pool party invitations to get started!
After you have some fun customizing your invitation, you can choose from three different options to send them. Print your invitations at home or in a professional print shop so you can mail them, email them with convenient online RSVP services, or save your invitation as a high-quality image to share on social media.