Cocktail Party Ideas You Don't Want to Miss
Hosting a party at home can be a fun and casual way to entertain guests. Careful planning and attention to detail are key to making the night a success. The first step is to choose a theme and create a guest list to send out party invitations. The theme can be anything from a classic martini night to casual drinks with a BBQ to a tropical luau. And your invitations can reflect the theme. We've got several themes to choose from and cocktail party ideas to make hosting easy!
After choosing your theme, stock up on the necessary supplies. This includes alcohol, mixers, garnishes, glassware, and serving trays. Make sure to have various options to cater to different tastes and preferences. Consider creating a signature cocktail for the night, and have at least one non-alcoholic option available.
Decorate the space to create a welcoming and stylish atmosphere. Dim lighting, candles, and fresh flowers can add to the ambiance. Create a playlist of music that fits the theme and will keep the night going.
Finally, prepare some appetizers or finger foods to serve alongside the beverages. These can be simple and easy to prepare but should be delicious and complement the drinks. Overall, hosting a cocktail party at home can be a memorable and enjoyable experience for both the host and the guests.
Find the Perfect Location for Guests to Mingle
Choosing a prime spot in your home for guests to mingle is important because it sets the tone for the entire event. A well-placed area can encourage conversation and make guests feel comfortable, while a poorly placed area can create awkwardness and discomfort.
Generally, you want to choose a room that is spacious enough to accommodate your guests, has ample seating and surfaces for food and drinks, and is easy to access.
Outdoor Cocktail Party Ideas
Hosting a summer party outdoors at your home can be a great way to take advantage of beautiful weather and natural surroundings. Start by choosing a location that is suitable for the event, such as a patio, deck, or backyard. Ensure that there is adequate seating and that the area is well-lit.
Make sure to have appropriate outdoor furniture to create a welcoming and comfortable atmosphere. It would also be nice to have some blankets or jackets available if the temperature drops as your event goes into the night. Lastly, be sure to have a plan in place for inclement weather, such as moving indoors or rescheduling.
Indoor Spots
The best rooms in your home to host guests are those that are spacious, comfortable, and conducive to conversation. The living room is an obvious choice, with its comfortable seating and open layout.
If you have a well-equipped kitchen, it can be a great place to host guests as well, especially for a more casual party. This way you can serve food and drinks as you prepare them and still engage and talk with your guests. The dining room is also a great option, as it allows for a more formal gathering around the table.
Set the Mood with the Right Decorations
The type of decorations you should have depends on the theme and atmosphere you want to create. Generally, you should have decor elements that add color, style, and sophistication to the space.
Some popular decor items for a cocktail party include:
Table Centerpieces – Fresh flowers, candles, or themed objects can make for an eye-catching centerpiece.
Lighting – Use warm and dim lighting to create a cozy atmosphere, or bright and colorful lighting for a more festive feel.
Tableware – If the mood fits, use elegant glasses, plates, and utensils to add a touch of sophistication to your decor. If you're going for a more casual feel, consider simple glasses and even plastic plates and silverware.
Backdrops or banners – If you have a theme, using a backdrop or banner can help set the tone. It also makes for a great photo opportunity for guests.
Props – Depending on the theme, you can add props like balloons, streamers, or photo booth props to make the night more fun and interactive.
Choosing the Best Cocktail Party Themes
Start by choosing a general idea or motif that will set the tone for the evening. This can be based on a particular drink, location, or style. Once you have the theme in mind, think about how to incorporate it into the decor, drinks, invitations, and food.
Use color schemes, lighting, and props to create a cohesive and visually appealing atmosphere. Consider the tastes and preferences of your guests when selecting the menu and drinks. Remember to keep it simple and manageable so you can enjoy yourself too.
Here are some of our favorite cocktail party themes and how to execute them.
Tasting Party
Planning a tasting with specific drinks like tequila, bourbon, or wine, is a fun and educational way to explore different flavors and learn about the history and production of each beverage.
Start by choosing which type of alcohol to feature and selecting a range of samples to taste. Consider the region, age, and production method of each sample. Provide informational materials such as tasting notes or guides to help guests identify and appreciate the nuances of each sample.
Also think about fitting accouterments like limes for tequila or bitters for bourbon so your guests can create their own personalized tasting experience. You'll also want to ensure the proper glassware like Glencairn glasses for bourbon or the correct wine glasses for red or white.
Serve appropriate food pairings to complement the flavors of the alcohol, and make sure to have plenty of water and non-alcoholic options available.
Hawaiian Luau
This is an excellent theme for warmer spring weather and summer months. A Hawaiian luau is a fun way to transport your guests to a tropical paradise. Start by selecting a location, such as a backyard or a pool area, that can be decorated with tropical elements such as palm trees, tiki torches, and leis. Send fun and colorful cocktail invitations to let your guests know what kind of event to expect.
Plan the menu to include traditional Hawaiian foods such as poi, poke, and kalua pig, as well as refreshing drinks like Mai Tais and Pina Coladas. Set the mood with Hawaiian music and have fun activities like hula dancing, photo props, or a limbo contest to engage your guests. Lastly, make sure everyone is comfortable by providing ample seating and shade.
Sparkling Drinks Party
Bust out the adult bubbles on the back patio and serve sparkling drinks to your guests. An easy drink to serve for both alcohol drinkers and non-drinkers alike is a shrub. A shrub is classically a mix of a sweet and sour syrup made from fruit, vinegar, and sugar. The syrup is often mixed with soda water or used as a base for craft beverages. For mocktails, mix the syrup with soda water and serve with a garnish. For cocktails, you can mix the shrub mixture with gin, rum, vodka, or even whiskey. We love this option because you can make the syrup ahead of time in a pitcher and let guests top their drinks off whenever and however they like.
Keep the sparkle theme going in your decor. Choose gold or silver sparkly accents like sequined tablecloths or glittery champagne glasses. Battery powered twinkle lights also add a beautiful ambiance to any outdoor or indoor event. Without having to plug them in, you can use them to decorate anywhere. A black and golden theme pairs well with a sparkly color scheme, but you can also choose other hues to pair with your glittery accents.
Color Theme
Hosting a party with a color theme can be a creative and visually striking way to entertain guests. Start by selecting a color that reflects the mood and tone you want to set for the event. Decorate the space with items that incorporate the chosen color, such as tablecloths, napkins, flowers, and lighting. Consider serving drinks and food that are also in the chosen palette, such as yellow lemon drop martinis (with a fitting citrus martini invitation to match) or red velvet cupcakes. Candles in your theme color also add an elegant touch and can help with lighting when the sun goes down.
Encourage your guests to dress in the chosen color or provide accessories that match the theme. With attention to detail and a cohesive vision, a color-themed get-together can be a memorable and visually stunning event.
Some colorful popular cocktails include:
Red: Serve strawberry daiquiris or cosmopolitans
Orange: Tequila sunrise is a fun orange juice drink with grenadine and is easy to make into a mocktail
Green: Margaritas or Midori sours are bright and summery green
Yellow: Mix up cheery lemonade beverages or lemon drop martinis with a fun backyard picnic
Pitcher Potluck
We've all been to a potluck dinner before. Everyone brings a dish and creates a big spread. You can do the same with cocktails! Have everyone mix a pitcher of their favorite, or bring the ingredients to make it. We love this idea for a fun and festive girls night out.
Hosting a potluck cocktail party is a great way to gather friends and family for a fun and relaxed event without the pressure of planning all the drinks yourself. Encourage guests to bring their favorite drinks that complement the theme of the event. You can also create a sign-up sheet beforehand so there is a variety of different drinks.
Set up a serving table with labels for each beverage and provide glasses and any other accessories needed. Have guests mingle and try different drinks and talk about what's in them and why they brought them. Maybe your guests will find a new favorite drink recipe or two.
Tacos and Margaritas
Another warm-weather favorite, a taco and margarita theme has the best of both worlds. A tasty beverage to drink and flavorful tacos to munch on. For festive decor, you can stick to bright colors like hot pink and teal, and yellow. Accent your colors with citrus fruit decor like napkins with limes on them or even create centerpieces with real fruit.
To make tacos for a crowd, prepare a variety of fillings and a range of toppings such as guacamole, salsa, sour cream, cheese, lettuce, and cilantro. Provide a selection of soft and hard taco shells, tortilla chips, and dips. Set up a self-serve station so guests can build their own tacos and enjoy a fun, interactive meal.
Margaritas can be mixed by the glass or in a large pitcher for easy serving. We share some excellent margarita recipes below!
Select Popular Cocktails Your Guests Will Love
Serving popular cocktails at your party is a great way to ensure your guests have a good time and everyone has something they will enjoy. Make sure to have all the necessary ingredients, glassware, and garnishes on hand, and consider offering a non-alcoholic option for guests who don't drink. A well-stocked bar with popular options will surely impress your guests and make for a memorable get-together.
Here are three popular choices that can be customized in different ways to fit your party and your guests' preferences.
Margarita
Combine 2 oz of tequila, 1 oz of lime juice, and 1 oz of orange liqueur in a shaker with ice. Shake well and strain into a salt-rimmed glass filled with ice. Garnish with a lime wedge. You can also make this recipe in bulk and serve it in pitchers for your guests to help themselves.
For a twist on the classic margarita, try these variations:
Strawberry Margarita – add 2 oz of strawberry puree to the classic recipe for a fruity twist.
Spicy Margarita – add a dash of hot sauce or muddled jalapeños for a spicy kick.
Pineapple Margarita – add 2 oz of pineapple juice to the classic recipe for a tropical twist, perfect for a Hawaiian luau theme.
Martini
Fill a mixing glass with ice and add 2 1/2 oz of gin or vodka and 1/2 oz of dry vermouth. Stir well and strain into a chilled martini glass. Garnish with an olive or lemon twist.
For a variation on the classic martini, try these options:
Dirty Martini – add a splash of olive brine to the classic recipe for a saltier taste.
Espresso Martini – add 1 oz of espresso and 1/2 oz of coffee liqueur for a caffeinated twist.
Lemon Drop Martini – add 1 oz of lemon juice and 1/2 oz of simple syrup for a sweet and sour twist.
Old Fashioned
Muddle 1 sugar cube with 2 dashes of Angostura bitters and a splash of water in a rocks glass. Add 2 oz of whiskey and stir well. Add ice and garnish with a cherry and orange peel.
For some summer versions of the classic Old Fashioned, try these options:
Peach Old Fashioned – add 1-2 fresh peach slices to the classic recipe for a fruity twist.
Cherry Limeade Old Fashioned – muddle 1 cherry and a lime wedge with the sugar cube and bitters for a tangy and sweet taste.
Strawberry Basil Old Fashioned – muddle 1-2 strawberries and a basil leaf with the sugar cube and bitters for a refreshing flavor.
Serve Food to Keep Guests Full and Comfortable
If you're serving guests drinks, you should absolutely also be serving them food at your event. Cocktail parties should feel casual and inviting and should promote conversation. Sit-down dinner parties are usually too formal for this type of event and we recommend sticking to appetizers or a buffet-style dinner.
Appetizers
The best appetizers to serve at a cocktail party are bite-sized, easy to eat with one hand, and full of flavor. This makes it comfortable for guests to eat while engaging in conversation and to keep a free hand for their drink. Some popular options include mini quiches, bruschetta, cheese and charcuterie boards, stuffed mushrooms, and shrimp cocktail.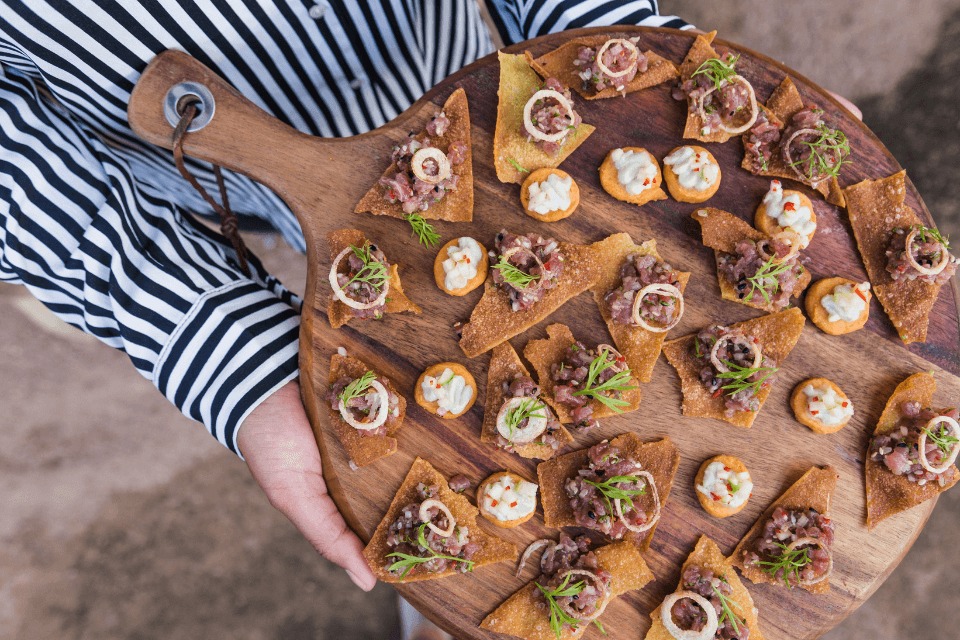 Dinner Buffet
For a more substantial meal, you could set up a buffet-style dinner where guests can help themselves to a plate of hearty food. Some options include a pasta bar with various sauces and toppings, a taco or fajita bar with different proteins and toppings, a salad bar with a variety of greens, veggies, and dressings, or a build-your-own sandwich station with different breads, meats, cheeses, and spreads. Buffet-style dinners allow guests to customize their plates and can also easily accommodate different dietary needs.
Hosting a Cocktail Party at Home
Hosting this kind of get-together at home requires some preparation, but it can be a rewarding and fun experience. Choosing a theme, stocking up on supplies, and decorating the space are all important steps in creating a welcoming atmosphere for your guests. A signature beverage and some tasty appetizers will help make the night even more special. Remember to plan ahead, pay attention to details, and most importantly, have fun! By following these simple steps, you can create a memorable experience for your guests and make your event a hit.
---
Photo by: Kim Daniels, KatarzynaBialasiewicz, Arty, Frankie Lopez, AleksandarNakic, Sander Dalhuisen, Hannah Busing, Maria Avdeeva on UnSplash