62 Easter Wishes for Family & Loved Ones
From religious celebrations to chocolate bunnies and egg hunts, Easter is a joyful holiday! It has a short window, though, so don't procrastinate. A late greeting will definitely be past its freshness date. Like sad bunny cupcakes the day after. But don't worry, it only takes a minute to find cards they'll love and follow through. 
Whether you opt for a traditional folded card or a flat design, you'll find you've invested very little time for a very big bang. Celebrations are best when shared, and your greeting is a ray of happy just for them from you. Every time they see it.
Happy Easter Messages
Go traditional or trendy, thoughtful or humorous, but go. Go to our gallery of Easter cards. There's one for each person on your list, or send one great card to your whole address book. Use your powers for good, and add some happy to their Easter!
Thinking of you and hopping by with a Happy Easter HI! Love, Charlotte
Happy Easter …from everybunny here! Have a wonderful day! Warmly, The Allens
Blessings to you in the season of new life! Love, Rob and Emma
Hippity-hippity-hop to a Happy Easter! Wishing you a joy-filled day! Jim & Deb
Easter is hatching! Have an egg-cellent Easter! Vince and Abbie
New life emerges – life resurrected in celebration of a Life Resurrected.
A joyful Easter to you! Love, The Carmonys
May the celebration of renewed life bring hope and joy to your heart and home! The Garza Family
May your Easter be filled with joy, peace and happiness! Josh and Skye
Wishing you hour after hour of happy till your Easter is Happy all day long! With love, Barb
Happy Easter! Wishing you Easter blessings and joy! Love, Uncle Nate and Aunt Amy
Happy Easter! May this special day of gathered celebration bring you joy after joy! Jon and Sarah
Hoping our smiles bring you smiles across the in-between-us miles!
Happy Easter! The Knox Family
Only a "personal appearance" would do to bring Happy Easter greetings to you!
Have a beautiful day! Love, Greg, Lora, Mike, and Alissa
May your Easter basket be filled to overflowing with happiness! Happy Easter!
Love always, Tim and Rachel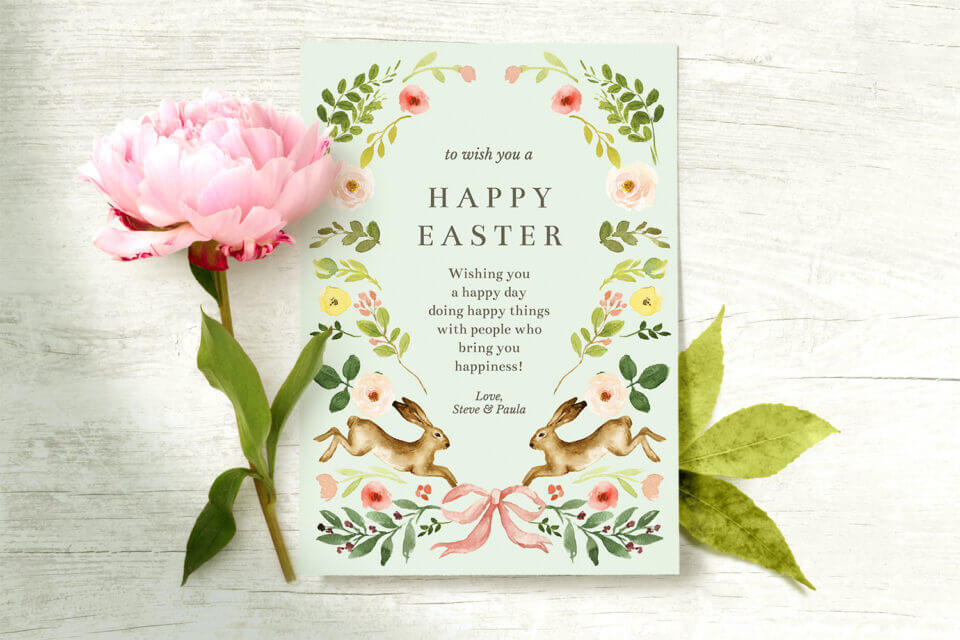 Happy Easter! Wishing you a happy day doing happy things with people who bring you happiness!
Love, Steve & Paula
Here's to the happiness of Easter spilling over into your hearts and home! The Turners
May the Hope of Resurrection shine into your heart with joy and peace.
Blessings, Dave, Julie, Matt, Zac, & Tim
Food and fun mark our holidays, and we wish you plenty of both as you celebrate Easter!
Warmly, The Riveras
Colored eggs, smiling faces, sharing a meal with those we love. Happiness! Happy Easter!
Love, The Cook Family
Wishing you a Happy Easter! Wishing you a happy day of joyful celebration!
Wishing you a happy heart that keeps your smile in place! Love, Samantha
Easter time brings a new season to bloom where we are planted. Happy Blooming! Love, Elaine
All that was still and cold is suddenly motion and color! Life from death woven into the world.
Have a joyful day! Love, Paul & Nicole
Thinking of you with loving thoughts and remembering Easter celebrations around your table.
Your sweet kindness is still precious to our family! Love, Bob, Janet, Kyle, Amy, & Ben
Happy Easter! Celebrating life and hope and redemption realized! Love, The Scotts
Happy gathering of colored eggs and all the relatives! Happy Easter! Love, Rachel
May your Easter celebration fill your hearts with happiness and your home with love and laughter!
Love always, Patrick & Carrie
Happy Easter! Have a wonderful day of celebration! Johnson Family
Everybunny here wishes you a very happy Easter! Have fun! Love, Uncle Ray & Aunt Janet
Colorful eggs dot the yard in all the very best secret places,
waiting…waiting…for sudden discovery, delighted squeals, and happy faces!
Happy Easter! The Morrisons
Just hopping in to wish you a Happy Easter! So glad to have such wonderful friends!
Warmly, The Baxters
Easter Greetings! This day of joy turns our eyes towards renewal and fresh hope.
Wishing you a bumper crop of happiness! Love always, The Lee Family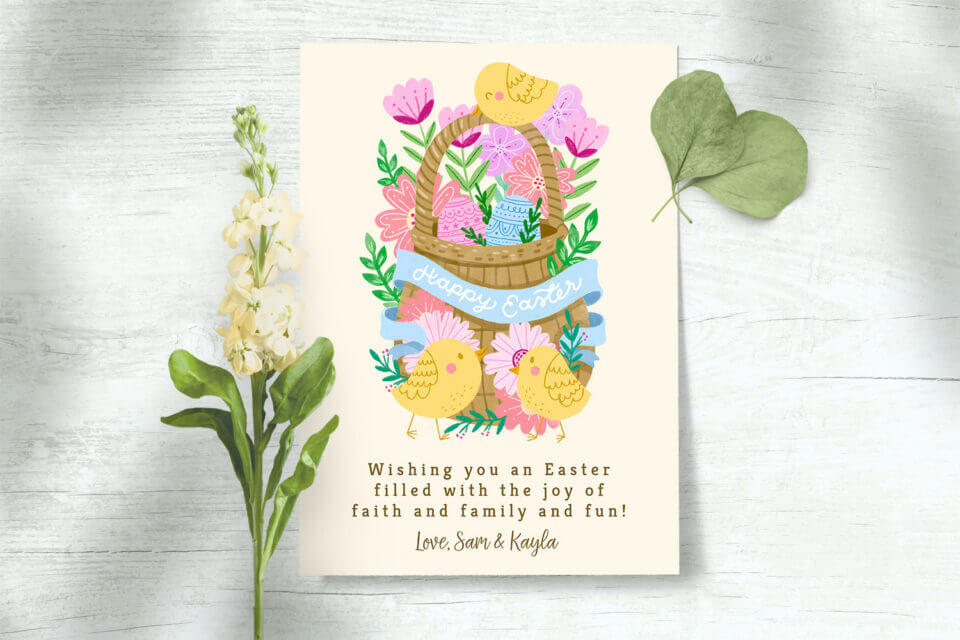 Wishing you an Easter filled with the joy of faith and family and fun! Love, Sam & Kayla
All of us wish all of you a very Happy Easter! The Caballeros
Happy Easter from our family! Enjoy the freshening signs of spring that decorate the day!
Warmly, The Murphys
Enjoy this day of celebration – the smiles and hugs, the joyful sounds of children!
Enjoy new memories stored to last forever. Happy Easter! Love, The McManns
Easter greetings! May all the happiness of the holiday surround you and those you love, Dan & Mindy!
Hippity-hop. Munch. Hippity-hop. Crunch. I see the Easter Bunny found you! Happy Day, Carter & Leo!
An Easter wish for you: May you be spared the disappointment of hollow chocolate. Love, Peyton
Wishing you basketfulls of happiness! Enjoy your Easter celebration! Love, The Grays
Hope is the sun rising every day, the Son rising once to take away what we should pay.
Joyful Easter Greetings, Tom, Jen, David, Jo, & Luke!
Long ears. Fluffy behind. Grab a basket! There are eggs to find! Happy Easter, Hannah!
Tulips and daffodils nod their heads to the beat of a brand new season.
Spring is here! Easter has come! Happy Celebrating, Connor & Katie!
Gathered family breaking bread, sharing smiles and news and hugs. A recipe for happiness!
Wishing you a wonderful Easter together, Ramone Family!
Celebration rises as from one voice. He is risen indeed! Rejoice! With love, The Logans
Snugged in, peeking out. Colored eggs are waiting.
Children run and laugh and shout – the sounds of celebrating!
Happy Easter! Love, Shawna
Sending happy wishes for you and yours to have a warm and wonderful Easter! Love, Jeff and Chloe
Ears? Tail? Where do you start? May your chocolate bunny be sweet and tasty from head to toe!
Love, Jess
Easter! What a colorful, exciting day! Enjoy! Love, The Patels
What I miss most, living miles away, is being with you on a special day.
Happy Easter! Hugs from me to you! Love, Michele
Suddenly, grass greens, spring flowers spring,
south-wintering birds make every tree sing!
Life overcoming the power of death. Resurrection!
Easter Blessings! Love, John, Cindy, Neal, and Kayla
What could be better than gathered joy and heart-warmed love? Not much.
Happy Easter! The Russo Family
May your Easter basket overflow with love and laughter and family fun! Love, Caleb and Alora
1, 2, 3, 4 – Find some eggs, then find some more!
5, 6, 7, 8 – You ate them already?
Happy Easter, Alex!
What a welcome day of celebrating! Happy Easter, Jack and Kylie!
Joy comes in cellophane grass and plastic eggs,
in Grandma's best dish, and Grandpa's new joke.
Smile by smile, hug by hug, it weaves its way
into the basket of gathered family.
Wishing you a joyful Easter!
Love, Tom, Sherry, Marlee, and Ben
Happy Easter! To a really good egg. Love you, Jeremy!
Whether you walk, skip, or hippity-hop, we wish you a day of fun that won't stop!
Love, Pawpaw and Nana
Empty toilet paper roll? Empty gas tank? Ugh.
Empty tomb? Celebrate!
Easter blessings, Demarco Family!
Clinking china, scooching chairs, kitchen frenzy as it rises and falls.
The background music to our gatherings, the symphony of family.
May this Easter give you new memories to treasure! Love, The Taylors
Hope your Easter celebration is full of fun, and you find it all! Love, The Paxtons