How To Plan Your 25th Wedding Anniversary Tips And Ideas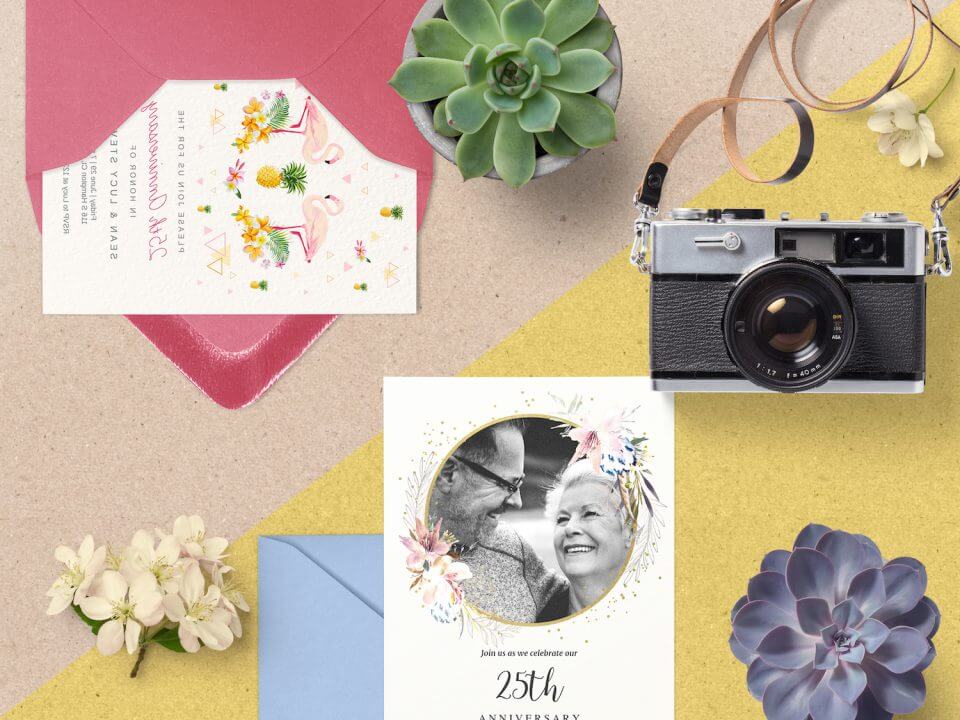 Did you know that the longest marriage ever recorded lasted over 87 years? If you and your spouse want to celebrate your own journey, throwing a wedding anniversary party is a great idea. If you're approaching the big 25-year milestone in your marriage, your party needs to be as special as your relationship.
Being married for a quarter of a century means you've accumulated a lot of beautiful memories and friendships over the years. Devoting a whole party to celebrating your life together will not only honor your past, but your future as well.
With these 25th wedding anniversary party-planning tips, you and your spouse are sure to create even more memories with your loved ones that will last a lifetime.
1. Choose the Perfect Date
If you're celebrating your wedding anniversary, it makes sense that you'd want to plan the party on the exact date. Sometimes this isn't your best option, though.
If your anniversary happens to fall on a weekday, consider moving the party to the weekend before or afterward. This will ensure your guests will have enough time to attend.
Are you worried about keeping costs to a minimum? Try booking a venue on Sunday instead of Saturday. Since Saturday is the most popular day of the week to host an event, owners can get away with charging extra. A Sunday party can accommodate your guests' busy schedules without breaking your budget.
An additional benefit of planning your party on a day other than your anniversary is that you have time to celebrate your special day privately with your spouse.
2. Consider a Destination Event
Since 25 years of marriage is a big achievement, you should consider treating yourself and your guests with a destination anniversary party.
This could mean going across the world or a few cities over. The most important thing is that you feel inspired by your location.
If you want to travel somewhere unique, be sure to give your guests plenty of notice. If they can make the trip by driving, a month's notice is appropriate. However, if your party requires extensive travel plans, it's courteous to give guests at least two months to find the cheapest deals and request time off from work if necessary.
If you want to keep the event intimate, a destination party is a good way to deter casual friends. With this tactic, you can still invite everyone to avoid hurting feelings, but only your closest loved ones will commit to making the journey.
3. Decide on the Theme or Tone
Picking a theme can get guests even more excited about your party if they know what to expect. This is your chance to be creative and combine your interests.
If you both love the beach, you could throw a luau party that makes everyone feel like they're on vacation. If you got married in the winter, you could throw an ugly Christmas sweater party complete with a gift swap and cookie decorating.
Since it's your special day, make the party as fun as possible. There are no rules!
Even if you don't want a specific theme, informing people about the tone of the party will help them choose what to wear. Whether it's a black tie event or a pajama party, be sure to highlight the dress code on your invitations to eliminate any guessing. No one wants to feel self-conscious about their appearance at a social gathering.
4. Create Custom Invitations
Once you have the date, location, and dress code established, it's time to make invitations. The best wedding anniversary party invitations are personalized.
This is an activity that can be fun for you and your partner. You can play with colors, photos, and designs until you make an invitation you both love.
You can keep things simple and elegant with text only, or you can choose your favorite photo (perhaps from your wedding day) to be the focal point.
5. Curate a List of Special Songs
An anniversary party is all about celebrating the happy couple, so the soundtrack of this event should reflect that energy.
Take some time to brainstorm songs that have significant meaning in your relationship. Remember that music with sentimental value isn't limited to slow, romantic songs.
You can include songs from your wedding day, your favorite musicians, concerts you've been to, or any other song that was playing during special moments.
If you're having a hard time coming up with music, you could always recruit your friends for help. A collaborative party playlist is sure to keep everyone entertained all night.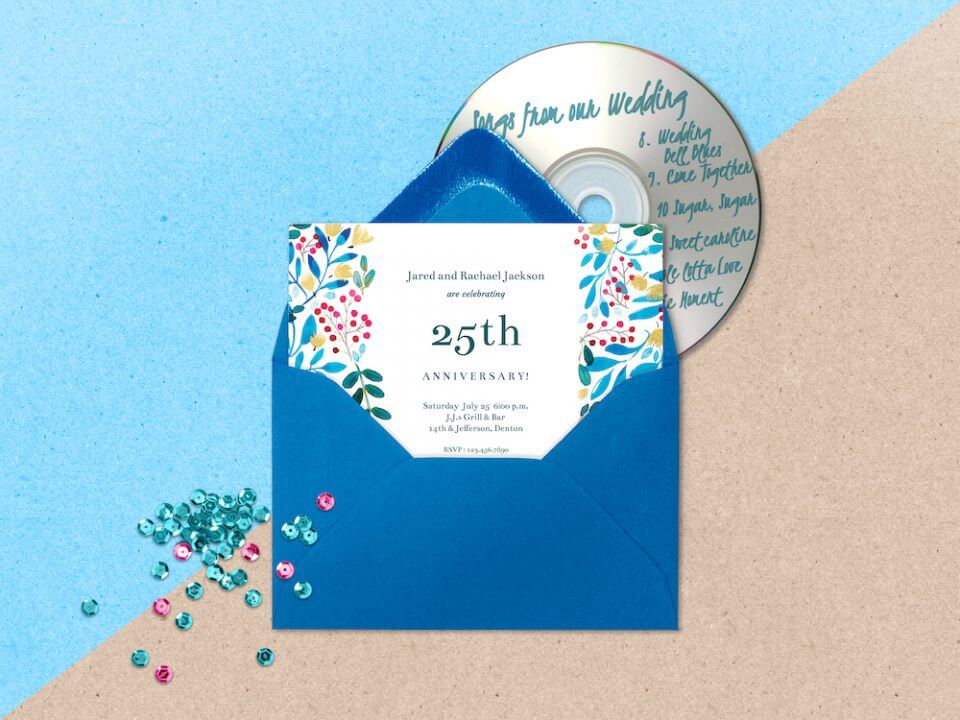 6. Pick a Meaningful Menu
Your wedding catering was all about fitting a budget, pleasing everyone, and being elegant. Since anniversary parties are much more laid-back, your menu can feature almost any dish.
Are you pizza lovers? Nothing's stopping you from throwing a giant pizza party. If you're world travelers, it could be a great idea to include samples of international cuisines from your favorite countries.
If you have any special traditions, favorite restaurants, or quirky eating habits, you can incorporate your personalities into the menu. Plenty of people are curious to know the secrets behind lasting marriages.
If you and your partner swear by pasta nights every Sunday, you can let everyone in on your magic.
7. Hire the Right Photographer (Friends Are Always Best)
If you're going through all the trouble of planning a party, you'll want to have every great moment documented. The more photos you have, the better you'll be able to remember this night for the rest of your lives.
Good photographers know how to capture the best moments without getting in the way of the action. Sometimes strangers with big cameras can make people feel uncomfortable. Your photographer should have great social skills to put everyone at ease.
If you have any friends who are professional photographers, you should definitely hire them for your event. Since they'll know lots of the guests, everyone will feel comfortable. Another benefit is that knowing people's personalities can lead to more opportunities to take candid shots of them.
Don't want to hire a photographer? No worries. You can still get plenty of high-quality shots from the event. Be sure to pass these mobile phone photography tips along to your guests and encourage them to take as many pictures as they can.
8. Make a Collage or Slideshow
Nothing makes people more sentimental than pictures that span many years of someone's life, especially a couple's shared life.
If you're old fashioned, you'd enjoy making a collage by cutting up pictures and arranging them on a poster board. This method gives you the chance to include handwritten captions, stickers, drawings, and more. If you choose to create a collage, it'll serve as a decoration for guests to admire at any point during the party.
If you make a slideshow, you'll have to schedule a time during the party when everyone can watch it as a group. This is an opportunity to share the love and feel connected. Chances are high that everyone will say "aw" and laugh at the same photos.
Another benefit of creating a slideshow is that you can add videos as well. You can watch highlights from your wedding day and any other cute moments you caught on tape.
9. Prepare Toasts
Photos are a great place to start, but the happy couple should also set aside some time to make a toast. This can allow you to express your love out loud and share some words of wisdom from your 25 years of marriage.
Your speech can be emotional or funny, but everything you say should come from your heart. Inviting guests to take the mic and share their own stories about the couple can also lead to lots of laughs and tears. The toasts will be one of the highlights of your event, so be sure to get it all on film!
Has it been a while since you've given a speech? Don't worry. Here's how you can write an awesome toast.
10. Buy a Memory Journal for Guests
A memory journal is a must-have for any wedding anniversary party. Leaving it out on a special table will allow guests to visit it and write words of love, encouragement, or share fond memories.
When the party is over, you and your spouse can cuddle up and read everything that your guests left in the memory journal for you. Even if you don't have another anniversary party for a long time, you can still make it a tradition to revisit this journal every year to remember that special night dedicated to celebrating your love.
11. Plan Fun Party Games
Every party is better with games! You can have a blast with your guests by planning special games related to love, weddings, and more.
One idea is to play a twist on pin the tail on the donkey. Instead, guests can get blindfolded and try to pin a heart on the couple's lips in a kissing picture. A great picture to use is your first kiss as a married couple after you exchanged vows.
To keep guests entertained at their tables, you can create your own Mad Libs forms for them to fill out. Subjects can range from perfect date night ideas to ways couple can keep a marriage exciting. The results are sure to be hilarious and perhaps even insightful. At the end of the night, you can collect the sheets and read through them whenever you get the chance.
Another game you could play is hot potato. Instead of tossing a potato, you can use a wedding bouquet. Play some upbeat music and whenever the song stops, the person holding the bouquet gets a funny punishment.
Since catching the bouquet means you'll get married next, you can arrange a hilarious "wedding" moment. You can bring a doll, a pet, or any other unlikely spouse and make sure the loser kisses their new partner. This will lead to hilarious photo opportunities. You can get extra silly by throwing rice on the newlyweds!
Want more inspiration? Here are 10 more anniversary party games you can check out.
12. Make Personalized Party Decorations
If you want to make your party as special as possible, you should create personalized party decorations to add more love to the atmosphere. You could make coasters, napkins, champagne flutes, and more with your name and anniversary date on them.
When it's time to toast to the happy couple, this moment will be even more special with your emblem proudly displayed. Be sure to get lots of pictures of people using your personalized decorations. These decorations can also double as party favors so that your guests will always have something sweet to remember the fun day.
13. Recreate Wedding Day Moments
Another activity you can do is recreate funny, emotional, or romantic moments from your wedding day. You can dance to the song that was played during your first dance as a married couple, pose for a photo with all your bridesmaids and groomsmen, and cut into your cake together.
If possible, you could even use the same caterers who worked for your wedding and get an anniversary cake by the same bakery who made your wedding cake. These flavors are sure to make everyone feel nostalgic.
14. Give Heartfelt Party Favors
If you do decide to make personalized party decorations, a champagne flute can work as a great double for a party favor. Whenever guests use your glass, they'll be drinking to your happiness and remembering your amazing party.
You could also give gourmet chocolates, single-serving champagne bottles, or even pots with "love" seeds so guests can grow something magical. The opportunities for creating unique party favors are endless. Whatever you decide, be sure it's something you both love and want to represent your party.
15. Be Sure to Send Thank You Cards After
Just because the party is over, that doesn't mean the fun has to stop. Once you've settled back into your day-to-day routine again, the final thing you should do to conclude your wedding anniversary party is send thank you cards to everyone who attended.
This is the perfect opportunity for you and your spouse to sit down and look through all of your party photos together. You can pick one or a few of your favorites and use them in your custom thank you cards. When your guests receive them, they'll feel thankful for knowing such wonderful people like you.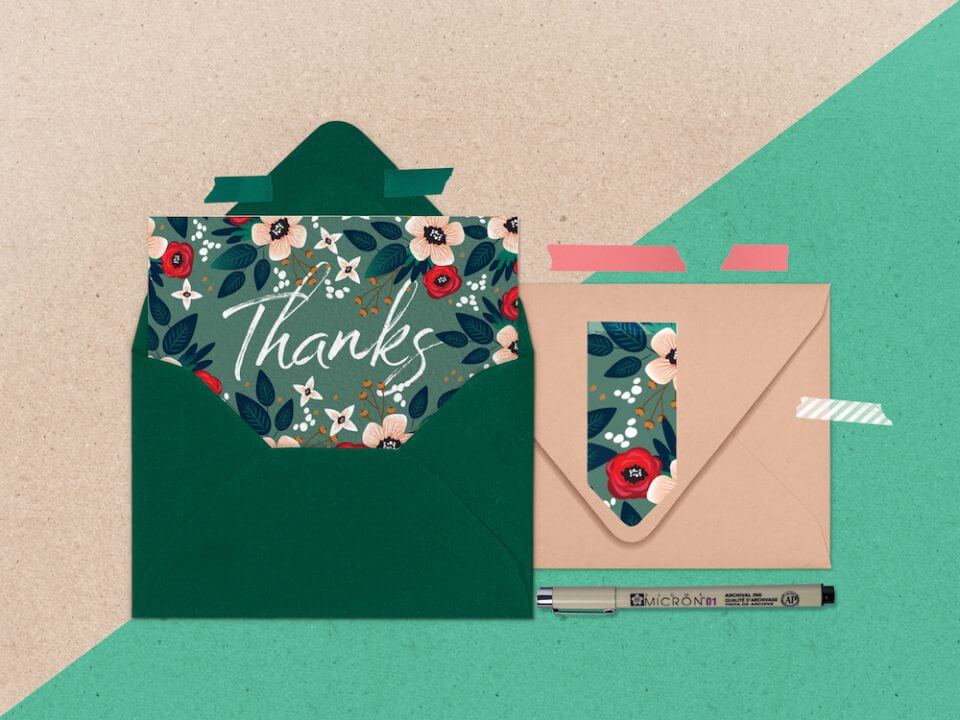 ---
Ready to Make Stunning Anniversary Party Invitations?
With these 15 tips, planning your party will be exciting and easy.
If you're ready to start making wedding anniversary party invitations, Greetings Island can help. With so many stunning customizable templates, you're sure to get heartwarming results.
When you're ready to send them out, you have lots of delivery options. If you want to keep things classic, you can print your invitations at home or in a professional shop and send them through the mail. If you want to go the paperless route, email them with free RSVP services or save them as a high-quality image to share on social media.