14 Steps to Plan the Perfect Office Christmas Party
With the holiday season coming around, there's no better way to thank your employees than with a fun office Christmas party.
Not only are parties a great way to show your appreciation, but they're also an opportunity to play some team-building games and bond over tasty food.
Do you want to learn how to plan an unforgettable party? Keep reading for 14 steps you don't want to miss.
1. Set a Budget
Before you can start planning your party, it's helpful to know how much money you can spend. Does your office have a party fund? Are you willing to cover some expenses to treat your employees? Would everyone in the office consider chipping in a bit to enjoy a more extravagant party?
Once you have a solid number to work with, it's easier to divvy up the funds and figure out which expenses are worth spending more on. For example, if your employees are an adventurous group, you could spend more on location instead of decorations.
2. Recruit Some Help from Your Staff
Depending on how large your company is, you might not have the opportunity to stay in touch with everyone's likes and dislikes. If you recruit some social, detail-oriented employees to help you plan the party, they could brainstorm plenty of holiday party ideas that everyone in the office would love.
Another benefit of forming a planning team is that you can share the responsibilities. The less stressed you feel during the preparations, the better your party will turn out. If your team can run like a well-oiled machine, then you're much less likely to forget any important details throughout the entire process. Asking for help from your staff is also a wonderful way to make people feel more valued since you appreciate their opinion.
3. Pick a Location
Who says every office party has to be held in your office? If you want to get to know your employees better outside of your work environment, there are plenty of fun places you can host the party.
Some affordable options include a bowling alley, a comedy club, or even a house party. If you have the funds, you could rent out an elegant venue, such as a restaurant or a garden.
If you have a limited budget or you know your employees would prefer to stay in one convenient place, you can still plan a cozy party in your office. With the right decorations, you can transform your office into a cheery winter wonderland.
Since the setting can have a big influence on the party's tone, be sure to bounce your ideas off of some employees to ensure everyone would be on board with your location.
4. Choose a Theme
Not only will choosing a theme make party planning easier, but a unique theme can also get your employees more excited for the event. The reason why is because themes add much more personality to a regular office party.
Some of the best Christmas party themes are lighthearted and silly. You could encourage your employees to dress up for an ugly Christmas sweater party or dress as any holiday characters like Santa, elves, snowmen, or reindeer. If everyone participates, you'll have tons of great photo opportunities to help memorialize your party.
If you want to take your theme beyond the wardrobe, you could consider broader options like Christmas around the world or game night. Whether you choose a traditional Christmas theme or a unique one, your party is bound to be a hit as long as you put a lot of care into your plans.
5. Think About Dress Code Options
Depending on your location, theme, and the activities you're planning, you might want to suggest a specific dress code to help your employees prepare. Being clear will save people the stress of wondering what to wear to the office holiday party. There's nothing more intimidating than wondering if you'll show up overdressed or underdressed to a work event.
If you're going to be playing lots of active games, you can suggest comfortable athletic wear. If you're having a cozy Christmas party in the office during a normal workday, you can encourage your employees to wear festive pajamas. Once your employees know the basics of the party and what they should wear, they can focus all of their energy on being excited instead of being nervous.
6. Send Invitations
After you've decided on the location, theme, and dress code, you can start creating eye-catching Christmas party invitations to start building the hype. For formal parties, your employees will appreciate receiving a polished invitation in the mail. If your party is more casual, you can get away with creating a nice invitation and sending it out over email or any other communication platform everyone uses frequently at work.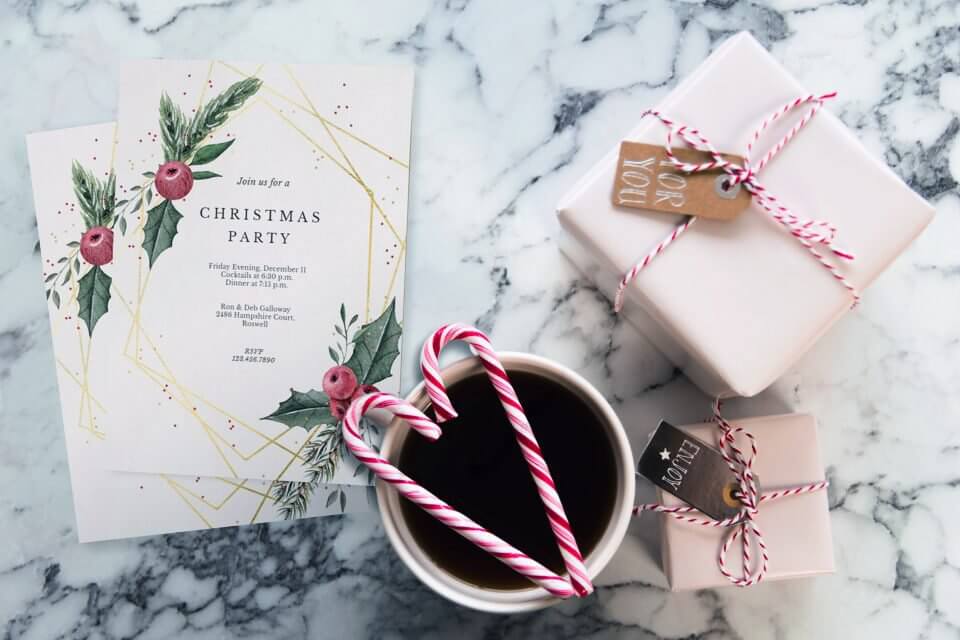 On the invitation, you should include the basic details, such as when and where the party will take place, the recommended dress code, and what activities guests can expect to do. It's also helpful to include your contact information (or someone else's from your party planning team) in case anyone has any questions about the event.
7. Stock Up on Drinks and Snacks
No party is complete without a yummy selection of Christmas party foods and drinks. Festive foods like sugar cookies and candy canes along with some classic party fare like chips and dip are a great place to start. This holiday party snacks guide offers dozens of clever recipes and ideas that are sure to make any crowd merry.
For drinks, it's also best to include a mixture of seasonal and everyday options. Eggnog, cider, hot chocolate, water, juice, and soda would give everyone plenty to choose from. If your company allows alcohol to be served at work gatherings, your employees would also appreciate a bar setup where they could mix their own favorite drinks, or hire a bar tender. You could even make a fun challenge out of seeing who can create the wackiest holiday concoction.
8. Consider Offering a Meal
If your party is going to take place around lunch or dinner time or if it's going to last more than a couple of hours, you'll want to fuel the fun with something more substantial than snacks. One thing to consider is that if you're hosting your gathering at a restaurant or a venue that provides food, then your job is already done.
Parties that take place elsewhere can have a lot of different options. One exciting way to get everyone involved is to throw a potluck dinner where each employee brings in a special treat. If you pass around a food sign-up sheet or send it out online, everyone can know what to expect and also avoid bringing multiples of the same dish.
Other easy options could include ordering a bunch of pizzas, getting catering from the office's favorite local restaurant, or hiring one or more food trucks. If anyone has any food allergies or dietary preferences, it's important to take your time coordinating a menu that everyone can enjoy.
9. Find a Fun Way to Exchange Gifts
Although this step isn't necessary, exchanging gifts is the perfect activity to give your party a dose of holiday cheer. Two of the most popular gift exchange games are Secret Santa and White Elephant. For Secret Santa, each person has to buy a gift for a random co-worker whose name they picked out of a hat. During White Elephant, everyone picks a number out of a hat and gets to choose a mystery gift or steal an opened gift from someone else.
To keep things fair and affordable, it's good to set a price limit on how much people can spend on gifts. If you don't want to put any pressure on your employees to spend money, you could always come up with other ways to exchange free gifts.
For example, the company can provide a bunch of inexpensive gifts like coffee gift cards or vouchers for one long lunch break or even a whole day off from work. Playing White Elephant with these types of gifts is sure to make the environment more exciting and competitive.
10. Set Up a Photo Booth
Taking a bunch of photos is a great way to commemorate your party, but this job can be hard for one person, especially if you have a lot of guests. One of the best office holiday party ideas is to set up a special photo booth. Setting up a photo booth can give you plenty of amazing shots of your employees bonding together. Since there isn't a person behind the camera asking everyone to smile, the photos will turn out more natural.
To help your employees loosen up, you should also include fun holiday props that they can pose with. Santa and elf hats, antler headbands, red noses, white beards, scarves, and bows are just a few different festive prop ideas.
Aside from being entertaining, photo booths can also help you create engaging marketing content for your company's social media. Since people like to see the human side of corporations, your customers will love getting to know the friendly people behind your business.
11. Play Great Music
If you want to plan a traditional Christmas party, you can create a playlist of classic holiday tunes. However, since those songs can get old fast, you might also want to consider making an alternative playlist.
For a lively atmosphere, you can't go wrong with pop music. For a more relaxed atmosphere, you can stick with softer genres like instrumentals or indie. When in doubt, it's always best to refer to your party planning team to create a playlist that'll make everyone happy.
Another interesting option that's worth considering is hiring a live musician or band. This can add a more sophisticated element to your party.
12. Plan Festive Party Games
Food and good conversation can be entertaining on their own, but you don't want to rely on those two things to keep your party going. This is why your office party should have plenty of holiday games worked into the schedule. If you do a lot of group activities, your employees can also sharpen their teamwork skills with some lighthearted competitions.
One simple game everyone can play is a cookie decorating contest. All you need is some sugar cookies or gingerbread men, different colored icing, and other edible decorations like candy and sprinkles. To get everyone inspired, you can give away a prize to the person who creates the cutest or funniest cookie.
Some other silly Christmas party games could include holiday charades, a human gift-wrapping race, Christmas trivia, two truths and a lie, and an ornament relay race where teams have to balance large ornaments on spoons while they race each other. With so many fun party games for adults, there'll never be a dull moment.
13. Don't Forget Holiday Decorations
Decorations are crucial for expressing your Christmas party theme. If you're clever with your strategy, you can wow all of your employees as soon as they step into the party space. You can stay broad and transform your space into a winter wonderland, or you could do something more specific like Santa's workshop.
Decorating a large Christmas tree can add a lot of personality to the room. If you want, you could let your employees decorate it together as a team. Other festive decorations could include string lights, garlands, fake snow, poinsettias, and DIY paper snowflakes.
14. Wrap Up the Festivities with a Heartfelt Thank You Card
The spirit of Christmas is all about giving and spreading positivity. To end your office Christmas party on a high note, you can send everyone a thank you card. On your card, you can give thanks for contributing to the party and for being lovely employees.
If you design yours with customizable thank you card templates, you can include silly or sweet photos that were taken during the party. Once everyone receives their thank you card, they'll be sure to smile and reminisce about all of the fun they had with their work family.
---
Your Office Christmas Party Will Be a Blast
If you follow these 14 steps, you'll be able to plan an unforgettable office Christmas party. Since Christmas is the season for giving, your party is the perfect occasion to make your employees feel appreciated.
Are you ready to start planning your party? If so, Greetings Island has everything you need to create stunning Christmas party invitations and thank you cards. Not only are our templates free and customizable, but they're also easy to print or send online.