Backyard Graduation Party Ideas That Will Elevate Your Celebration
Were you aware that well over four million college students graduated in 2020? If you factor in high school graduates as well, then that's a whole lot of proud parents. If your child is graduating from college or high school soon, it's worth taking the time to plan a special graduation party in their honor. Few celebrations are as cozy as the ones in your own backyard. This can allow you and your guests to enjoy the fresh air, the warm sun, and more.
Planning something like this doesn't have to be stressful. Instead, you should keep reading to learn about tried-and-true backyard graduation ideas and how you can make your graduate feel extra special.
Outdoor Graduation Party Themes
Having a party can feel overwhelming because it's like a blank slate and the possibilities are almost infinite. One way you can feel more focused is by choosing a specific party theme. This allows you to narrow the options down by a significant amount and start picking specific decorations, games, and more. Here are a few of our favorite themes:
Vacation Theme
After years of studying, there's no denying that your graduate has earned a load off. They've worked hard up till now and you can reward them with a vacation party theme. You could either opt for something that evokes the relaxing atmosphere of Hawaii or the hyped-up feeling of summer break.
Do you have a couple of nearby trees in your backyard? If so, that can end up being a perfect spot for a hammock. The more trees you have, the more hammocks you can set up for people to get into the ultimate relaxation mode.
Your backyard graduation party decorations should have bright colors that do justice to the tropical side of things. You could even go the extra mile and add a vacation dress code of flip-flops, shorts or skirts, and Hawaiian shirts. As party guests arrive, you can set the mood by offering them flower necklaces.
Don't forget to stock up on fruity drinks as well. Depending on the graduate's age, you could serve up margaritas or keep things non-alcoholic with an assortment of flavored ice.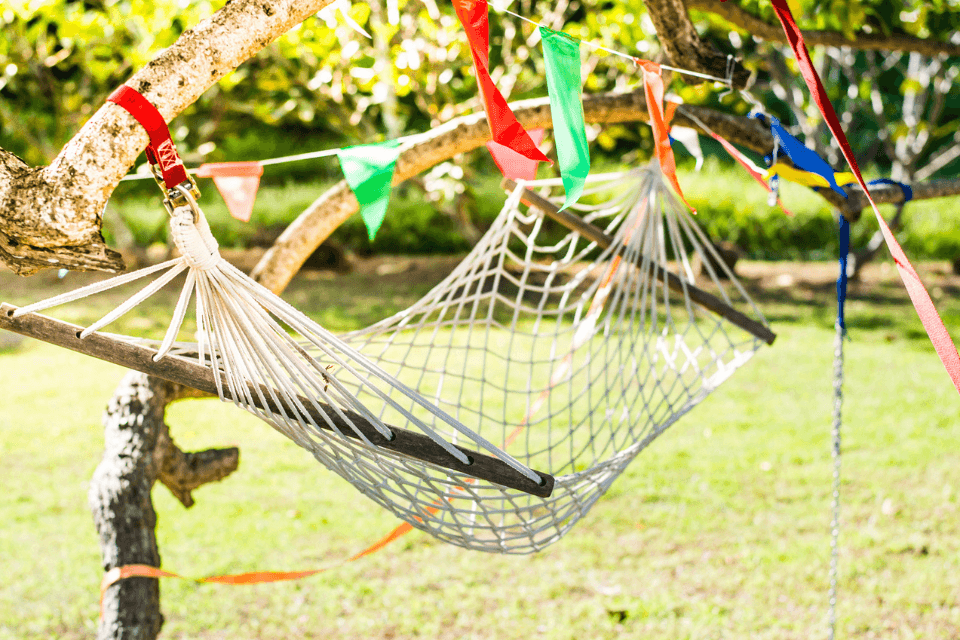 Sports Theme
From soccer and volleyball to swimming and football, there are many sports your graduate could have played while in school. They may even want to pursue that sport as a full-time career. Whatever they played, you can end up using that as a source of inspiration for the party's theme.
This will also provide you with one of the games you can play during the festivities. A sport like soccer is easy because you won't need much beyond a ball, but something like swimming could be a bit trickier if you don't have a pool. You could always put a twist on it by choosing aquatic-related games, such as bobbing for apples or a water relay race.
Aside from games, you could give the grass in your backyard the effect of a sports field. Environmentally-friendly spray paint is easy to find and can allow you to make the kind of markings in your backyard that you'd see on a soccer or football field. Little touches like this can end up making a world of difference for your party's theme.
If you'd like to elevate things even more, then consider creating custom jerseys for each of your guests. You can give them a number and put their name on the back. These shirts will drive your party's theme home while also doubling as awesome party favors so that your guests will always remember this special day.
A Fraternity or Sorority Theme
Both fraternities and sororities use Greek letters to distinguish themselves. This tradition started with Phi Beta Kappa because, back then, studying Greek was more common. However, the Ancient Greeks were known for both their studious philosophers and their lavish festivities.
Whether your graduate was in a fraternity or a sorority or not, you can use this concept as a springboard for your party's theme. From wearing togas to putting up meander-style banners, the possibilities are almost endless. Plus, few people can resist the mouth-watering flavors of Greek cuisine, including moussaka, pastichio, and baklava.
Aside from mouthwatering food, don't forget to use grape leaves as garlands. If you need more backyard grad party ideas, you can even make banners that use the famous meander design found on Greek pottery and other art from that long-ago time period.
A Sleek and Simple Theme
Are you asking yourself, "How do you throw a simple graduation party?"
Not every graduation party needs to be complicated. Sometimes there's a ton of fun to be had in simplicity. That way, everyone can enjoy their time and relax instead of the party planner stressing out.
With this theme, you should focus on some clean and attractive color combinations. One of the most classic color combos for this kind of event is gold and black. This can provide a consistent dimension of elegance to your party without you having to go overboard with everything else.
Aside from some simple games and delicious food, you should also spend some time deciding on what staple decorations are worth the effort.
Staple Decorations
Do you need more graduation outdoor party ideas for decor?
There are plenty of decorations you can choose based on the theme of your outdoor backyard graduation party, but there are also classic types of decor that you'll want to have no matter what. While there's no denying that scrumptious food speaks for itself, a centerpiece on your serving table can give you the most bang for your buck. Even a simple bouquet of flowers can go a long way toward elevating your party.
Another classic staple you should have are either garlands or colorful balloons. You can easily put these up on the outside walls of your home in the backyard, on the fence, and anything else you'd like to spruce up. If you can't decide between one or the other, you could always do both as long as you avoid overwhelming your guests by using too many of them.
The Best Food for a Backyard Graduation Party
Since the party is outdoors, you'll want to stay away from foods that could easily spoil. Something like seafood should be avoided because the sun alone could cause it to smell funky in no time.
Few foods are as refreshing for an outdoor party as a fruit platter. From watermelon and cantaloupe to pineapple and strawberries, there's no doubt this kind of platter will be a favorite as people prep their appetites for the main dishes.
If you want to opt for something classic and simple, then you can't go wrong with hotdogs and hamburgers. These are something you can cook fresh outdoors or make ahead of time. Either way, these foods are easy to eat and hold while enjoying the backyard area.
Just don't forget to break out some fresh buns and set up condiments like ketchup, mustard, and coleslaw. If you want to make sure everyone can enjoy this type of food, then you may want to get a handful of plant-based burgers and hot dogs so that the vegans and vegetarians aren't limited to the fruit, for instance.
No graduation party is complete without a cake. This is something you can go all-out with in terms of decorations or just keep sweet and simple. For instance, a phrase like "Happy Graduation!" or "Great Job!" can get the message across without the need for tons of frosting and fondant.
When it's that simple, you can end up baking it and decorating it on your own rather than having to special-order it from a bakery. If you're worried about having enough for everyone, consider a big batch of cupcakes instead. These are easy to make in bulk and can be passed around during the party without having to fuss with cake cutting.
While a cake is a perfect dessert to build up to after the main meal, it's worth having some sweet treats that your guests can enjoy earlier in the evening. This is where popsicles and ice cream come in. These frozen treats are not only delicious but are perfect for fighting off heat from the sun.
You should have a cooler dedicated to your frozen treats. Be sure to check the cooler a couple of times during the party so you can fill it up with more ice if needed.
Awesome Games
While your graduate will want to enjoy the company of the party guests, there's plenty of time to talk during dinner or early on in the party. To keep the life of the party energized, it's a good idea to choose at least a few games that everyone can participate in. Here are some killer ideas:
Pomp and Circumstance Musical Chairs or Diploma Hot Potato
One of the main benefits of a backyard graduation party is that you can play certain types of games that you wouldn't be able to do indoors.
Musical chairs is a game that's enjoyable and exciting for any age. This is especially true when you raise the stakes by offering the winner some kind of prize, such as a gift card. To make this game fit your party, you can use the graduation theme music.
That special song is titled "Pomp and Circumstance" and you can easily find it on YouTube and other music streaming services. If you don't have enough space in your backyard for this game, then you could play diploma hot potato instead. This is like a regular hot potato game in which you stop the music at random points except you can have people toss around a rolled-up piece of paper with a ribbon instead.
To make the game even funnier, you could even use the graduate's graduation cap because this accessory usually doesn't get used very often after the big day.
Heads Up, 7 Up
While your graduate is rightly excited to move on to the next chapter of their life, at some point they'll start feeling nostalgic about their school days. There are plenty of different school games that they won't have the opportunity to play anymore. As a nod to this, you could include one or two classic games of this type in the mix.
One popular favorite is called heads up, 7 up. You can play this game by choosing seven pickers. Everyone else should put their head down on the table, close their eyes, and stick up a thumb. The seven pickers will then go around and choose one person each by touching their thumb so that they'll tuck it away.
Once the pickers have chosen their one person, they should stand in the front again and say "heads up, 7 up." Now everyone can lift their heads again and take turns guessing which of the seven pickers chose them. If they're right, they replace the person as the new picker, but if they're wrong, they'll need to stay where they are.
Most Likely To: Yearbook Edition
Few things can help recall the good old days of high school or college like a yearbook. One of the classic sections of a yearbook is the "most likely to" where other students nominate a particular person.
You can turn this concept into a hilarious game for your backyard graduation party. Feel free to use the following list for your game and also spend some time brainstorming other ideas:
Most likely to save the world
Most likely to become president
Most likely to start a new fashion trend
Most likely to move to a foreign country
Most likely to write a book of poetry
Most likely to become a household name
Most likely to join a heavy metal band
Most likely to get married
Most likely to have a new element named after them
Most likely to become a supermodel
You should have people vote by writing down the name on a piece of paper that someone else can collect in a hat. You'll then need to read the names and count up the number of votes. Be sure to prepare a prize for the person who gets the most nominations.
For an extra dose of fun, you can open up the floor for some debate, assuming there are a couple of major differences of opinion. People making a friendly fuss about who will start a metal band or write poetry is sure to bring plenty of pizzazz to the party. You could even immortalize the fun by creating a yearbook page featuring photos of the nominees over the category they won.
How to Keep Your Guests Comfortable Outside
Are you wondering, "What do you need for an outdoor graduation party?"
While having a party outside is a great way to enjoy the fresh air and the sun's warmth, there are plenty of other elements that could sabotage the fun.
For instance, the last thing you'd want is to fight off mosquitos and other insects. Instead of letting these critters get the upper hand, you should set out some mosquito coils. If bugs are a big problem in your neck of the woods, you could always invest in some bug zappers or netting to keep them out and away for good.
While the sun often feels great, sometimes it can end up beating down a little too hard on your guests. This is why you should always have some sunscreen on hand. That way, no one will go home with a sunburnt complexion.
Another solution involves handing out hats. If you customize the hats to commemorate your party and fit with your theme, they can even double as awesome and practical party favors. Just be sure you get the kind of hats that are adjustable so that no one is left out because they can't find their size.
In general, outdoor heat does a good job of making people feel parched. This is why you should ensure that there's plenty of water and other tasty beverages on hand for your guests. Nothing beats the crispness of a cooler full of ice and an assortment of canned drinks.
While you may not have a big, comfy couch outside as you do in your living room, you should still put out enough chairs for everyone to take a load off when they need to. If you're pressed for space, consider investing in foldable chairs. That way, people can unfold them as needed and put them away when they're done resting and ready to get back into the swing of the party.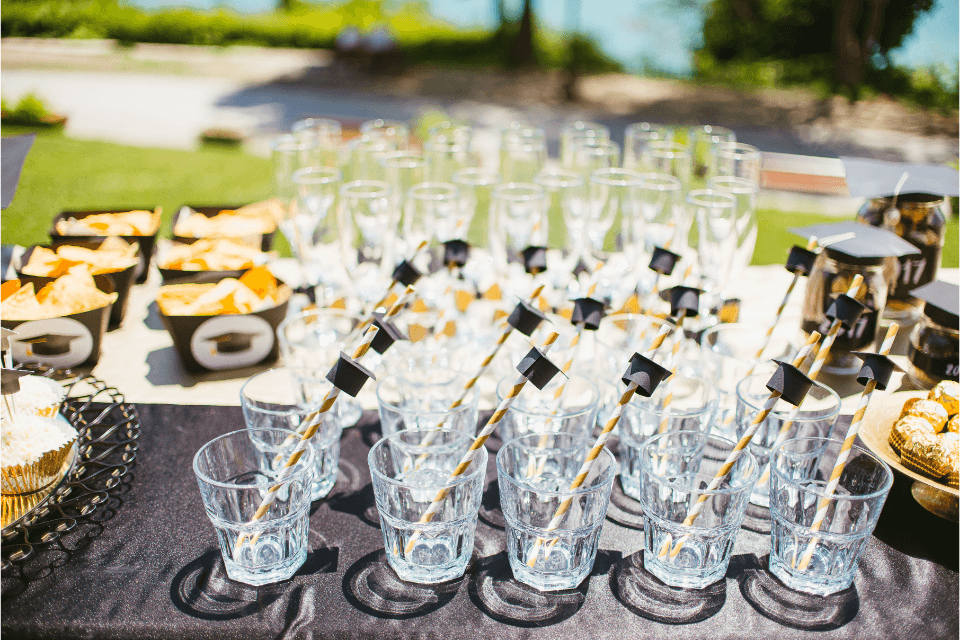 Are You Ready to Throw a Great Outdoor Graduation Party?
With these backyard graduation party ideas, there's no doubt that your graduate will feel both special and appreciated. Graduation day is one of the best milestones in life, so they deserve a party where they can make even more fond memories with their loved ones before going on to accomplish even greater things.
To make sure the graduate's loved ones show up to support them, you'll need to send out timely invitations. Greetings Island can provide you with a wide range of artistic and simple invitations to choose from. You'll have no trouble finding something that complements your graduation party perfectly and you can also count on us for every other occasion throughout the year.
---
Photo Credits: South_agency, DustyPixel, Saisampankaye, Emiliya Lambeva, Kristopher Allison, Guillaume de Germain on UnSplash