A Cozy and Picturesque House Elopementin Sunny California
Belen & Enrique Diaz's Lombardi House Elopement and Vow Renewal Ceremony
Mr. and Mrs. Diaz describe their relationship as "not a typical love story," but it's inspiring nonetheless! The two met in high school, wed at 18 years old, divorced in 2013, rekindled their relationship in 2016, then remarried in 2018. Since they didn't have a wedding ceremony the first time, it was important for them to plan something this time.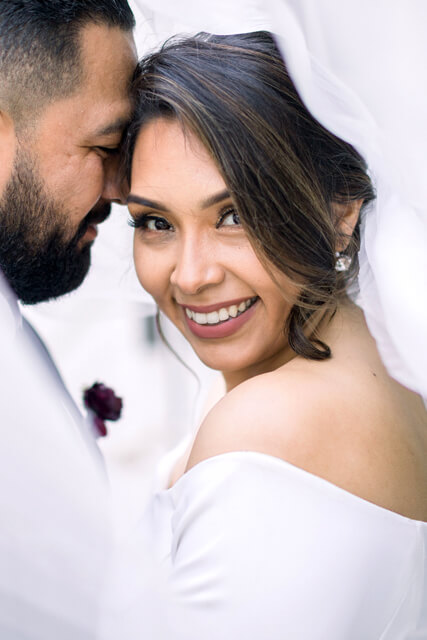 The couple always envisioned having a full wedding ceremony to commemorate their love, but like many couples in recent times, they decided to scale down to have a COVID-safe event after postponing twice. Belen, who is the event planner behind Gather & Bliss Events Co., had the unique skills and experience to plan her own elopement and vow renewal ceremony that didn't have to sacrifice any of the magic.
While on the hunt for the perfect venue, Mr. and Mrs. Diaz wanted to avoid popular wedding locations, such as Joshua Tree, SoCal beaches, and local forests. This was how they settled on the Lombardi House, which ended up being the right size for their cozy event. Although Belen and Enrique couldn't have all of their loved ones in attendance for safety reasons, they still felt their joy and support from afar.
Belen and Enrique's Lombardi House elopement and vow renewal was simply perfect. The beautiful weather, the gorgeous backdrop of the beautiful Lombardi House
"When we found the Lombardi House, we instantly fell in love," Belen said. "The Victorian-style farmhouse was a visual representation of 'home and intimate' for us, which is what we would have wanted our guests to experience. We also desired to be at a venue where our elopement wouldn't feel huge and empty."
Once the couple was ready to move forward, they had to invite a handful of loved ones to share this special day with them. "When I came across Greetings Islands, I got so excited about how user-friendly the platform is and the many amazing templates there are to choose from," she said. "I'm so happy with the style I selected and the exquisite touch it gave to my detail photos."
While she continued planning the rest of her ceremony, Belen realized that the process was almost the same for a traditional wedding. The only major difference was that she wouldn't need to plan a reception. Some key elements she knew she didn't want to miss out on were the "first look" moment when her dad saw her in her wedding dress, cutting the cake as a couple, the first dance, and the father-daughter dance.
As "His Bride" by Serenade & Strum played, Belen got emotional while her father helped give her away to her husband. "I'm glad my dad got to walk me down the aisle," Belen reflected. "It was such a sweet moment."
"Looking at my husband and seeing him just as happy as I was…my gosh," she said. "We've been through some pretty low valleys over the years, but we've persevered. Asking Pastors Sean and Amanda to officiate our vow renewal was also a pretty big deal. They led us through such a beautiful ceremony and we just felt the presence and blessing of God over our new covenant."
We always try to make serious moments funny. Laughter is good for the soul, they say.
Thanks to photographer Kayla Denae, these precious moments were captured in their full beauty. While reflecting on her experiences shooting this day, Kayla shared, "Belen and Enrique's Lombardi House elopement and vow renewal was simply perfect. The beautiful weather, the gorgeous backdrop of the beautiful Lombardi House, the venue decked out in florals by Earth & Grace Co., and the sweet backstory that the couple shares made it a dream come true kind of day!"
Belen shared the same excitement and gratitude as Kayla. "After finding the perfect venue, everything else pretty much fell in place together," she said. "For the florals we let Tanya, owner of Earth & Grace Co., put together the design for this special occasion. She's just amazing and talented in what she does and her design came out perfect! She literally crowned my day with her beautiful work."
Another one of Mr. and Mrs. Diaz's favorite moments was taking photographs with their wedding cake. Belen is passionate about event planning, but cake may be an even bigger passion! With no traditional reception to worry about, Belen knew she and her husband couldn't afford to end the day without getting these memorable photos.
"Our chocolate-chip-cookie-flavored cake by the wonderful Seleste Bakes was just out of this world delicious!" she said. "Believe it or not, Enrique isn't a big fan of cake, but he liked this one a lot! I would have smeared more cake on him. It was a fun moment we shared. We always try to make serious moments funny. Laughter is good for the soul, they say."
What started out as helping her church plan events for the Youth Ministry in Anaheim, California, Belen couldn't be happier growing her own business. For someone who's been planning other people's events for nearly 8 years now, Belen never minds tackling the challenges that come with turning people's dreams into a reality. In fact, she thrives under the pressure because she knows her efforts can bring so much light into the world.
My favorite part about what I do is when I see couples and/or clients with a huge smile on their face, enjoying themselves with no care in the world.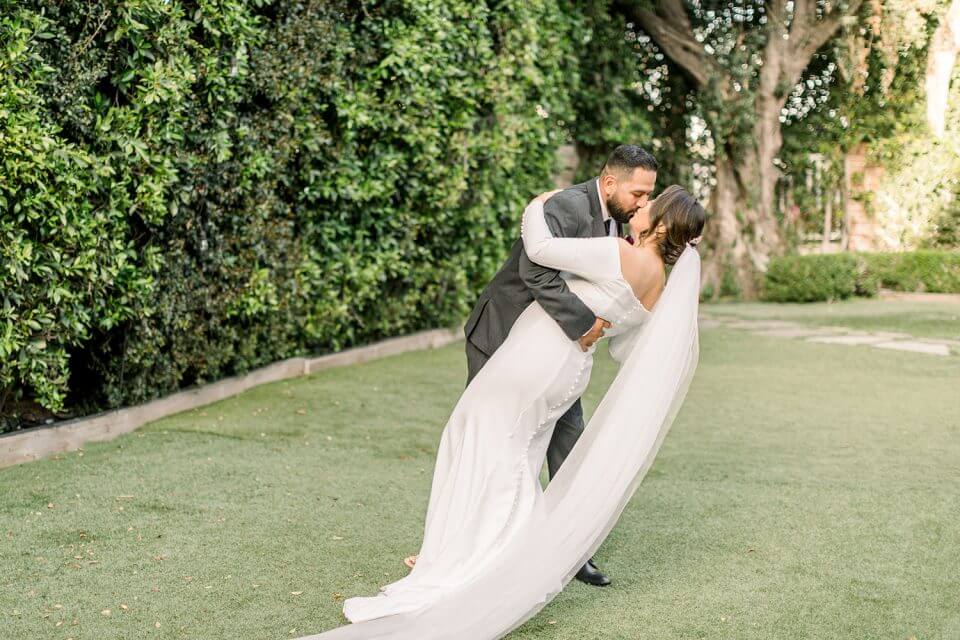 To have that one moment where they've gathered with friends and family reaching a state of perfect happiness is what describes the heart of Gather & Bliss Events Co."
From the looks of Belen and Enrique's smiles on that day, there's no doubt that she planned yet another unforgettable event. Although Belen has been a busy event planner over the years, she said, "This one by far was my favorite."
Belen shared a special thank you to her sisters Daisy, Elena, and Erika who helped with hair, makeup, and event coordinating. The full list of vendors who made this dream ceremony possible is as follows:
Photographer: @kayladenae
Planner: @gatherandblisseventsco
Assistant Coordinator: @_elena_zarate_
Officiants: Pastors @amandam.hamilton @hamiltonasean
Venue: @lombardihouse
Dress: @davidsbridal
Tux & Shoes: @theblacktux
Florist: @earthandgrace.co
MUA: @belovedbeauteboutique
Hair Stylist: @rikaroddd
Film: @alexvfilms
Cake: @selestebakes
Jewelry: @katespadeny
His & Hers Vow Books: @graceandsouldesigns
Stationary: @greetingsisland
Nails: @nailsbyjessikaa
Do you have any special events coming up? If you'd like some help, you can learn more about Belen's expert services by visiting Gather & Bliss Events Co.