12 Steps for Throwing a Successful Housewarming Party
Did you know that every year around 35.5 million Americans move to a new place? That's a lot of potential housewarming parties!
Just like any major event in someone's life, moving and settling into a new house can be equal parts exciting and stressful. Add a housewarming party to the mix and you might be feeling more stressed than excited.
How many people do I invite? What will they eat? What will they eat on? There's a lot to consider.
But fear not! There is a right way to throw a housewarming party so that it's entertaining and stress-free. Want to know how do it? Keep reading to learn about 12 steps for throwing a successful housewarming party.
Step #1: Get Settled
I'm sure you're dying to show off your new home to your friends and family. Of course, your loved ones are eager to see it too.
It's understandable that you'd be tempted to throw a housewarming party right away, but in the long run it's better to hold off for a little while so that you can get settled.
I don't need to tell you that moving is hard work. You might even be having smothering nightmares of boxes stacked on boxes. Take a deep breath. It's going to be alright.
At this point, all you need is some time and a bit of effort. Take one or two weeks to gradually unpack all of your boxes and set things up in a way that makes your new house feel like a home. When you're ready, you can start thinking about having that awesome housewarming party.
Step #2: Make an Online Gift Registry
Once you're settled in your new home, you should be much more aware of what you still need, whether it's something as small as a can opener or as large as a television.
Spend some time thinking of everything that would make your home perfect, then put those items on your easy-to-use online gift registry. It's a convenient way of letting your friends and family know what exactly you need in order to be more comfortable in your new home. The added benefit is that, since everyone can see the registry in real time, it's highly unlikely that you'll up end with two of the same gift.
Don't rely on your loved ones to get essential items, though, such as toilet paper or napkins. You should already be stocked up on these things both for yourself and your future guests.
Step #3: Inside or Outside?
Just because you're throwing a housewarming party doesn't mean you have to be cooped up indoors the whole time. A backyard is just as important as any other area of a home. If you have a roomy backyard and the weather is nice, you and your guests will no doubt enjoy being outside.
Are you lucky enough to already have a beautiful garden on hand? Take advantage of this and throw a housewarming garden party. Allow your guests to relish the fresh air, the pleasant flowers, and the songs of birds. Depending on the area you live in, you could also enjoy the stars later in the evening as you roast marshmallows over a bonfire.
Perhaps you're indecisive? Since there are benefits with both, you could have an open door policy in which guests can go outside and inside as they please. This would work great for a large open house party in particular.
However, if your backyard is not big enough or you live in an area that rains a lot, you'll want to keep the festivities inside. You could bring the concept of housewarming to a whole new level with a cozy fire on the hearth or a medley of scented candles around the living room. Double-check that the candles are placed in safe and secure areas. You want to warm the house, not burn it!
Step #4: Decide on a Big or Small Party
Size does matter. The scope of your housewarming party should determine how you go about having it.
If you plan on inviting a ton of guests to your party, consider turning it into an 'open house.' That way people can come and go throughout the day and you'll have plenty of room for the festivities. This can help prevent accidents such as guests knocking over drinks or bumping into each other. Plus, if you somehow run out of food, for example, you'll have time to go out and replenish your resources for the next guests.
It's always a good thing to know who lives in your neighborhood. If you're set on having a big housewarming party, why not invite your new neighbors too? Not only will they appreciate the gesture, but you can make more friends in the process.
Step #5: Send Out the Invitations
Once you know who you'd like to invite, it's time to send out those housewarming party invitations. Make sure you send them ahead of time so that your future guests can plan for it. When it comes to a party, nothing's worse than having an empty house.
If you're planning on having an open house style housewarming party, let your future guests know by putting that info on the invitation. An invitation is also a good opportunity to let people know about your online gift registry. All you have to do is add the URL. Most importantly, don't forget to put your new address on your invitations so your friends and family know where to go.
In addition, there are lots of benefits to having a hashtag [for your event, including pumping people up. Why not add something simple? For example: #WarmTheSmithHouse2019
Step #6: Map Out a Full House Tour
A full house tour is the staple event at any housewarming party. Depending on the size of your house, you may want to think about how you're going to show your guests around.
Are you an outgoing person? Then you should probably lead yours guests from room to room as if you were a tour guide, telling stories and jokes along the way.
Not everyone is an extrovert, though, and it's okay to shy away from the limelight if it makes you uncomfortable. If you want to be original and extra fun, you can turn the house tour into a treasure hunt. That way your guests can play an entertaining game while discovering and admiring your new home. Best of all, you won't be required to do all the talking.
The 'treasure' itself can be anything from a gift card to a goofy plastic trophy. Whatever you think would be the most fun and fitting for your housewarming party.
Step #7: Create a Playlist
Whether it's a housewarming party or a Halloween celebration, music is important when setting the mood of any event. It can also allow everyone to relax when the conversation naturally lulls.
There are several great streaming platforms you can use to play music with minimal ads. One of the most popular streaming platforms is Spotify. It allows you to play 'radio stations' based on your favorite artists or genres. For more selective people, you can create personal playlists from scratch.
Don't want ads peppered throughout your party's soundtrack? One way to avoid ads without spending money is to take advantage of Spotify's free trail service, which can last either 30 or 60 days. Unless you plan on throwing one of the most epic parties of all time in the future, this option should work perfectly. Just be sure to cancel your membership before the free trial is over if you don't want to get charged.

When creating your playlist, you'll generally want to include songs that work well as background music, so nothing too loud or crazy, unless you want a loud and crazy party (just be sure your new neighbors are okay with it). You can also include ditties that put a pun on the whole event, such as "Home" by Chris Daughtry or "I Like to Move it" by Reel 2 Real.
Step #8: Finger Foods and Booze
Everyone loves a big and hearty meal, but in your new house that might not be the easiest thing to accomplish just yet. Rather, let finger foods save the day!
Finger foods are diverse, simple, and easy to serve. If your guests eat enough of them, they can feel just as full as having a big sit-down meal.
Spare yourself the hassle of cooking and washing pile after pile of dishes by buying a charcuterie board from your local grocery store. But don't stop there. Finger foods are fairly affordable, especially when you consider all of the benefits, so feel free to throw in an assorted fruit platter, vegetables and pita chips with hummus or dip, and more.
Another option is ordering a 'party-sized' sub that you can put out for your guests to enjoy.
If all else fails, simply order a few boxes of pizza. It's a good opportunity to find out what local pizzerias are the best in your new area. Be adventurous and order one from each place.
Booze is another good thing to have available for your guests, but it's not as cheap as finger foods. If you don't already have enough for the event, you can tell your friends to bring their own booze by putting BYOB on your housewarming party invitations.
You'll want to have glasses and ice at the ready, though, so find an area of the house that can work as a bar, which can be stocked later as your guests arrive.
Step: #9: Think of Fun Games to Play
It's your new house, so you can play whatever fun games you desire.
Tap into your inner child and play musical chairs. If you're still settling in, then things are already a bit helter-skelter with the layout of the furniture, so make lots of room and gather a medley of chairs. Add an adult element to the game by giving shots to the loser.
Is your house haunted? Find out by challenging your friends to play on a Ouija board. Everyone can ask the potential ghost questions while people take turns at the board itself. Keeping the lights on is optional.
If you have your neighbors in attendance, the game Never Have I Ever is a fun and way to get to know them. You can also add alcohol to this game as a 'penalty' for those who have done what others haven't.
Last but not least, nothing says "home" like a relaxing game of poker. Raise the stakes by playing for chips. Is poker not your thing? There are many fun card games that can be played with a deck or two of cards.
For a housewarming party that is outside, there are even more games that you can play, such as horseshoes, bocce, and limbo, just to name a few.
Step #10: Give Out Party Favors
Party favors are one way of showing gratitude for your guests. Depending on what the party favor is, they can keep it as a cherished memory of the great time they had in your new house.
Now that you have the keys to your brand-new home, it's only fair that your guests leave your party with keys of their own. Key-shaped bottle openers, that is. For an extra flourish, you can attach a tag to each bottle opener with your guests' names or a brief but thoughtful note.
Another fun party favor idea is gingerbread house kits. This is especially useful if your party takes place during wintertime.
Step #11: Easy-Peasy Clean Up
Since you just moved in, you might not even have all of your plates at the ready. Either way, items like recyclable paper plates and cardboard straws make for an easier cleanup, rather than washing stacks of dirty dishes. By the way, don't forget to let your guests know you recycle so they don't accidentally throw the paper plates in the garbage.
Depending on your relationship with your guests, you shouldn't be shy about asking them to help with the cleaning. Your friends and family are there for you, especially if the fun of the party has created a mess. Moving into a new home is hard work, which means that throwing your first party there should be all about celebrating your success instead of doing more chores!
Step #12: Send Out Thank You Cards
A thank you card is a thoughtful way to show appreciation for your guests. Not only for their housewarming gifts but also for their wonderful company.
Make sure to send them out in a timely manner, though. Ideally, you should send them out as soon as possible, but we all know that life can get quite busy. If things are a bit hectic, try to get your thank you cards out within a couple weeks. Your friends and family will understand.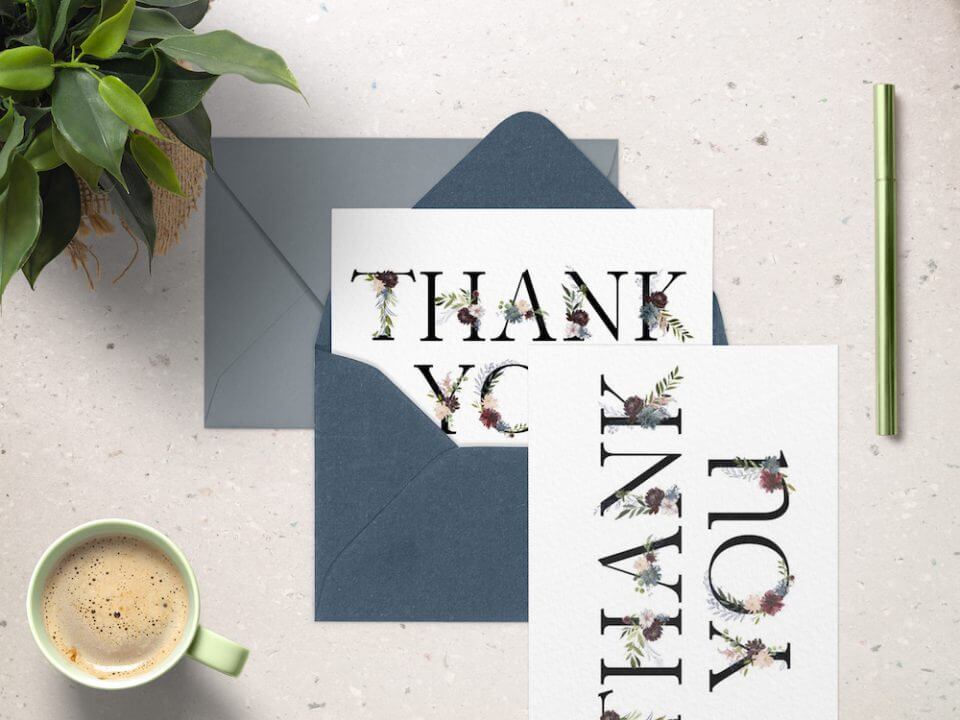 ---
Are You Ready to Send Out Spectacular Invitations?
Now that you know all of the necessary steps to throw a successful and stress-free housewarming party, you can use Greetings Island to easily customize invitation templates free of charge to send to your potential guests.
Greetings Island has a multitude of invitations designed by a range of talented artists. We're sure to have the perfect one for you and your tastes. It's only a click away!
Not only are our invitations beautiful, but they are simple to send out. Once you've added your current address, your event hashtag, and any other important information, you can print them out with ease from the comfort of your new home or at a professional print shop.
If your printer is at the bottom of a moving box, why not keep things virtual? We also give you the option of sending the invitations through email with RSVP services or downloading them as high-quality images that are shareable across social media networks.